Tips & Tutorials >>
All Tips & Tutorials
Beginner's Guide to Videography- Part
Videography FAQ: What do 4:2:2 and 4:2:0 mean?
When reading about a camera's video recording capabilities, you might have encountered specifications indicating that the camera supports "4:2:0" or "4:2:2" colour sampling. These numbers are related to how the image data is encoded. What do they mean, what is the difference between them, and how do they affect your video? Read on for an easy-to-understand explanation.
What's the difference between RGB and YCbCr?
You probably are familiar with the RGB model of digital colour image display, where different colours are formed by combining the three primary colours of light—red, green, and blue (RGB)—in different proportions. However, did you know that besides RGB, colour information can also be recorded using a method called "YCbCr"? In fact, JPEG images are recorded using YCbCr signals.
What's YCbCr?
YCbCr uses three different signals that, when combined, can replicate a colour image:
- Luminance (brightness) - Y
- Blue colour difference - Cb
- Red colour difference - Cr
YCbCr has its origins in television broadcasting. When the world was transitioning from black and white to colour broadcasting, it allowed the use of just one signal for the broadcast of both black and white and colour images. Black and white TV sets could use only the Y (luminance) signals to display black and white images, whereas colour TV sets would also use the Cb and Cr signals to display in colour. Similar encoding methods are the YUV and YPbPr methods.

The RGB to YCbCr conversion process
1. The camera generates an RGB image from the light received by the image sensor.
2. The RGB image is encoded into a YCbCr signal, which is what is recorded and transmitted to viewing devices.
3. The display device (computer, TV set or monitor) decodes the YCbCr signals and converts them back into RGB for display.
As the original image data and the image that is displayed are both in RGB, we normally don't have to pay much attention to the YCbCr signal.
Encoding RGB "4:2:2" and "4:2:0": Chroma subsampling and data compression
To humans, variations in brightness are easier to see than colour differences. Chroma (colour) subsampling is a method that makes use of this to reduce the colour information when converting RGB files to YCbCr signals to enable smaller data files. 4:2:2 and 4:2:0 refer to different methods of chroma subsampling.

How does it work?
Colour sampling takes place for every 8 pixels in a 4×2 array.
The luminance (Y) channel for all 4 columns of pixels is recording, hence the first number "4".
The second number indicates the number of colour difference signals (CbCr) recorded from the first row of pixels.
The third number indicates the number of colour difference signals (CbCr) recorded from the second row of pixels.
Uncompressed YCbCr 4:4:4
When the CbCr information from all pixels is recorded (no unsampled pixel), the chroma subsampling is indicated as 4:4:4 (no subsampling). This provides the highest quality—RAW files are equivalent to 4:4:4. However, it also results in large files.
For smaller file sizes, we need to lose some colour information to compress the file. One method is through sub-sampling, where the information from some pixels is not recorded.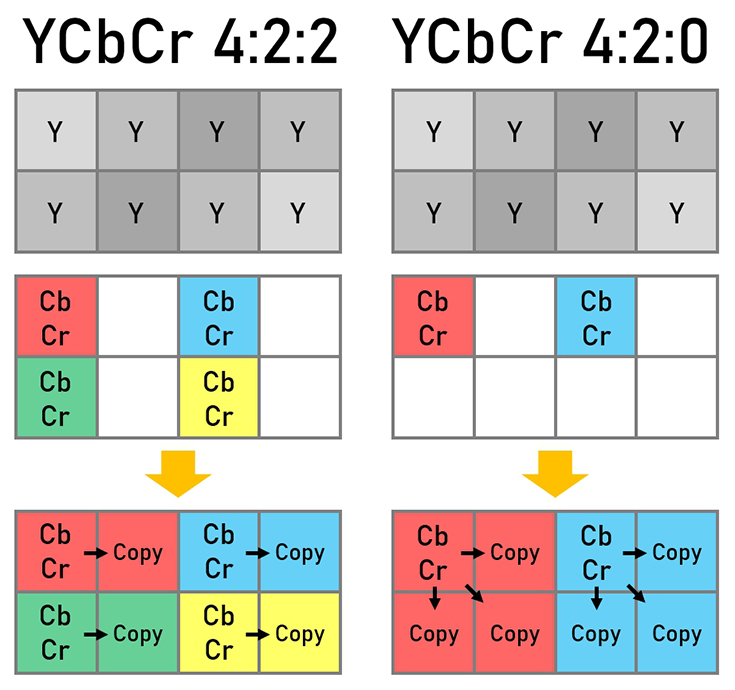 YCbCr 4:2:2 subsampling
In each pixel row, the CbCr signals of only two pixels are recorded.
YCbCr 4:2:0 subsampling
For the top row, the CbCr signals of only two pixels are recorded. No CbCr signals are recorded from the pixels in the second row.
Decoding
When the signals are decoded into RGB for display, the CbCr information of the pixels to the left, top left, and/or top of the pixels with no CbCr record are copied to the pixel.
As humans are less visually perceptive to colour differences, most people will usually not notice the deterioration in image quality that results from the unrecorded pixel information. Recording less information helps to reduce the size of what could have been a massive amount of data.
Read more about the colour decoding process here
What's the difference between 4:2:0 and 4:2:2?
As the above illustrations show, 4:2:2 records more colour information than 4:2:0.
Currently, television sets, DVD/Blu-ray formats, and most other audio visual and image display equipment work with YCbCr 4:2:0 signals. For normal viewing, we probably wouldn't perceive 4:2:0 signal images as poor quality.
However, during video production, it is important to ensure that the footage is as high quality as possible. Of course, as it records YCbCr data from every pixel, 4:4:4 provides the highest quality—and that is what RAW data is. But the downside of that is the large file size, which might not be feasible for certain production situations.
That's where subsampling comes into play. 4:2:0 subsampling offers the lightest files, but the reduced colour information gives less leeway for editing in post-production. Meanwhile, 4:2:2 reduces file sizes while storing more colour information, which not only allows more flexibility during editing but also retains high image quality even after colour grading.

See the difference?
Examine the two images below closely. What differences can you see?
The two images above show the same object, recorded with 4:2:0 and 4:2:2 signals respectively. Observe the outline of the subject against the background. Do you notice the colour bleeding and false colours between the subject edges and background in the 4:2:0 image? In comparison, the edges are cleaner and sharper in the 4:2:2 image. For this reason, shooting green screen footage in 4:2:2 offers better results.
More examples of visual differences here
In summary
- In video recording, colour sampling helps to reduce file size while keeping visual differences minimal.
- 4:2:0 and 4:2:2 are different methods of colour sampling during signal encoding.
- 4:2:0 records less colour information than 4:2:2, which affects colour grading and edge transitions.
- 4:2:2 provides more flexibility for colour grading, and gives better results for green screen footage.
Which Canon cameras support 4:2:2 recording? Find out and learn about other factors to consider when choosing a camera for serious video production in:
EOS C70, R5 C, R5 or R3: Which to Get for Video?
---
Receive the latest update on photography news, tips and tricks.
Be part of the SNAPSHOT Community.
Sign Up Now!
---