Products >>
All Products
In Focus: EOS R System Reviews- Part3
7 Reasons to Upgrade from EOS R to EOS R5
While the EOS R and EOS R5 look rather similar at first glance, the newer EOS R5 incorporates new technologies as well as modifications based on feedback from EOS R users, and as a result, is a very different camera in terms of image quality, autofocus performance, functionality, usability, and handling. Here are seven key reasons why it's worth it, even if you don't foresee yourself using the 8K video function. (Reported by: Kazuo Nakahara, Digital Camera Magazine)
1) Viewfinder experience
2) Rolling shutter
3) Image resolution & quality
4) Dual card slots
5) Subject detection capabilities
6) In-Body IS
7) Controls and interface
1. Viewfinder experience
Higher definition, smoother action
While the electronic viewfinders (EVFs) of the EOS R and EOS R5 are essentially the same size, the one on the EOS R5 has about 50% higher definition than that on the EOS R, resulting in a display that looks so smooth, you will barely be able to see the individual viewfinder pixels.
The EOS R5 also has a 'Smooth' display menu option that doubles the viewfinder display frame rate to around 120 fps, for a more seamless view of fast unfolding action.
To imagine the difference between a 60 fps and 120 fps display rate, imagine we have two flip books—those books with a series of images that become an animation when you flip through them quickly. To show the same 1-second sequence of, say, a moving train, one has 60 pages (images) and the other has 120 pages. If we tried to "replay" the sequence at actual speed, each image in the 60-page book would have to be shown longer compared to the 120-page book. As a result, the animation on the 120-page book would appear smoother.
2. Electronic shutter effects
Reduced rolling shutter distortion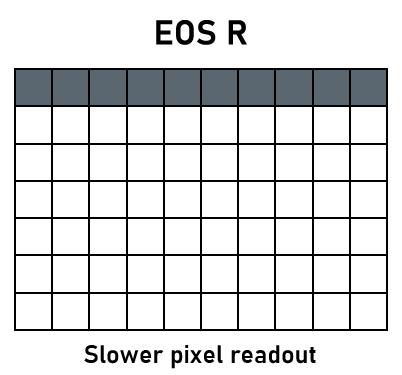 *Image is for illustration purposes only
During an electronic shutter exposure ('Silent Shutter; mode on the EOS R), the lag between the time the topmost and bottommost row of pixels on the image sensor are read can cause distortions in images of moving objects—a phenomenon known as 'rolling shutter'. However, on the EOS R5, the image sensor readout speed is significantly faster, which means that rolling shutter is less pronounced.
EOS R
EOS R5
Look at the shapes of the doors and windows in the bullet train images above. Do you notice that there is less distortion in the image shot on the EOS R5?
Learn more about the difference between mechanical shutter, electronic shutter, and electronic first-curtain shutter in:
Shutter Modes & Continuous Shooting Modes: When to Use Which?
3. Image resolution & quality
Breath-taking resolution beyond the pixel count
The EOS R5 not only has a faster, more powerful new image processor, DIGIC X, it also boasts a new CMOS image sensor that offers 50% higher image resolution, less image noise, and faster data readout and processing than that on the EOS R. Together, these enable higher native ISO sensitivity and a new "High" Digital Lens Optimizer setting, resulting improved image quality. In fact, the EOS R5 provides even better apparent resolution than the 50.6-megapixel EOS 5DS R.
These buildings have densely concentrated lines—perfect for testing resolution. I captured them at f/8 from slightly further back and compared the details in the captured images. Digital Lens Optimizer was enabled.
Lens used: RF24-70mm f/2.8L IS USM

A: Centre
EOS R
EOS R5

B: Corner
EOS R
EOS R5
4. Dual card slots
For professional level reliability
Dual card slots provide additional reliability: you can use one of them to auto-backup your image files. The EOS R5 has one slot that supports the widely available SD card (UHS-I/UHS-II), and another slot that supports a CFexpress Type B card, which enables significantly faster reading and writing speeds. CFexpress Type B cards are also more durable with better heat-dissipating qualities!
Know this: CFexpress Type B cards might just become even more widely used in the future. It has already been adopted in the professional flagship camera models of many camera manufacturers—one example is Canon's own EOS-1D X Mark III.
5. Subject detection capabilities
Human heads and animal eyes, faces, and bodies

Improved human subject detection performance
The EOS R was Canon's first full-frame camera to introduce Eye Detection AF. The EOS R5, equipped with the new Dual Pixel CMOS AF II system, takes human subject detection capabilities in Face Detection + Subject tracking priority AF mode even further: it adopts EOS iTR AF X, a new AF algorithm that harnesses deep learning, enabling the camera to also detect a human subject's head when they are facing away from the camera. Eye Detection AF is also more precise, and subject tracking "stickier".
The EOS R5 and EOS R6 have the same AF system. See the enhanced human subject detection capabilities in action here:
[Hands-on Review] EOS R6 in Dance Concert Photography

Animal Detection AF
The EOS R5 also provides a new feature: Animal Detection AF, which detects the eyes, face, and body of cats, dogs, and even birds. This means improved AF reliability for a greater range of subjects and scenes.
Also see:
3 Types of Dog Portraits to Capture with Animal Detection AF
Birds in Flight: Camera Settings to Increase Your Successful Shots
6. In-Body IS
Increases handheld shooting possibilities
The EOS R5 is equipped with a sensor-shift In-Body Image Stabilizer (In-Body IS), which detects the level of blurring from camera shake using information from the image sensor, gyro sensor, and acceleration sensor in the camera, and then shifts the image sensor accordingly to perform 5-axis image stabilisation in the horizontal, vertical, roll, yaw, and pitch directions, providing up to eight shutter speed stops' equivalent camera shake correction with compatible lenses.
This not only provides image stabilisation even when using RF or EF lenses with no in-lens (Optical) IS system, it also works with the Optical IS system on compatible lenses to perform Coordinated Control IS, enhancing the image stabilisation effect.
EOS R: Optical IS @ 2 sec
EOS R5: In-Body IS + Optical IS @ 2 sec
The examples above are close-ups from images shot with the RF24-105mm f/4L IS USM, which has up to 5 stops' equivalent in-lens image stabilisation and supports up to 8 stops' equivalent when paired with the In-Body IS on the EOS R5. The Optical IS alone appears insufficient for a 2-second handheld exposure, but when combined with In-Body IS, the image stabilisation effect is so powerful that camera shake is barely visible.
Learn more about 3 Types of Scenes That Take Full Advantage of In-Body IS
7. Controls and interface
The best of the EOS R and advanced DSLRs, combined

Front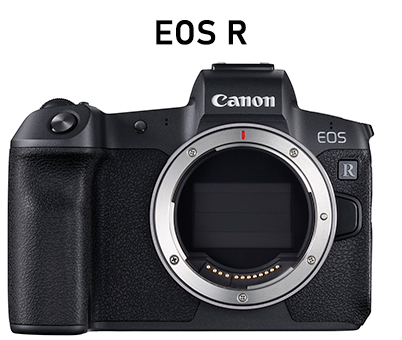 A: Depth-of-field preview button
B: Remote control terminal
At first glance, the EOS R and EOS R5 look similar from the front. However, the EOS R5 is equipped with two additional features that indicate its design for professional users: a depth-of-field preview button (A) and a remote control terminal (B), which users of DSLR cameras will be familiar with.
Know this: The depth-of-field preview button can also be assigned custom functions.

Back
C: Multi-function bar (EOS R)
D: Multi-controller (EOS R5)
E: Cross keys (EOS R)
F: Quick Control Dial (EOS R5)
The EOS R5 is better equipped for control even when capturing fleeting moments. The multi-function bar (C), a major distinguishing feature on the EOS R, is replaced by the more intuitive multi-controller (D) on the EOS R5, allowing convenient selection of AF points. The cross keys (E) on the EOS R are replaced by a Quick Control Dial (F) for faster setting changes.

Learn about other features available on the EOS R5 but not the EOS R in:
HDR PQ HEIF: Breaking Through the Limits of JPEG
Portrait Relighting: Your In-Camera Lighting Crew
Also considering the EOS R6? This article might make the decision easier:
EOS R5 vs EOS R6: 5 Key Differences to Note
---
Receive the latest update on photography news, tips and tricks.
Be part of the SNAPSHOT Community.
Sign Up Now!
---
About the Author
A monthly magazine that believes that enjoyment of photography will increase the more one learns about camera functions. It delivers news on the latest cameras and features and regularly introduces various photography techniques.
Published by Impress Corporation
Born in Hokkaido in 1982, Nakahara turned to photography after working at a chemical manufacturing company. He majored in photography at the Vantan Design Institute and is a lecturer for photography workshops and seminars, in addition to working in commercial photography. He is also a representative of the photography information website studio9.