Happenings >>
All Happenings
CPMC Alumni Gathering 2019: One Big Family Reunion
Held on Friday, 11 October 2019, the Canon PhotoMarathon Asia Championship (CPMC) Alumni Gathering reunited four batches of CPMC alumni from various areas of Asia. Participant, which included guests of the alumni, relived their CPMC experiences on a photo walk of Marina Barrage complete with photo challenges.
Canon Asia's largest photography family reunites again
The 2019 edition of the Canon PhotoMarathon Asia Championship (CPMC) alumni gathering was bigger than before.
Just like in 2018, participants from past batches flew in from six areas in Asia to reunite in Singapore. However, this year's gathering saw around 60 alumni members and guests in attendance, double last year's numbers and the reflection of an ever-expanding photography family.
The day started at 2.30pm at the Canon Asia headquarters, where the reception area of the Canon Imaging Academy was filled with delighted faces, big bear hugs and happy catchups.
EOS-1D X Mark II notebooks and special Canon PhotoMarathon Asia decals and lanyards were among the special souvenirs that CPMC participants received.
Marina Barrage: A venue with sights galore
The CPMC alumni family is a family that bonded by travelling, exploring and photographing new places together. In a fitting homage to that, this year's reunion took the participants on a mini photo walk at the Marina Barrage, Singapore's first urban dam located in the heart of the city, near iconic buildings such as Marina Bay Sands and Gardens by the Bay.
A PhotoMarathon-related event would not be complete without a photo challenge, and on that day, there were two. The first photo challenge was for the most creative photo taken on that day. The main photo challenge, for which the participants had a week to edit and submit up to two entries, was on the theme "CPMC Alumni", and the winner would receive a SELPHY CP1300 photo printer.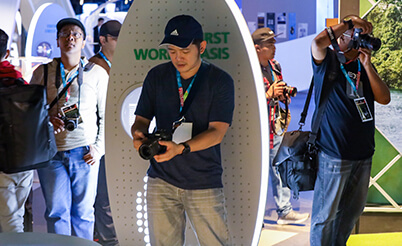 During the hour-long guided tour around the Marina Barrage and its indoor galleries, conducted by the facility staff, participants could not resist photographing the many fascinating exhibits, which included art installations made from recycled materials.
The highlight of the day, however, was at the rooftop, complete with a breathtaking 360-degree view of the Singapore city skyline. There, the participants had 1.5 hours of free time to relax and take pictures.
Canon had even arranged for two models to be present so that those who wished to do so could hone their portrait photography skills—and many did so enthusiastically.
Photo by: Ignitius Kong (CPMC 2016)
"It's like a big photography school"
Every CPMC participant we have interviewed for SNAPSHOT never fails to speak fondly about the bonds and camaraderie formed when their batch was in Japan. At Marina Barrage, the sense of community was very clear, as the participants were observed:
- Trading photography advice: Which angle to shoot from? How to frame the image better?
- Having serious discussions about equipment: EVF or OVF? Get the EOS R now, or hold out and wait?
- Helping each other to hold flashes and acting as each other's camera assistants
- Sharing lenses, mount adapters, triggers, and other equipment so that the other person could give amazing new lenses like the RF28-70mm f/2L USM a try.
In between, the participants also took the time to sit down, chill and enjoy each other's company as well as the view around them.
Archit Prajapati (CPMC 2018) described it as being like "big photography school", which is one reason why he looks forward to these gatherings. "I always learn a lot whenever we meet."
Bringing people from different CPMC batches together
As one of the rare chances for different batches to meet, the CPMC alumni gathering is also an opportunity to meet new people and forge new bonds.
Photo by: Aisyah Nuri Asmady (daughter of Asmady Ahmad, CPMC 2017)
Winner, CPMC Alumni Gathering 2019 Main Photo Challenge
Theme: CPMC Alumni
It also inspired at least one person to reach out to bring together different batches of CPMC alumni in their own areas. Latrell Lee (CPMC 2017) had been triggered by a simple question from CPMC photography instructor Goto Aki back in 2017: "Do you know last year's champion from Hong Kong?"
Latrell had not, but the question inspired him to take the initiative to build the CPMC alumni community in Hong Kong. Through social media, he found and contacted the next CPM Hong Kong champion, Herman Chow (CPMC 2018). They met for the first time at CPM Singapore 2018, and hit it off so well, they decided to attend this year's event together too. (The CPMC 2019 Hong Kong representative was, unfortunately, unable to join them this year.)
They look forward to future gatherings with other CPMC alumni in Hong Kong.
Inspiring the next generation
Quite a few alumni members had brought their family members as guests, and it was clear how having a photographer in the family inspires the next generation.
One such family was that of three-time Canon PhotoMarathon (CPM) Malaysia winner Asmady Ahmad (CPMC 2017, centre). His daughter 14-year old-Aisyah (left) started shooting at age 7, inspired by her father who frequently took her and her siblings on his shoots. Rather than "photography lectures", he encouraged them to make their own mistakes and learn from experience, a teaching style which she credits for motivating her passion for photography. It was excellent motivation and mentorship indeed, as she not only participated in but also won her first CPM in 2016 at age 10, and recently emerged one of the winners in the Junior Category of the Canon PhotoMarathon Malaysia 2018.
Aisyah and her brother were not the only second-generation CPMC alumni members attending that day. There was also five-year-old Joel Ling (below right), the son of Steve Ling (CPMC 2017) who ran around with his father's old EOS 40D, snapping photographs with the poise of a professional photographer.
Photo by Steve Ling (CPMC 2017)
Watching them was like catching a glimpse of the future. One can't help but look forward to the day that they attend as CPMC alumni in their own right.
More reunions and surprises at "home base"
After capturing the beautiful sunset over the city, it was time to go back to the Canon Asia headquarters, where a sumptuous catered dinner and more pleasant surprises awaited.
Family in Japan
The first surprise was an unexpected video call with Goto Aki, who had been a photography mentor to all CPMC batches since 2016. Goto-san had a surprise guest of his own: His young son, who snuggled up to him as he chatted with the CPMC alumni members. It was a heartwarming reminder that the CPMC family also extended to include family in Japan.
New opportunities for CPMC alumni
The second surprise was an announcement by Canon Asia representative and CPMC's resident "big brother" Evan Cheung that they were inviting all CPMC alumni to pitch to be the CPMC 2020 official media crew. It was their hope that at least one member of the crew be a CPMC alumni. Throughout the years, the Canon PhotoMarathon has been an excellent launchpad for the careers of many photographers, and the CPMC official media crew opportunity is just one of the many that Canon seeks to create to provide CPMC participants with a platform to grow.
Following that, the winners of the first photo challenge were announced and presented with prizes.
1st prize: Adhitiya Wibhawa
2nd prize: Erwin Sajudi
3rd prize: Steve Ling
First prize winner Adhitiya Wibhawa (CPMC 2017) being presented with a miniature EOS 5D Mark IV by Hector Niam, Retail and Pro Support Manager at Canon Asia.
All too soon, it was 9pm. The CPMC Alumni Gathering 2019 drew to a close, but it was certainly not the end of the CPMC family spirit—nor of the impact of CPMC on participants' lives, be it in terms of who they meet, how their photography and outlook on life has changed, and certainly, in the opportunities that have opened up for them. One can only look forward to what next year will bring.
---
Want to be part of the CPMC alumni family? Step 1: Join your nearest Canon PhotoMarathon. The overall champion of each local Canon PhotoMarathon stands the opportunity to go on the Canon PhotoMarathon Asia Championship. Stay tuned to announcements from your local Canon office for more details!
Bookmark this: Canon PhotoMarathon Official Site
Find out more about CPMC 2019 in:
CPMC 2019: Shooting Full Steam Ahead in the Land of Mount Fuji
CPMC 2019: Through the Eyes of GOTO AKI
CPMC 2019: Up Close with 1st Prize Winner Mohd Safuan
---
Receive the latest update on photography news, tips and tricks.
Be part of the SNAPSHOT Community.
Sign Up Now!
---