The most amazing street photographs provide a different way of seeing everyday things. In this article, we share some ideas for creating unique images out of seemingly mundane subjects. (Reported by: Ikuko Tsurumaki, Kazuo Nakahara)
EOS 5D Mark III/ EF16-35mm f/2.8L II USM/ FL: 24mm/ Aperture-priority AE (f/2.8, 1/125 sec, EV±0)/ ISO 10000/ WB: 5,700K
Photo by Kazuo Nakahara
Sometimes, you find interesting angles in the most unexpected places. I was relaxing in a café one day when I glanced at my smartphone on the table and found that it had become a window to a whole new world—or rather, the underwater world of the nearby aquarium tank, mirrored in the screen.
Idea 1: Look out for reflections in unexpected objects
A quirky juxtaposition creates intrigue
It is quite surreal to see another world reflected in a normal, everyday object. The coffee cup next to the smartphone was in the reflection too, creating an intriguingly incongruous juxtaposition that I just had to photograph. And so I did, using a wide angle that allowed much of the aquarium to be captured.
Perfecting the shot
To nail shots like this, it is important to:
1. Establish focus on the reflected image. Use MF if you can't acquire focus using AF. If you establish focus on the smartphone, the reflection will not be properly captured.
2. Freeze motion. I chose a shutter speed that froze the fish in motion to complete the surreal effect.
Failed shot: The reflection "disappears" when you focus on the wrong thing
EOS 5D Mark III/ EF16-35mm f/2.8L II USM/ FL: 35mm/ Aperture-priority AE (f/2.8, 1/125 sec, EV±0)/ ISO 12800/ WB: 5,700K
Photo by Kazuo Nakahara
When I established focus on the entire smartphone instead of its screen, I failed to capture the aquarium reflection and ended up with an ordinary-looking shot of the objects on the table.
Check out the following for more articles on photographing reflections:
Tips for Water Reflection Photography: Fun with Puddles!
Create a Cool, Serene World with Water Reflections and White Balance
Idea 2: Include a sub-frame for a subjective point-of-view
EOS 5D Mark III/ EF50mm f/1.2L USM/ FL: 50mm/ Aperture-priority AE (f/2, 1/250 sec, EV+0.7)/ ISO 100/ WB: Auto
Photo by Ikuko Tsurumaki
I photographed this vintage car from the front passenger's seat of the car behind it. By framing the composition to include parts of the bonnet and window frame of the car I was in, I created a subjective point-of-view.
Do you feel like you're the one in the front seat? This is what a subjective point-of-view does: It gives the viewer the illusion that he/she is involved in the scene, not simply observing it. Framing the shot in this way creates visual interest and suggests a story, leaving much fodder for the viewer's imagination.
You might also be interested in:
Standard Lens Techniques: Using the Point of View to Draw the Viewer In
EF50mm f/1.8 STM: A Review with Useful Composition Tips
Why Professional Photographers Love the EF50mm f/1.4 USM: Unique Features & Usage Tips
Why I chose f/2
For this scene, I chose to use a rather wide aperture of f/2, which is just slightly more than one shutter speed stop from the maximum aperture. This was because:
- I was shooting from a moving vehicle and needed a fast shutter speed;
- I wanted to achieve a good foreground bokeh using my 50mm lens; and
- By making the area surrounding the vintage car (which is in focus) look softer, I can isolate the car and make it "pop".
Perfecting the shot
Shooting while on the move is challenging because of the ever-changing conditions. For this scene, I aimed to:
1. Find a camera angle that made the vintage car look attractive;
2. Ensure that there wasn't too much distance between my car and the vintage car; and
3. Capture the shot at the perfect timing, where the surrounding scenery complemented the blue vintage car and made it stand out.
I also made sure that there were no distracting elements in the background.
Failed shot: No sub-framing creates a boring photo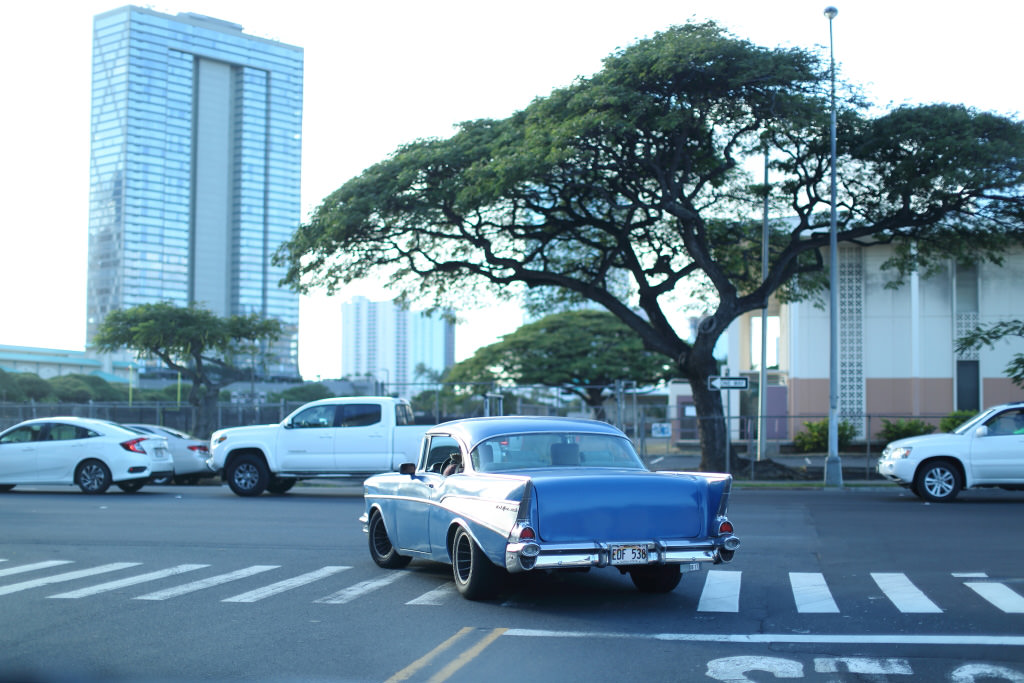 EOS 5D Mark III/ EF50mm f/1.2L USM/ FL: 50mm/ Aperture-priority AE (f/1.4, 1/1000 sec, EV+0.7)/ ISO 100/ WB: Auto
Photo by Ikuko Tsurumaki
This shot was taken without the sub-framing effect provided by the car windows. It does not provide context—you cannot tell that this scene was shot from inside another vehicle. There is no sense of a story, and the image becomes rather ordinary and uninteresting.
Find out some more ways to frame your photos here:
How To Frame Your Photos
---
Receive the latest update on photography news, tips and tricks.
Be part of the SNAPSHOT Community.
Sign Up Now!
---
About the Author
A monthly magazine that believes that enjoyment of photography will increase the more one learns about camera functions. It delivers news on the latest cameras and features and regularly introduces various photography techniques.
Published by Impress Corporation
Born in Hokkaido in 1982, Nakahara turned to photography after working at a chemical manufacturing company. He majored in photography at the Vantan Design Institute and is a lecturer for photography workshops and seminars, in addition to working in commercial photography. He is also a representative of the photography information website studio9.
Born in Tokyo in 1972, Tsurumaki started learning photography while working with an advertising agency, and became a photographer after her career as an assistant. She is currently engaged in activities including photo shoots for magazines, writing articles, and conducting photography lectures and seminars.