Ho Le Hoang Vu is a member of Ho Chi Minh City Photography Association. He has engaged in photography since 2008 and currently works as a lecturer, specializing in Radio - Television technology. He has won multiple International Photography awards. Here he shares with us how he got started and his love for photography.

Canon Snapshot (CS) You started photography in 2008. How did you get introduced to it and what ignited your passion? Could you share some of your early photos and tell us why you like them?
Ho I started my journey with photography fifteen years ago. At that time I used a simple Point-and-Shoot compact camera. In 2008, I invested in a Canon DLSR. It was a world of difference and it brought my photographic potential to a whole new level. As a teacher in Broadcasting College, I have to keep updated with new photography and video techniques. I have a very passionate ongoing love affair with photography.
When I first started, I photographed Vietnam landscapes, company events and portraits of friends.
I love my first photos because they are nice, unique moments captured that can never be experienced again. This is what photography is about - it immortalises a cherished memory at that point in time and you freeze that fleeting moment for eternity.
Canon Snapshot (CS) When did you decide to become a professional photographer? What are your areas of expertise? How do you think you have differentiated yourself from other photographers out there?
Ho In 2008, I decided that I needed to take the next step and get serious with photography. I wanted more from my photos and my equipment. I invested in professional gear and equipment and never looked back. I became a professional photographer. It has been a rewarding journey and I love every moment of it.
My areas of expertise are photography training, art and journalism.
I always look for more unique angles to approach a subject. Everyone sees differently, but I like the more uncommon view.
I like to apply creative photo skills to every aspect of photography. From start to finish, the empty canvas is yours to create. I love the entire process.
Personally I think that with my passion, I can overcome all difficulties that may come my way. No photographic shoot is too difficult for me. As a Broadcasting Professor, I like improving my technical knowledge and expanding my creativity.
Don't ever stop learning and developing your skills.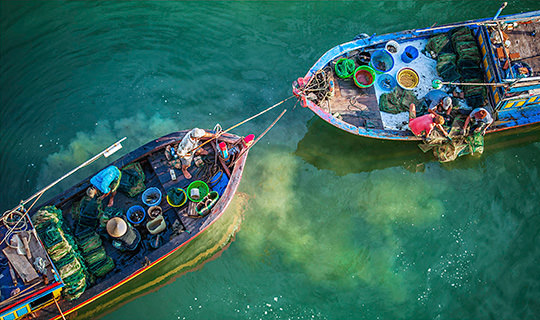 Canon Snapshot (CS) What does the future of photography hold for you?
Ho I will pursue many different styles and concepts in the future: people life, street life, photo-journalism and complete a photo collection of Vietnam's landscapes. I am excited and looking forward to documenting more of life through my lenses, and showcasing my work to the world. I believe there is an amazingly interesting world out there, we just have to be ready and willing to document the moments that happen right before your eyes.
Ho Le Hoang Vu
Ho Le Hoang Vu is a multi-award winning photographer, and also a member of the Ho Chi Minh City Photography Association – Ben Thanh Branch. He has engaged in photography since 2008 and currently works as a lecturer, specializing in Radio – Television technology.
Isaiah Tan
A professional videographer with a love for photography, Isaiah runs a video production company, a wedding video/photo business, as well as a small bar in Singapore. He enjoys experimenting with different photographic techniques and always wants to learn and discover more of the world around him.