Inspirations >>
Photos & People
This is What Happens When a Documentary Photographer Shoots Landscapes
Malaysian documentary photographer Annice Lyn took on the EOS RP challenge to photograph the landscapes of BOH in Cameron Highlands, Malaysia.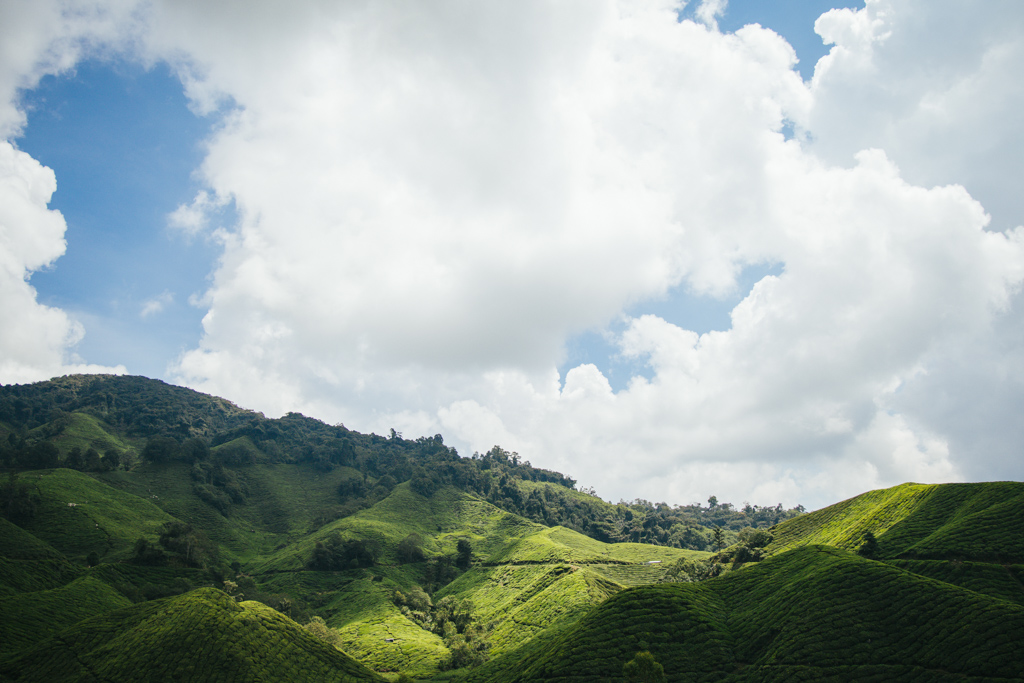 EOS RP, RF24-105mm F4 L IS USM lens, f/4.0, 24mm, 1/1600 sec, ISO100
What was the most interesting/challenging part of this assignment?
The most challenging part was the lack of a clear brief of who and when I should be capturing. It was more of listening, looking through the macro & micro aspects of the atmosphere. Journeying through the sensorial & leisure experience of BOH Plantations, from an understanding of the subject/brand legacy to the intricacies of their cultivation & processing of their goods/tea. It was more about taking the time to walk through and understand upon taking the photos, while at the same time appreciating the captivating views of the plantation.
How did you go about completing this assignment?
It was the official opening of Tristan's Terrace at the Sungei Palas Tea Centre and the celebration of BOH's 90th Anniversary. Situated in Cameron Highlands – an ecotourism and agro-tourism destination filled with treasures thanks to its distinctive biodiversity & unique ecosystem coupled with cool temperate weather, sustainable highland agriculture & neat sprawling tea plantations.

EOS RP, RF24-105mm F4 L IS USM lens, f/4.0, 24mm, 1/125 sec, ISO100
Photos were captured at the BOH Tea Centre estate, various angles such as from the Sungei Palas Tea Centre, highlighting its contemporary architectural style that included a 20-foot overhanging balcony as a viewing deck that was designed to integrate the natural highland landscape.

EOS RP, RF24-105mm F4 L IS USM lens, f/4.0, 85mm, 1/2000 sec, ISO200
As we adjourn to the new wing – Tristan's Terrace, a different perspective unfolded. The new wing was akin to a terraced walkway overlooking a garden that had been laid out to offer the best vantage views of the plantation. Lowering the EOS RP, I managed to obtain a different perspective – I captured the wild flowers with the plantation as a backdrop by altering the Vari-angle touch screen LCD and using the touchscreen shutter function.

EOS RP, RF24-105mm F4 L IS USM lens, f/4.0, 24mm, 1/800 sec, ISO100
Tristan's Terrace

EOS RP, RF24-105mm F4 L IS USM lens, f/22, 32mm, 1/80 sec, ISO400
Later that day, we were given a ride down to the plantation, where I managed to incorporate a touch of personal style by sneaking in a portrait of Caroline Russell, the Executive Chairman of BOH Plantations Sdn Bhd. From a documentary photographer perspective, I think it was crucial to capture an individual while projecting their legacy, and allowing the audience to know that individual.

EOS RP, RF24-105mm F4 L IS USM lens, f/4.0, 24mm, 1/320 sec, ISO100
Caroline Russell, Executive Chairman of BOH Plantations Sdn Bhd
What do you think of the Canon EOS RP?
When I'm not on assignment or on minor assignments, I would like to engage with my subjects and be more relatable to the people I photograph. This is where the Canon EOS RP comes in – lightweight, compact yet a full-frame mirrorless with great features to capture the daily life plus the freedom to move around and express my creativity while communicating with my subjects.
Features such as the Vari-angle touch screen LCD, touch screen shutter as well as the custom control-ring which was set to ISO, have really helped me bring the images from vision to life.

EOS RP, RF24-105mm F4 L IS USM lens, f/4.0, 24mm, 1/1000 sec, ISO100
What are your thought process when shooting these landscapes, which you don't normally do?
I believe in any form of photography as an art form, which requires an assiduous amount of effort to achieve the envisioned output. I went into tackling landscape photography with an open mind & total admiration of its natural beauty.
My thought process to it was to be patient (which I don't normally do when it comes to documentary or sports photography), as it plays a colossal role while tapping into landscape photography – waiting for the right moment, including weather situation. I've come to realise that by taking things slow, be calm and keep an eye on how the light moves across the land.
What advice would you give to photographers who are considering changing their photography genre?
Don't be afraid to explore and don't compartmentalise yourself into the different genres of photography. Learn from various outlets and join your fellow peers on occasional outings that are beyond your comfort zone. As a photographer, you specialise in or are known for a certain genre, but it is all right and in fact a pleasant change to stray a little away from your expertise. This gives you a chance to explore something different and get your creative juices flowing. More importantly, photograph what comes from the heart.

EOS 5D Mark III, EF40mm f/2.8 STM lens, f/2.8, 40mm, 1/500 sec, ISO100
Photographer Annice Lyn
Does your current genre of photography affect the way you compose a landscape image?
Yes, it does! For landscape photography, it is more about anticipating the right moment, exploring creative perspectives and compositions. Through this project, I've learnt how to extract every bit of beauty from conditions I have absolutely no control over. It challenges an individual like myself to spot unique compositions and angles and race against the ever-changing light.
For more photographer interviews, check out the following articles:
Can the EOS R Survive the Harsh Winter in Canada?
Minimalist Photography for Weddings: Tips from a Pro
Irresistible Tips from Professionals in Travel Photography
If you're looking to start shooting with the Canon EOS RP, check out Exploring the City with Canon EOS RP and learn more about 7 Key Features of the EOS RP.
---
Receive the latest update on photography news, tips and tricks.
Be part of the SNAPSHOT Community.
Sign Up Now!
About the Author
Former national competitive figure skater Annice Lyn developed her passion for photography while obtaining her architectural degree. She believes that the art of photography is being able to articulate and transports fragments of moment into timeless imagery. The first female photographer based in Malaysia to be accredited for the XXIII Olympic Winter Games (PyeongChang 2018), her work has been picked up by the Associated Press, AFP, the Washington Post, USA Today and various news online platforms, both locally & internationally. A current Canon Malaysia EOS Youth Ambassador, she seeks to visually document mainly humanitarian interests, sports and visual artwork photography via her platform Anntopia.

Website: www.anntopia.net
Instagram: @annicelyn (Personal), @sportsbyannicelyn (Sports), @anntopia (Visual Arts)
Facebook: http://www.facebook.com/byanntopia