Products >>
All Products
In Focus: EOS RP- Part5
7 Key Features of the EOS RP
Small, lightweight, packed with Canon's latest technologies and eye-opening specs, the EOS RP is poised to make full-frame mirrorless cameras more accessible to casual users and photography enthusiasts. We take a look at 7 features and functions you should be paying attention to if you are considering buying it. (Text by: Ikuko Tsurumaki)
1. Spot AF
If you like to use autofocus (AF) on tiny, precise areas, the smaller AF frame on Spot AF will be your best friend. On the EOS R, achieving AF that precise would require changing your AF method to '1-point AF', and then changing the AF frame size from 'Standard' to 'Small'. But on the EOS RP, all you need is one simple step: Choose 'Spot AF' for the AF method.
EOS RP/ RF50mm f/1.2L USM/ FL: 50mm/ Aperture-priority AE (f/2, 1/500 sec, EV-0.3)/ ISO 200/ WB: Auto
For many subjects, including this bowl of food with ingredients that overlap, the spot that you focus on can make your shot look different. Spot AF gives you more precise control over the final outcome.
A comparison of AF frame sizes
(1) 1-point AF frame
(2) Spot AF frame
A close-up of the area in the white frame from the image above. Notice how pinpoint focusing has also enabled the texture of the leaf vegetable to be rendered in lifelike detail.
2. 4,779 AF frame positions
The EOS RP has up to 4,779 selectable AF frame positions over an area that takes up 88% x 100% (horizontal x vertical) of the image sensor. While this is a slightly smaller number than the 5,655 AF positions on the EOS R (click here to find out what this means), it still is dense and wide enough for fast, accurate AF acquisition over a large area. This allows you to place your subjects almost anywhere in the image frame and be sure that there is an AF frame nearby to establish tack sharp focus on it.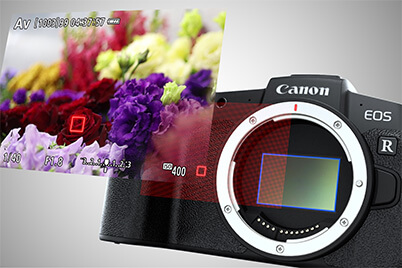 EOS RP/ EF70-300mm f/4-5.6 IS II USM/ FL: 300mm/ Aperture-priority AE (f/7.1, 1/500 sec, EV-1.3)/ ISO 200/ WB: Cloudy
With the wide, dense AF frame coverage on the EOS RP, it's easy to achieve focus even if your composition involves tiny specks of subjects placed on the image peripheries.
3. Eye Detection AF during Servo AF
Eye Detection AF, which automatically detects the eyes of subjects, is a valuable feature to have especially when shooting at large apertures with a shallow depth-of-field. In addition to the One-Shot AF mode, on the EOS RP, it is now available in the Servo AF and Movie Servo AF modes which cater to moving subjects. This makes it easier to capture portraits and video clips of people in motion so that their eyes are in tack-sharp focus.
EOS RP/ EF85mm f/1.8 USM/ FL: 85mm/ Aperture-priority AE (f/1.8, 1/500 sec)/ ISO 400/ WB: Auto
(Shot with Servo AF)
By default, the camera focuses on the eye that is closest to it. If both eyes are the same distance away, it focuses on the one closer to the centre of the image frame. To manually override this, you can use the touch screen or the cross keys to select the other eye.
On the EOS RP, Eye Detection AF is also available in Servo AF mode, which provides enhanced AF for moving subjects. The camera detects and keeps focus on the eye even as the subject moves.
4. 5 fps continuous shooting during One Shot AF
The EOS RP is equipped with a 26.2-megapixel full-frame sensor, and is capable of continuous shooting (burst shooting) at up to 5 frames per second (fps) in One-Shot AF mode and 4 fps in Servo AF mode—just enough to capture a sequence of shots of as your model whips her head around and flashes a smile at you, or as she rides a bicycle. For the fastest continuous shooting performance, use an SD UHS-II card.
The EOS RP's buffer capacity is 50 shots. In other words, you can take up to 50 burst shots in RAW format at maximum continuous shooting speed before the camera's buffer becomes full and the shooting speed slows down.
Main shot: EOS RP/ EF100mm f/2 USM/ FL: 100mm/ Manual exposure (f/2.8, 1/500 sec)/ ISO 1600/ WB: Daylight
5. Silent Mode
Featured as one of the Special Scene (SCN) modes on the mode dial, the Silent mode uses an electronic shutter instead of a mechanical shutter, allowing you to shoot without shutter release sounds. This is suitable for photography in churches, museums, and other situations where shooting sounds can be disruptive or distracting.
(Note: You won't be able to adjust the aperture or shutter speed in this mode.)
EOS RP/ RF24-105mm f/4L IS USM/ FL: 24mm/ Silent mode (f/4, 1/50 sec)/ ISO 12800/ WB: Auto
Silent mode is perfect for shooting at concerts and theatre performances. It is also convenient for photographing subjects that are sensitive to noise, such as babies and animals.
6. Up to 5 stops' of image stabilisation with Dual Sensing IS
Dual Sensing IS uses information from the image sensor to detect blurring that is difficult for the gyro sensors in the lenses to detect. This achieves up to 5 shutter speed stops of enhanced image stabilisation when either the RF35mm f/1.8 Macro IS STM or the RF24-105 f/4L IS USM are attached. Perfect for shooting handheld at night, even at slow shutter speeds where there is a higher risk of blurring from camera shake.
Click here to find out: How are Image Stabilisation Stops Determined?
EOS RP/ RF24-105mm f/4L IS USM/ FL: 24mm/ Aperture-priority AE (f/4, 1/2 sec)/ ISO 400/ WB: Fluorescent
This shot was taken at 1/2 of a second, slow enough to blur the motion of the passers-by. But take a look at the sharpness of the details, such as those in the buildings. With the 5 stops of image stabilisation on the EOS RP, you can achieve same degree of sharpness that shooting at 1/60th of a second would have given you, while maintaining the intentional motion blur effects of a slow shutter speed.
7. EV-5 focusing limit
In situations where you can barely see anything with the naked eye, it's often hard to get the AF to work. With the EOS RP's low-light focusing limit of EV-5, that's not a problem.
This was shot at 7pm one winter evening, where the sun has set and the moon is just rising. At EV-5, you can barely see anything with your eyes alone, but it's still possible to achieve AF on your subject with the EOS RP.
This is approximately how dark the shooting conditions were.
For more details on the differences between the EOS R and EOS RP, stay tuned to SNAPSHOT.
---
Receive the latest update on photography news, tips and tricks.
Be part of the SNAPSHOT Community.
Sign Up Now!
---
About the Author
A monthly magazine that believes that enjoyment of photography will increase the more one learns about camera functions. It delivers news on the latest cameras and features and regularly introduces various photography techniques.
Published by Impress Corporation
Born in Tokyo in 1972, Tsurumaki started learning photography while working with an advertising agency, and became a photographer after her career as an assistant. She is currently engaged in activities including photo shoots for magazines, writing articles, and conducting photography lectures and seminars.