Tips & Tutorials >>
All Tips & Tutorials
In Focus: EOS RP- Part9
Framing Still Life with Canon EOS RP
Unlike other photography genres like landscape or portraiture, still life photography primarily focuses on the composition and lighting of inanimate subject matter to depict a story, mood and feeling. This photography concept is similar to still life paintings and drawings - except for the use of mediums - and will often influence one another in terms of styling, framing, and arrangement of the elements.
Using the trusty Canon EOS RP, here are 4 must-knows you need for your first still life photography session.
Lighting

EOS RP, RF 35mm F1.8 Macro IS STM, f/7.1, 35mm, 1/512sec, ISO100
Light sources in photography come in different forms. There are professional equipment such as strobe and speedlights, everyday objects such as LEDs and lightbulbs, and the sun which strengthens and weakens throughout the day (due to positioning and weather change). The use of lighting and contrast in still life photography is crucial, especially when altering the mood, dimensions and depth of your images.
For our food spread scene, we wanted to achieve a dramatic aesthetic with a harsh contrast similar to the Renaissance style of painting. To achieve that, we opted for strong window lighting during the late afternoon to increase the contrasting variations of highlights and shadows on the featured subjects.
Here are some considerations:
Decide the harshness of the contrast to fit the mood you wish to convey. A strong contrast evokes drama, while a softer contrast adds a dreamy aesthetic to the image.
Be aware of the strength of your light source as harsh light sources may affect seeing the subject matter's details. Use a diffuser if required.
Depending on the subject matter, utilising sidelight placement may enhance the texture and volume of your subjects, while front light diminishes.
Composition
A photo becomes more intriguing and appealing when a new perspective is given to ordinary objects. Experiment with different possible compositions like top-down flat-lay, low-angled shot, fill-the-frame, macro shot, a frame within a frame or even photograph it at eye-level.

EOS RP, RF 35mm F1.8 Macro IS STM, f/5.0, 35mm, 1/256sec, ISO100
Top-angled shot

EOS RP, RF 35mm F1.8 Macro IS STM, f/3.2, 35mm, 1/100sec, ISO100
Eye-level shot

EOS RP, RF 35mm F1.8 Macro IS STM, f/2.8, 35mm, 1/100sec, ISO250
Macro-shot
Play around with your subject's characteristics. For example, a top-down shot of an unpeeled onion will showcase more of its tunic, while photographing it at eye-level features the onion with a focus on its roots. A different angle also can reveal different textures, colours and scales, with more of the onion's colours showing in the eye-level shot.
Understanding how each subject's unique form and shape interacts with other subjects will also assist in creating your composition and the focal point in the image. Photographing it at eye-level or low-angle works easily with the Canon EOS RP Vari-angle touch-screen LCD screen.

EOS RP, RF 35mm F1.8 Macro IS STM, f/4.5, 35mm, 1/200sec, ISO100
Top-angled shot of the onion (focus on tunic)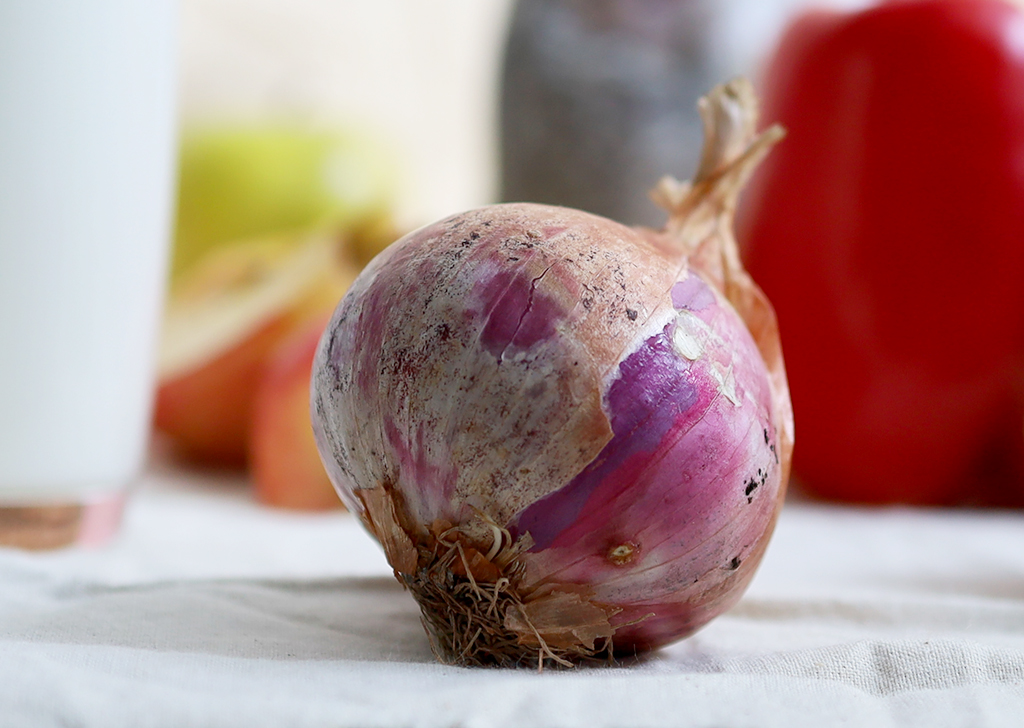 EOS RP, RF 35mm F1.8 Macro IS STM, f/2.8, 35mm, 1/80sec, ISO125
Eye-level shot of the onion (focus on the roots)
Focus
Having a focus in your still life image is fundamental. With Spot AF and 4,779 selectable AF frame positions in your Canon EOS RP, you'll have more flexibility over the placement of your subjects - meaning that you can put your primary subject (the one to be in focus) and secondary subject (supplementary elements that aren't the focal point of the image) anywhere within the frame.
Still life photography is often done with a tripod to achieve a stabilised, non-blurry image. Thus, the ability to have a high number of selectable focal positions means that you can always ensure that the main subject is in focus. As seen in the example above, you'll be able to decide if you would want your primary subject to be in the foreground (like the onion-focused shot), or background (the fish-focused shot) to be your focus. This allows you to have more creative freedom with where you place your subject and opens up fresh ways to compose your set.
As for older cameras/DSLR, they have limited AF positions. Therefore, you'll need to continually adjust and recompose your shot to get the main subject in focus. Manual focus will greatly help as well.
Burst Mode
Although not the most fundamental part of still life photography, you can utilise burst mode, or continuous shooting mode, to capture detailed moving moments in a still life scene. For example, our idea was to capture the exact moment where the egg sits on top of the bread as though frozen in time. Using burst mode, we captured the before and after of the pouring action and picked out the one that best fit our concept.

Compilation of Burst Mode shots

EOS RP, RF 35mm F1.8 Macro IS STM, f/2.8, 35mm, 1/500sec, ISO200
Final chosen shot
Burst mode allows more room for you to experiment with concepts that require movement. Some examples can be the splashing of water, the dripping of honey, or capturing falling fabrics to resemble levitation.
Additional tips
Plan it out. When looking for everyday objects to use in your still life photography, consider the different ways you can assemble them interestingly: the colour palette, the mood you want to achieve, and how each object is able to contribute to the shot. Are you adding a particular object, like orange peels, to increase the textural emphasis of the image? You can also sketch it out during the planning process.

A tripod comes in handy so you're able to set a frame/composition and free up your hands so you can shift the objects and lighting equipment around to experiment with your shot. And also for shots that require longer shutter speed as it helps to reduce motion blur.

If you're photographing alone but require a human element like hands in the image, remember to use the Bluetooth technology in EOS RP to control the camera and photographs remotely from your smartphone.
Read on for related articles such as the key features of Canon EOS RP, composition in photography, and product photography to improve your still life photography skills!