Tips & Tutorials >>
All Tips & Tutorials
Behind the Scenes of Filmmaking: An Interview with Gaurav Rungta (The Viral Fever) & Anand Bansal
If you enjoy watching Bollywood content or entertainment shows from India, chances are that you may have heard of or seen a TV series by The Viral Fever, such as "Permanent Roommates".
We spoke to two different filmmakers with different roles -- Gaurav Rungta, head of post-production The Viral Fever and Anand Bansal, a freelance cinematographer, as they share us with their technical experience behind-the-scenes working on their popular web series "Gullak".
Please introduce yourselves and tell us a bit about your work?

Gaurav Rungta (GR): I am Gaurav Rungta and I am the post-production head at The Viral Fever (TVF), an Indian content production company which has been commissioned by famous brands such as Amazon Prime Video, Netflix, Sony Liv and Zee5 for content creation. We started with our own YouTube channel and currently have over 10 million subscribers.
Anand Bansal (AB): Hi, I am Anand Bansal and I am a cinematographer based in Mumbai who shot Gullak which was produced by TVF. I started with an interest in photography before venturing into film, which I personally feel is a medium that suited me better for storytelling. Some of my other works include commercials for international brands. My works can be found at www.anandbansal.com.
What was your camera of choice when filming "Gullak", and what factors did you consider when deciding on a camera system for your film project?
GR: For us, camera selection starts during pre-production. As long-time users of Canon Cinema EOS systems, we tested the relatively new Canon EOS C300 Mark III and found the image performance of the camera to meet our expectations.
AB: Once I was on board the project, I realized that the camera's smaller size and weight allowed me to shoot quickly. The modular system of the camera also worked wonderfully when used in conjunction with a Ronin 2 gimbal that we had on set. We were able to balance it very easily due to the box-like form factor and the ability to reposition the LCD monitor. Another very useful feature was the built-in ND filter system from 2 to 10 stops. This allowed me absolute control over exposure in daylight situations. Not using an additional external filter also allowed us to work quickly and without fear that we might be introducing colour casts or unwanted blooming in the image due to stacking of glass elements in front of the lens.
What format and colour grading considerations did you all make when filming "Gullak"?
GR: We shot the entire series in Cinema RAW Light. While shooting a long-form series in raw can be quite daunting, we had a total of 33TB worth of data over the 26 days of production, which turned out to be very manageable for our post-production systems. The raw files provided us with the highest possible image quality from the camera. While "Gullak" didn't have what I would call a heavy grade, we had the peace of mind that the raw format would allow us to work without any constraints in post-production.

AB: The entire series was shot in Canon Log 2 and I noticed that the noise floor and noise levels of the EOS C300 Mark III were extremely low, hence producing a cleaner image overall which suited the project. As we were shooting with the Canon CN-E Primes as well, the overall rendition of the image was very pleasing to my eye, especially the varied skin tones that we have in our cast, which Canon cameras handle very well from my experience.
EOS C300 Mark III
CN-E lenses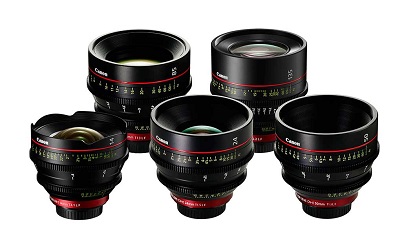 Seems like both of you have a lot of familiarity with the Cinema EOS system. Is the system something you have used for a long time?
GR: Our relationship with Canon cameras goes way back into the days when the Cinema EOS system wasn't even in existence yet! Our first web series "Permanent Roommates" was shot on the Canon EOS 5D Mark II with EF lenses, and since then, we have moved forward with the Cinema EOS system, having shot progressively on the EOS C300 series from Mark I to the Mark III now for different productions. What we particularly like with Canon cameras is that we never had any reliability issues. As we rent all of our cameras, the fact that we have not had any reliability issues with rental sets gives us confidence to carry on shooting with Canon products.
AB: I already had previous experience as I shot my feature Gamak Ghar (English Title: The Village House) on the Canon EOS C200. The operation and ergonomics of the camera was quite similar and my experiences then with Canon equipment was positive, which was further reinforced with the EOS C300 Mark III when I shot "Gullak".
Thank you both so much for your insights! Before we wrap up, I would like to ask what could you share what is the motivational force that drives you, and what is the one advice you would have for potential filmmakers or for those just starting out in the industry?
GR: Always try new technologies and new methods of doing things. You will never know when you will find a better, more efficient way of expressing yourself through your art form! Personally, I am very interested in learning new technologies and processes in filmmaking that can help simplify the technical aspects of filmmakers, which is why I ventured into post-production. It is something that has sustained my interests in filmmaking all these years!
AB: Just keep shooting because there is nothing to stop you. Professional level equipment are more accessible now and have come a long way in video quality! Tutorials are readily available on YouTube so there are really not many restrictions as compared to the past. Get out there, shoot more, learn more and eventually, one gets better at this! While the art and commerce aspects of filmmaking can be tricky and the management of people challenging, filmmaking is never monotonous and every single project is different. All of these are wrapped up in the objective of making beautiful images, which is what keeps me going!