Products >>
All Products
In Focus: EF70-300mm f/4-5.6 IS II USM- Part2
EF70-300mm f/4-5.6 IS II USM: An Excellent Lens for Beginners in Bird Photography
The EF70-300mm f/4-5.6 IS II USM is a compact, lightweight super-telephoto zoom lens capable of image quality on par with that of L-series lenses. We take a look at its performance in bird photography. (Reported by Gaku Tozuka)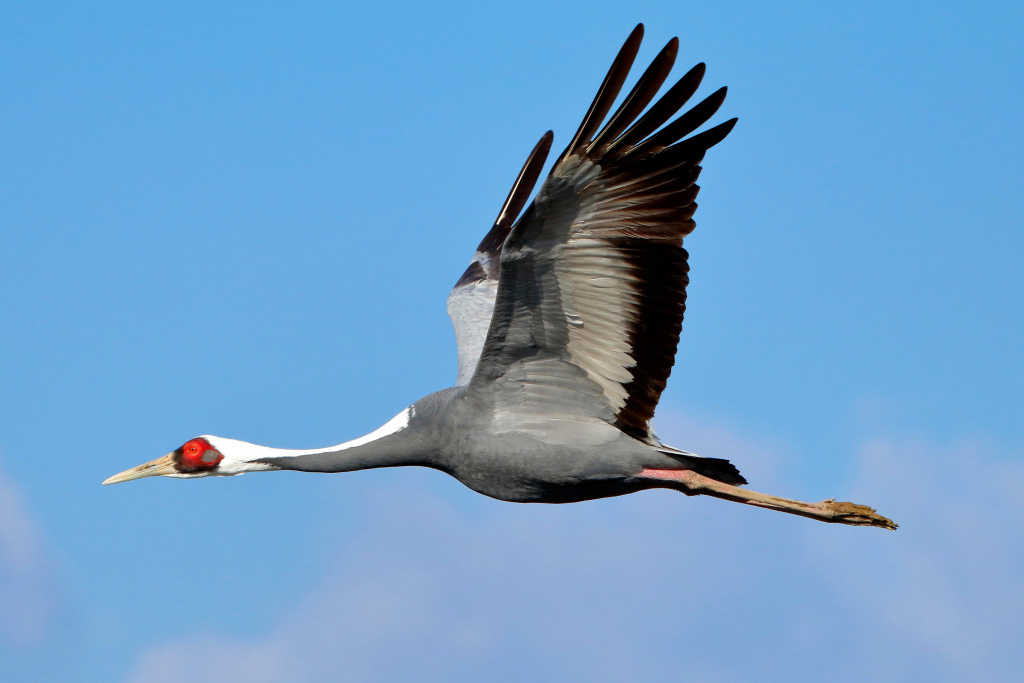 EOS 80D/ EF70-300mm f/4-5.6 IS II USM/ FL: 300mm (480mm equivalent)/ Manual exposure (f/5.6, 1/3200 sec)/ ISO 400/ WB: Auto
The compact, lightweight and superbly mobile EF70-300mm f/4-5.6 IS II USM
Bird photography captures the natural beauty of wild birds. If you are a beginner in this genre, you would probably want to start by first looking for wild birds of a larger size or small ones in the parks of urban areas since they are less likely to be frightened by people near them. To perform the shoot, a 300mm-class lens would be a good choice, and the EF70-300mm f/4-5.6 IS II USM is more than capable of doing the job. With a weight of only 710g, users should be able to use the lens for handheld shots with relative ease.
As a professional bird photographer, I usually make use of super-telephoto prime lenses that weigh more than 3kg. After trying out the EF70-300mm f/4-5.6 IS II USM, however, I was amazed by the image quality it delivers. Depiction of details such as the feathers of the subject is comparable to the quality of the L-series lens that I always use.
I also find this zoom lens extremely useful for its compact size, light weight and great versatility for composing shots. Besides taking close-up feature shots, I can also produce landscape-like photos with the bird appearing small at a distant position from the camera, simply by controlling the zoom ring. But what I love most about this lens is its light weight, which allows for vigorous handheld shooting. This style of shooting makes images prone to blurring caused by camera shake, which, needless to say, is unacceptable to a professional photographer. The results delivered by the EF70-300mm f/4-5.6 IS II USM, however, were perfectly fine thanks to the powerful IS feature that helps to effectively minimise camera shake.
Birds are very agile subjects with unpredictable movements. For this reason, a lens that supports high-speed AF is indispensable. This is also addressed on the EF70-300mm f/4-5.6 IS II USM by the Nano USM. With the high-speed AF, I was able to capture all the decisive moments.
For more challenging subjects in bird photography, such as a rare species perching on a tree branch in the far distance or birds of prey that are easily alarmed, a super telephoto lens will be required. However, if you are planning to start with wild birds in your surroundings such as parks, then this lens is the ideal choice considering factors such as image quality, weight and price.
EF70-300mm f/4-5.6 IS II USM
Lens construction: 17 elements in 12 groups
Minimum shooting distance: 1.2m
Max. magnification: 0.25X
Filter diameter: φ67mm
Size: approx. φ80×145.5mm
Weight: approx. 710g
Characterised by its compact size, light weight and high image quality, this telephoto zoom lens can be used with full-frame cameras. It is equipped with Nano USM, which enables high-speed AF in still photography as well as silent and smooth AF drive during movie shooting. When used with APS-C format DSLR cameras such as the EOS 77D and EOS 800D, the lens offers an angle of view that is equivalent to a focal range of 112 to 480mm.
Below, I share more about what I feel are the strengths of this lens.
1. High image quality throughout the entire zoom range with minimal colour blurring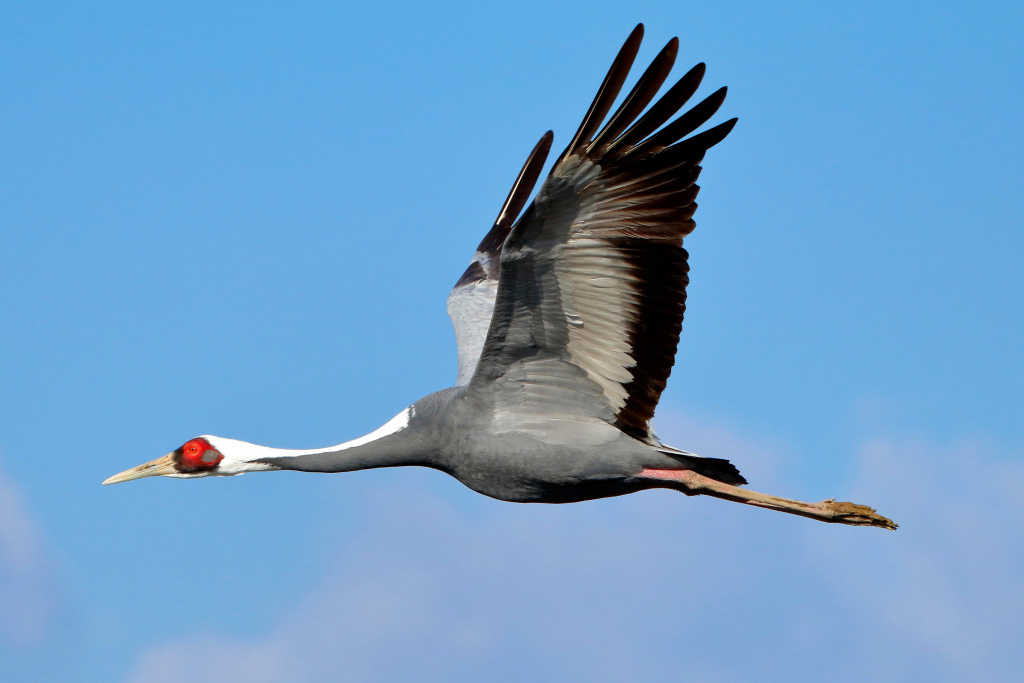 EOS 80D/ EF70-300mm f/4-5.6 IS II USM/ FL: 300mm (480mm equivalent)/ Manual exposure (f/5.6, 1/3200 sec)/ ISO 400/ WB: Auto
100% Enlarged
My target subject was a white-naped crane that was soaring elegantly in the sky. The resulting photos had such amazing image quality, they could be easily mistaken for one shot with an L-series lens. What I find particularly astounding is its ability to reproduce the details of the red-coloured skin around the eyes.
2. Colours are reproduced in high contrast with a rich tonal range
EOS 80D/ EF70-300mm f/4-5.6 IS II USM/ FL: 300mm (480mm equivalent)/ Aperture-priority AE (f/5.6, 1/320 sec, EV-1)/ ISO 800/ WB: Auto
Yet another appealing feature of this lens is the high-contrast depiction it produces. In this example, the beautiful colours of the foliage are faithfully reproduced with a well-balanced contrast that leaves a pleasant impression on the viewer.
3. Reliable IS feature that allows handheld shooting at the 300mm telephoto end
EOS 80D/ EF70-300mm f/4-5.6 IS II USM/ FL: 300mm (480mm equivalent)/ Aperture-priority AE (f/5.6, 1/200 sec, EV-0.7)/ ISO 800/ WB: Auto
When using the lens with an APS-C format DSLR, such as the EOS 80D, the angle of view is equivalent to a maximum focal length of 480mm, so it is possible to keep a moderate distance from the subject to avoid alarming it. Although the surroundings were dark, the result turned out sharp even at a shutter speed of 1/200 second, thanks to the powerful IS feature.
4. Works well in backlit conditions, allowing the light source to be included in the frame
EOS 80D/ EF70-300mm f/4-5.6 IS II USM/ FL: 155mm (248mm equivalent)/ Aperture-priority AE (f/5.6, 1/2000 sec)/ ISO 400/ WB: Auto
Here, I tried to capture both the rising sun and hooded cranes in the sky. Despite a completely backlit situation with the sun included in the frame, there was no noticeable flare or ghosting. The morning haze was also naturally reproduced.
Gaku Tozuka's verdict
A: Image quality
B: AF speed
C: IS feature
D: Design
E: Pricing
I usually use only L-series lenses. In fact, all the lenses I own are L-series lenses. This is because as a professional photographer, I need to ensure that the quality of my images are consistent—this is what makes the difference between a shot I can use, and one that I cannot. A lens might be light and affordable, but that does not mean it will produce images of good quality regardless of the shooting scene.
However, the EF70-300mm f/4-5.6 IS II USM truly took me by surprise. When I looked at images captured by the lens, I thought they were produced by an L-series lens. Not only so, the compact size and relatively light weight is a benefit when shooting handheld for long hours. Another noteworthy point is the enhanced IS feature, which allows me to carry out the shoot without having to worry about camera shake. The speed and accuracy of AF was good enough for handling the unpredictable movements of birds, and the shots of birds soaring in the sky were also satisfactory.
Judging from the above, I am sure that the EF70-300mm f/4-5.6 IS II USM is able to provide reassuring support for shoots where it could be inconvenient to bring too much shooting equipment, such as those involving trips into the mountains or to islands. Also, taking into consideration the reasonable pricing, I would recommend it as the first lens to get for beginners in bird photography.
You may also be interested in: EF70-300mm f/4-5.6 IS II USM Telephoto Zoom Lens Review
For more information about bird photography, check out the following articles:
EOS-1D X Mark II Live Action Review Part 1: Stunning Focus Accuracy and AF Tracking Performance
EOS-1D X Mark II Live Action Review Part 2: Dual Pixel CMOS AF-Perfect Focus Even in Dark Scenes
---
Receive the latest update on photography news, tips and tricks.
Be part of the SNAPSHOT Community.
Sign Up Now!
---
About the Author
Born in 1966 in Aichi, Tozuka developed an interest in photography when he was in the third year of high school, and started to capture natural landscapes as well as wildlife animals. At the age of 20, he became absorbed in photographing wild birds after accidentally capturing a woodpecker in his photo. He has released a large number of works in media such as magazines, bulletins, books, calendars and TV commercials.