Tips & Tutorials >>
All Tips & Tutorials
EOS-1D X Mark II: Slow Motion Playback of Full HD 100p/120p Movies Captures Fleeting Moments
There is one movie shooting feature on the EOS-1D X Mark II that you will want to extensively use during animal photography—the slow motion playback of Full HD 100p/120p-quality High Frame Rate movies. Using this feature allows you to record the quick movements of animals as a movie file of approximately 29.97 fps/25.00 fps, which can be played back in slow motion at one-quarter speed. This makes it possible to capture even the finest movement that would otherwise be difficult to see with the naked eye. In this article, I will explain how to make use of Full HD 100p/120p and points to note during a shoot. (Reported by: Yukihiro Fukuda)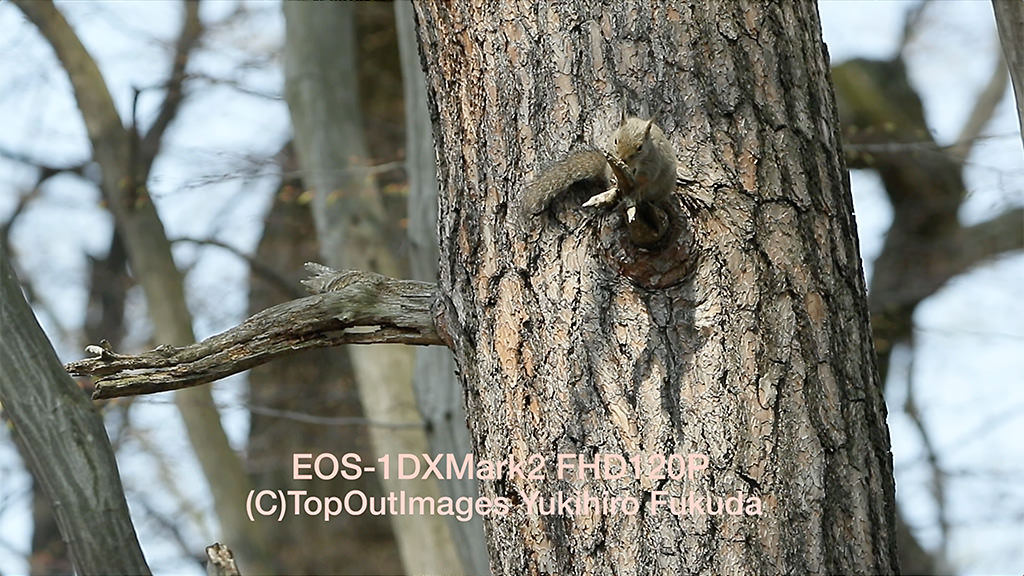 Point 1: With Full HD 100p/120p, you can record in slow motion
Among the movie shooting features available on the EOS-1D X Mark II, one that particularly stands out, other than 4K 50p/60p recording, is High Frame Rate recording in Full HD 100p/120p. Movies that you see on a daily basis on TV are usually recorded using a frame rate of 25p (25 frames per second) if using the PAL standard (30p if using the NTSC standard). However, movies shot at Full HD 100p/120p are recorded at 4 times that frame rate. When you replay such movies at a frame rate of 25p/30p, 1 second of the movie is stretched out to 4 seconds, thus becoming a slow motion movie.
A movie shot at Full HD 100p/120p on the EOS-1D X Mark II will automatically be saved as a Full HD 25p/30p movie. By simply playing back the recorded movies, users can enjoy viewing them in slow motion at one-quarter of the original speed.
When capturing photos of animals that are always running, jumping or moving around, Dual Pixel CMOS AF, which employs image plane phase-difference detection AF, plays a huge role, allowing you to execute high-speed AF shooting within a wide range of about 90 (vertical)% x 80 (horizontal)% of the captured image. With the aid of Movie Servo AF, you can even shoot movies while tracking a moving subject. Dual Pixel CMOS AF also enables the creation of slow motion video where movements are seamlessly tracked. Indeed, this function opens your eyes to a whole new world especially where animal and wild bird photography is concerned.
Point 2: You can record with low noise even when shooting at high ISO speeds
When shooting a slow motion movie in Full HD100p/120p, the maximum ISO speed available on the EOS-1D X Mark II is ISO 25600. High quality slow motion movies can be shot with low noise even at such high ISO speeds. No doubt, this is due not just to the full-frame sensor, but also further improvements from EOS-1D X such as the improved processing capability of chroma (colour) noise.
Being able to achieve good image quality at high ISO speeds means that you can increase the latter without worries, even when shooting under poor lighting conditions such as in the early morning or evening, or in the middle of a forest. In the above example, I was shooting in the middle of a forest in the early morning, and the surroundings were so dark that I could only obtain a shutter speed of 1/125 sec at aperture f/4, even though I had increased the ISO speed to ISO 10000.
In such scenes, within the low light limit of EV-3.0 (in other words, in fairly dark surroundings), the AF is able to showcase its capabilities. When taking still shots using the viewfinder, only the centre AF point can utilise the AF performance of EV-3.0. However, when taking movie shots in Live View, it is possible to use the AF performance of EV-3.0 across a wide range of the screen. This allows you to record slow motion movies in Full HD 100p/120p while using AF to track moving animal, even in scenes with low light.
Point 3: Tips to master the use of Full HD 100p/120p
---
Tip 1: Use a shutter speed of 1/125 sec as a guide
Tip 2: Customise Movie Servo AF in accordance with the subject
Tip 3: Use a smooth-moving video tripod to track moving animals
---
When using Full HD 100p/120p to shoot a slow motion movie, you need to consider whether the movements of the animal matches the frame rate of 100p/120p. That is because it is difficult to reproduce certain quick movements such as the splashing of water as a bird dives in to take the bait, or a bird flapping its wings at high speed, in the movie unless the frame rate is higher than 100p/120p.
I would recommend a shutter speed of 1/125 sec as a guide when using Full HD 100p/120p to capture the form of animals in a slow motion movie, if you notice some blurring of the subject, you could try increasing the speed to 1/250 or 1/500 sec.
However, do note that if you set the shutter speed too high, the slow motion movie that is created will not be smooth. Just as how you select good photos, selecting the optimal shutter speed is also where you show your skills as a photographer.
It is possible to customise the Movie Servo AF on the EOS-1D X Mark II in accordance with your subject. When panning the camera while tracking animal movements, a key point is to establish focus on the subject, and make sure that there is no major loss in focus after that. When taking the photos of the squirrels and monkey shown earlier in this article, I set Movie Servo AF Speed to +2, and Movie Servo AF tracking sensitivity to -3 (Locked on). By doing so, I was able to obtain the best shooting results.
Also, it would be convenient to use a video tripod to better assist you in your movie shoot. I use the Libec RH25D tripod, which I find not only provides smooth movement and superior durability, but is also relatively affordable compared to similar products of the same standard.
A feature of my much-loved Libec RH25D is its wide counterbalance range, which allows the head and camera to be kept still at any angle, and which can support small lenses through to 500mm-class super-telephoto lenses.
Customising Movie Servo AF 1: Set a positive value for a higher AF speed
The AF speed setting used when shooting movies gives a smoother impression when the AF speed (focus transition speed) is delayed (negative setting). However it would be better if the AF speed is fast, since slow motion movies are recorded at one-quarter speed. For the examples shown in this article, I used the maximum speed of +2.
Customising Movie Servo AF 2: Set to a negative value to maintain focus
As it is important to make sure there is no major loss in focus once you have established focus on the subject, I set the AF tracking sensitivity to -3. By doing that, it is possible to maintain focus on the subject as best as possible.
Slow motion movies on the EOS-1D X Mark II expands movie shooting possibilities
If you look at recent movies, you will see that many of them make extensive use of slow motion. Slow motion movies open up a world that cannot be perceived with the human eye, allowing you to experience the world in a different dimension. From another point of view, this also means that if animal photographers were to shoot such movies, they would have higher chances of selling them in the movie production market.
Animal photographers often think about how to capture impactful still shots of animal movements. That is the charm of taking still shots. However, there are times where videos would better help viewers understand the movements of the animal.
With the combination of excellent AF performance for tracking of animal movements and the ability to shoot with high ISO regardless of the shooting environment, slow motion movies captured using Full HD 100/120p on the EOS-1D X Mark II provide a big advantage in the world of animal photography. It is unmistakable that the increasing popularity of slow motion movies will allow people to gain a deeper understanding of animals, and thus the existence of this feature is extremely significant.
Receive the latest updates on photography news, tips and tricks by signing up with us!
Yukihiro Fukuda
Born in 1965 in Tokyo. Fukuda's visit to Hokkaido in search of the Japanese cranes he loved led him to become an animal photographer. After spending 10 years on wildlife coverage in Hokkaido, Fukuda expanded his scope to other countries and underwater photography. Wildlife, underwater, and landscape photography now form the three pillars of his current activities.