Tips & Tutorials >>
All Tips & Tutorials
In Focus: Built-in Flash Techniques- Part6
Built-in Flash Techniques #6: Magical Bokeh Circles on a Rainy Day
Dark, rainy days may seem less than ideal for shooting, but they are also opportunities to transform ordinary scenery into stunningly magical photos! In this article, we show you one way to do so with the help of your built-in flash. P.S: This is a good technique for livening up cityscapes. (Reported by: Teppei Kohno)
Aperture-priority AE (f/2.8, 1/30 sec)/ ISO 1600
Making magic from raindrops
If you have ever tried to shoot as normal (i.e., with no flash) on a rainy day, chances are that you will end up with a shot like the one below:
Manual exposure (f/2.8, 1/30 sec)/ ISO 1600
Built-in flash: Off
It doesn't look like it was shot on a rainy day, does it? This is because the rain is so fine, it is barely noticeable in the shot. It does not help that in the darkness of a rainy day, you will usually end up using a wide aperture and slower shutter speed to achieve proper exposure, which further blurs out the raindrops and renders them invisible.
But if you fire your built-in flash, it "freezes" the raindrops and makes them reflect light, turning them into point light sources that are perfect for creating bokeh circles. Here's a shot taken at the same settings as the one above, this time with the flash on:
Manual exposure (f/2.8, 1/30 sec)/ ISO 1600
Built-in flash: On
The raindrops illuminated by the built-in flash were largely defocused, resulting in a very magical-looking photograph.
Step-by-step: How to use a flash to turn raindrops into bokeh circles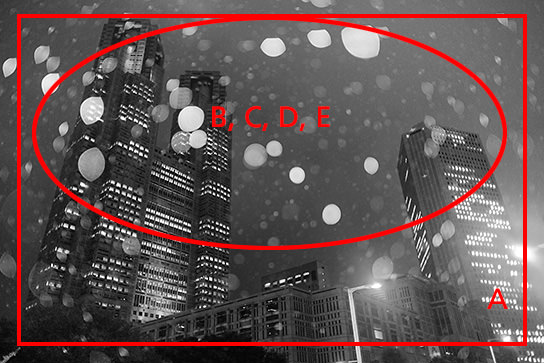 Shooting procedure
A: Focus on the scenery behind the rain (in this case, the buildings) and compose your shot.
B: Set your camera to Aperture-priority AE (Av) mode.
C: Use the widest aperture setting.
D: Turn on the built-in flash and shoot.
E: If the bokeh circles are trailing, increase the shutter speed by using a higher ISO speed.
(Here's what we mean by trailing bokeh circles)
The finer details are as follows:

1. Use a wide aperture and focus on the background scenery
This increases the foreground bokeh effect on the raindrops nearer to you, resulting in brighter, larger bokeh circles when you fire the flash.
Find out more about the basics of creating bokeh in:
Lens Basics #3: Creating Bokeh​

2. If your bokeh circles are trailing, increase the shutter speed
When the shutter speed is too slow, motion blur will cause the raindrops to trail and look like shooting stars (See example below). To avoid this, increase the ISO speed to achieve a faster shutter speed.
What happens when you shoot too narrow/slow
f/8, 1/13 sec: Small, trailing circles

Manual exposure (f/8, 1/13 sec) / ISO 1600
At a narrow aperture (f/8) and slow shutter speed, the raindrops form smaller, trailing circles that look more like strokes. This looks quite artistic but it's not the effect that we want to create.
f/2.8, 1/200 sec: Larger bokeh circles

Manual exposure (f/2.8, 1/200 sec) / ISO 1600
At the larger aperture and faster shutter speed, large bokeh circles were captured, conveying a sense of snow falling.
Tip: This technique works not only for rain, but for snow as well. It's a good trick to have up your sleeve when travelling overseas!
Know this: Remember to protect your equipment
Your camera is not water-resistant or waterproof, even if it is weather-sealed. Always take measures to protect your camera from getting wet, such as by shooting from sheltered places, or using a rain cover or waterproof housing.
Recommended: A fast wide-angle prime lens
When shooting at night or on a rainy day, the lack of light causes shutter speeds to slow down to achieve sufficient exposure. To keep the shutter speed from going too slow, it helps to use a fast (large aperture) prime lens that lets you set the aperture as wide as f/2.8 or below. A wide-angle version is especially useful for landscape and street photography, and as a bonus, they are usually also light and easy to carry around.
Here are three lenses to consider:
EF24mm f/2.8 IS USM​
Have an external flash unit? Here's a tutorial on using it to create surreal-looking portraits in the rain.
For more on capturing bokeh circles, check out:
Lens FAQ #8: Where Should I Focus On to Capture Beautiful Bokeh Circles?
For more tips and ideas for rainy day photography, check out:
Landscape Photography: Shooting Rain
Tips for Water Reflection Photography: Fun with Puddles!
---
Receive the latest update on photography news, tips and tricks.
Be part of the SNAPSHOT Community.
Sign Up Now!
---
About the Author
Born in Tokyo in 1976, Kohno graduated with a Social Work degree from the Department of Sociology of Meiji Gakuin University, and apprenticed with photographer Masato Terauchi. He contributed to the first issue of photography magazine PHaT PHOTO and became an independent photographer after that, in 2003. The author of many books, Kohno not only shoots all sorts of commercial photographs, but also writes prolifically for camera and other magazines.