Products >>
All Products
PowerShot ZOOM: A Pocket-friendly Telescope that Shoots Stills and Video
Launched on 25 February 2021, the PowerShot ZOOM is a compact digital monocular that functions like a telescope with photo and video capture abilities. Not only does it capture high quality videos and still images, it also lets you share them online via a paired smartphone. So tiny that it fits in your pocket, it promises a new imaging experience for outdoor activities such as sports, hiking, or bird-watching.
1. What is the PowerShot Zoom?
2. Key components: CMOS sensor, DIGIG 8, 2.36 million dot EVF
3. Telephoto power: Up to focal length 800mm with image stabilisation
4. Still shooting features
5. Video features
6. Connectivity
7. Industrial applications
What is the PowerShot ZOOM?
The PowerShot ZOOM is such a new concept that no existing category can truly describe it. Its most basic use is as a monocular—a telescope that you look through with one eye. And yet, it goes beyond simply being a viewing device, allowing you to capture and preserve what you see in stills and videos. In other words, it is a camera, camcorder, and telescope rolled into one: a pocket-sized digital monocular camera.
Conventional monoculars magnify objects using optics, but the PowerShot ZOOM system is an optical-digital hybrid. This is one of the biggest differences between the two.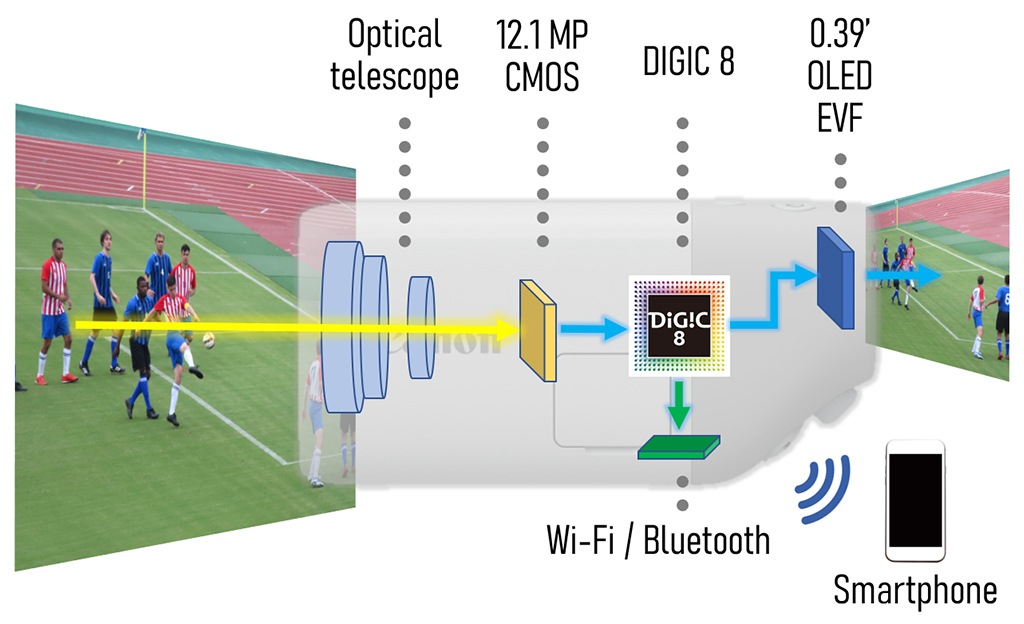 Key components: A CMOS sensor, DIGIC 8 image processor, and 2.36 million dot EVF in one unprecedentedly tiny body
The pocket-friendly PowerShot ZOOM packs in telephoto optics, a 12.1-megapixel CMOS image sensor to read the images captured by said optics, and a 0.39-inch, 2.36 million dot electronic viewfinder (EVF)—similar to that found on mirrorless cameras like the EOS RP. Image processing is conducted by the DIGIC 8 image processing engine, the same one on most of Canon's recent digital cameras, ensuring that the images you see are of high quality. The ability to record still images and video is all part of the package.
Built-in W-Fi connectivity lets you send the telephoto images and videos that you have captured to a paired smartphone via the Canon Camera Connect app, allowing easy sharing to social media.
The real kicker? You get all these features in a body that is so small and light, it fits entirely into your hand.
3. Telephoto power: Up to focal length 800mm with image stabilisation
In terms of telescopic magnification, the PowerShot ZOOM is capable of magnifying subjects by 1.2x and 4.8x optically, and 9.6x digitally. In terms of camera focal length, this translates to 100, 400mm and 800mm (35mm full-frame equivalent).
Pressing the ZOOM button lets you toggle through the 100mm (1.2x optical zoom), 400mm (4.8x optical zoom), and 800mm (9.6mm: 4.8x optical + 2x digital zoom) steps. To focus, half-press the PHOTO button.

These super telephoto capabilities are accompanied by Canon's prided image stabilisation (IS) system, which ensures a steadier view through the EVF. This is crucial for long focal lengths: those who have ever tried to view a scene at focal length 400mm and above through a non-stabilised handheld device or binoculars will have experienced just how shaky the image can get. At 800mm, it can even be difficult to keep track of the subject. Canon's IS-equipped binoculars have been popular among those in the know, but the PowerShot ZOOM is probably the smallest telescopic device to date to feature image stabilisation.
Rounding off the features is an AF (autofocus) system to aid focusing. If you enable the Continuous AF setting, which keeps the camera constantly acquiring focus, all you need to do is point the PowerShot ZOOM at your subject to have a stable close-up view of it. Preserving the scene in stills or videos is just one button push away.
Shooting stills: 12.1-megapixel images, up to 10 fps continuous shooting
With a CMOS image sensor that has 12.1 effective megapixels and the DIGIC 8 image processing engine, the PowerShot ZOOM is well-equipped as a digital camera. Its megapixel resolution is sufficient for printing 300 dpi A4 images, not to mention for normal everyday uses such as online posting and social media sharing.
Shot with the optical 4.8x magnification setting (focal length 400mm at 35mm full frame equivalent). You can choose between two AF modes: "Face detection + Subject tracking priority AF" and "1-point AF".
The biggest strength of the PowerShot ZOOM is its ability to shoot super telephoto images at up to focal length 800mm equivalent. Telephoto shooting on smartphones usually involves digital zoom, and the higher the magnification, the more the image quality deteriorates. The PowerShot ZOOM achieves its 100mm and 400mm images through optical zoom, and from there, achieving 800mm (9.6x magnification) requires an additional digital zoom of only 2x, resulting in barely any reduction in image quality.
Pairing it with your smartphone via the built-in Wi-Fi lets you see the EVF display on your smartphone screen and capture images from your smartphone—functionality that can be harnessed to "share" the telephoto view on the spot with a companion, or for remote shooting in situations where being directly behind the camera is inconvenient.
The PowerShot ZOOM also offers continuous shooting at up to 10 frames per second. Combined with its telephoto shooting capabilities, it offers a handy option for capturing faraway moving subjects such as birds, wildlife, or even sports.
Shooting video: Full HD 30p/25p
For those scenes where still images just aren't enough, the PowerShot ZOOM offers Full HD video recording at 29.97/23.98 fps (NTSC) and 25.00 fps (PAL). Now, you can capture closeups of your favourite athlete in moving action! When fully charged, you can record up to approximately 60 minutes of video* (or view up to approximately 70 minutes' worth of playback). That's enough to take multiple short clips of about a few minutes' long, even during events or tournaments that last a few hours.
*Video recording is not available when the Wi-Fi connection is in use.
Support for USB-C powering and charging allows you to power and charge the device on the spot with a portable power bank. While use of the Canon's USB Power Adapter PD-E1 (sold separately) is highly recommended, third party charging adapters are also supported**.
* Time per recording: up to 9 minutes 59 seconds
**Power adapter must be USB Type-C and Power Delivery compatible, output voltage / output current: 9V DC / 2A or more.
The magic item that turns your smartphone into a super telephoto camera
To link the PowerShot ZOOM with your smartphone, use Canon's free Camera Connect smartphone app. The product of years of constant improvements and updates to mobile connectivity tools for EOS cameras, Camera Connect is not only feature-rich but also consistently user friendly.
There is a lot that you can do on Camera Connect, and these fall mainly into two categories:
i) Data transfer
Preview the images and videos that you shot with the PowerShot ZOOM on the larger screen of your smartphone, and download selected files to your smartphone.
ii) Remote Live View
Display the PowerShot ZOOM view on your smartphone for remote viewing and capture*.
*Depending on the communication environment, there may be delays in remote operation or remote Live View images. Remote shooting is for still images only.
Pairing is easy: all you need to do is download the app, start it, and register the PowerShot ZOOM. The devices will be linked when you start the app and turn on the PowerShot ZOOM. This lets you use the PowerShot ZOOM like an external telephoto lens for your smartphone.
Not just for leisure: Handy for journalism, security, and infrastructure maintenance too!
With its compact size that fits into the palm of your hand, an interface that supports one-handed operation, and the ability to take quality videos and stills, the PowerShot ZOOM is useful for a variety of scenes beyond the casual. Journalists will find it handy for scenes such as accidents or natural disasters where it is not possible to bring in large cameras and lenses. It also lets users observe discreetly from a distance, which will aid surveillance and security work. Those working in construction or infrastructure maintenance will benefit from the ability to check for and photograph leaks, cracks, and other details in high places with one tiny handheld device.
In that sense, the new concept PowerShot ZOOM expands the possibilities of imaging beyond the usual realms.
---
Receive the latest update on photography news, tips and tricks.
Be part of the SNAPSHOT Community.
Sign Up Now!
---