Products >>
All Products
SELPHY CP1300: Now You Can Print Anywhere
With digital photography at its height of popularity, still images and photographs are produced more than ever. What is lacking, however, is the level of authenticity and tactile connection we have with each image; this is a result of smartphone screens and digital photo albums.
Some Challenges of Photo Printing
The convenience of storing, sharing and preserving digital photography outweighs the hassle of developing quality pictures at a Photo Lab. In some places of the world, even the traditional photo labs are considered a luxury. For some rural areas, photo printing is just not a viable option. Hassles and photo print quality aside, access to electricity is also widely scarce. Photo printing needs to be seamless, portably accessible, and ready to create memories wherever the moment takes you. This is where the features in the Canon SELPHY CP1300 comes in handy for photographers.
Easy to Use
Gone are the days when photo printing needs a computer and USB connection. With SELPHY CP1300, you can now simply connect smartphones via Wi-Fi. All you need is the Canon PRINT Inkjet/SELPHY app (available on App Store and Google Play) that lets you choose pictures and print wirelessly from your device.
Printing from camera? Easy! Just insert your memory card in the USB card slot and print. You can also print directly from your USB flash drive.
Portable & Compact
Small in size (18.6 x 13.5 x 6.3cm) and light to carry (860g), the Canon SELPHY CP1300 is a game-changer for remote photo printing. It lets you pack light, travel further and print anywhere – what a great add-on to your photography gear.
Last the distance with more power by purchasing a separate battery pack with up to 3 hours per charge. Battery replacement is also made fuss-free, just remove the back cover and switch batteries instantly.
Interface & Printing
After Wi-Fi connection, select a few favourites that you would like to print. Then, choose between border or borderless printing. When printing with a memory card or USB, you can also choose different layouts (Shuffle layout or sizes from 5.3 x 5.3cm to 10.2 x 15.2cm) directly from the LCD display.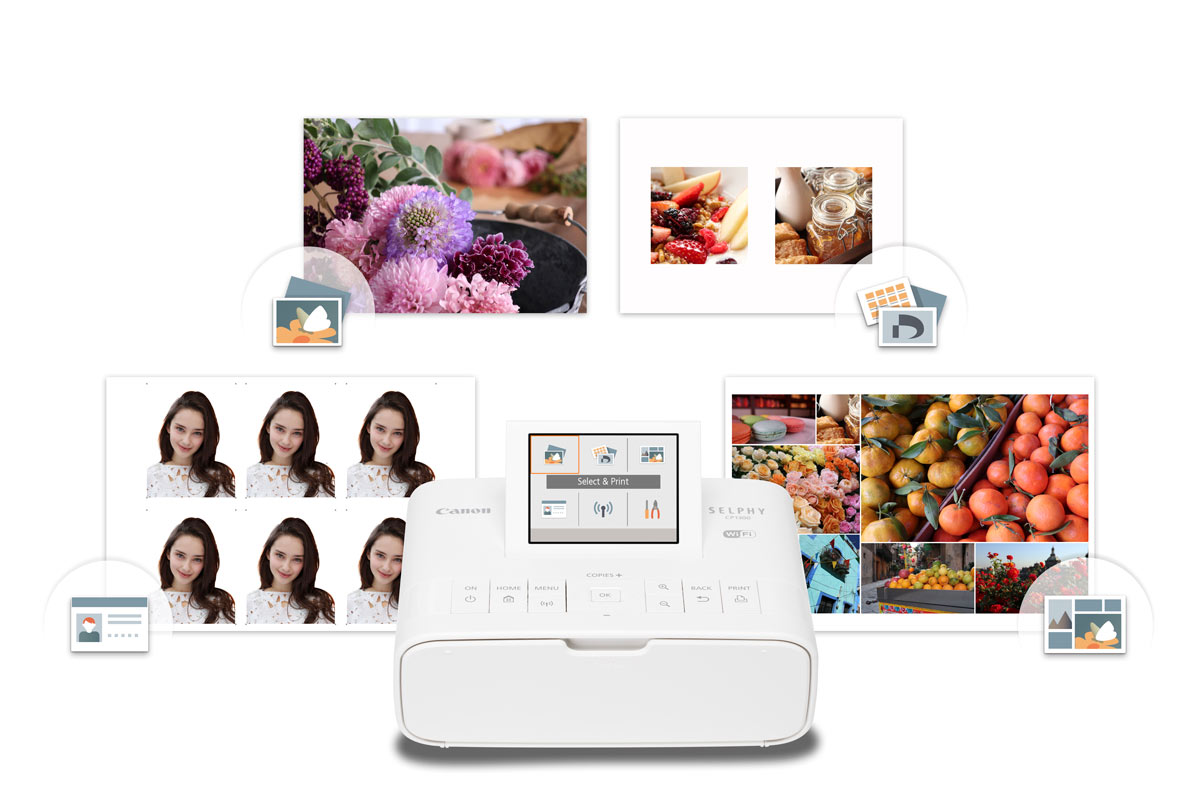 You can also download the newly launched SELPHY Photo Layout app for more creative flexibility in arranging your photos. With the new app, you can easily arrange your photos in different layouts (N-up Layout, Bookmark Layout, Shuffle Layout, Combination Layout and Label Layout), save them to your smart device and send to print by using Canon PRINT Inkjet/SELPHY app. Now wireless printing with SELPHY CP1300 is easier than ever.
Download the app on Google Play and iTunes Apps Store.
Fast & Lasting Prints
Each print is complete and delivered as fast as 47 seconds for a postcard-sized photo. The built-in dye-sub technology uses a special coating to protect the paper from splash and spillages, ensuring that prints last up to 100 years when kept in proper photo album conditions.
All-rounded, Smart Photo Printing
To sum up, every feature that we have observed from the SELPHY CP1300 is cleverly designed and optimised for remote photo printing. Easy to transport and use, and ready to print wherever you are.
Compact Photo Printer in Schools
In the next articles, we will put these features to use as we visit the children and classes of rural Indonesia. Stay tuned!
Learn how to print creatively with Canon SELPHY printers from below articles:
Print Photos Creatively Using the Selphy Printer
Get Creative with the Canon Selphy CP1200 Compact Photo Printer
Bring your Photos to Life with the Canon Selphy CP1200 Compact Photo Printer
---
Receive the latest update on photography news, tips and tricks.
Be part of the SNAPSHOT Community.
Sign Up Now!
---