Inspirations >>
Photos & People
The Journey of Don Hasman's Photography in His Senior Years
"As long as I can walk and lift up my camera, I will always be taking photos," said Don Hasman, an Indonesian senior photographer with an adventurous soul. Although he is now 77 years old, his smile and spirit is still shining brightly when we asked him about his journey in photography. He gladly narrated his adventures from climbing mountains and taking pictures for his book. Through his photos, he shares the beauty of nature, culture, and every human gesture from every part of the world.
How did your interest in photography begin?
It began in 1951. I was 11 years old then and taking pictures for the first time with Voigtländer. My love for photography started when I saw my older brother taking pictures. I was very interested in the idea of freezing time, and only photos can truly accomplish that.
What kind of objects did you capture in the early days?
When I was very young, I enjoyed capturing the buildings around my house in Mangga Besar, Taman Sari area.
What does photography mean to you?
I see photography as a medium to share knowledge. With photography I can share what I know through seminars and photo exhibitions, as well as within pages of books and posts on social media.
EOS-1D X Mark II; EF28-300mm f/3.5-5.6L IS USM; 135mm; f/13; 1/640 sec; ISO-3200
What is 'Ethnophotography'?
Ethnophotography is about learning and recording every aspect of human life, including habits, art, culture, and fashion. All these activities are recorded and perpetuated for extensive studies, research, and analysis for other group of people.
How many books have you produced?
Until now, I have produced 13 books (2 of them are on Baduy, the rest covers money theme and others).
Among your books, which one is the most memorable?
The one titled Urang Kanekes as the process took 39 years and over 500 visits to Baduy.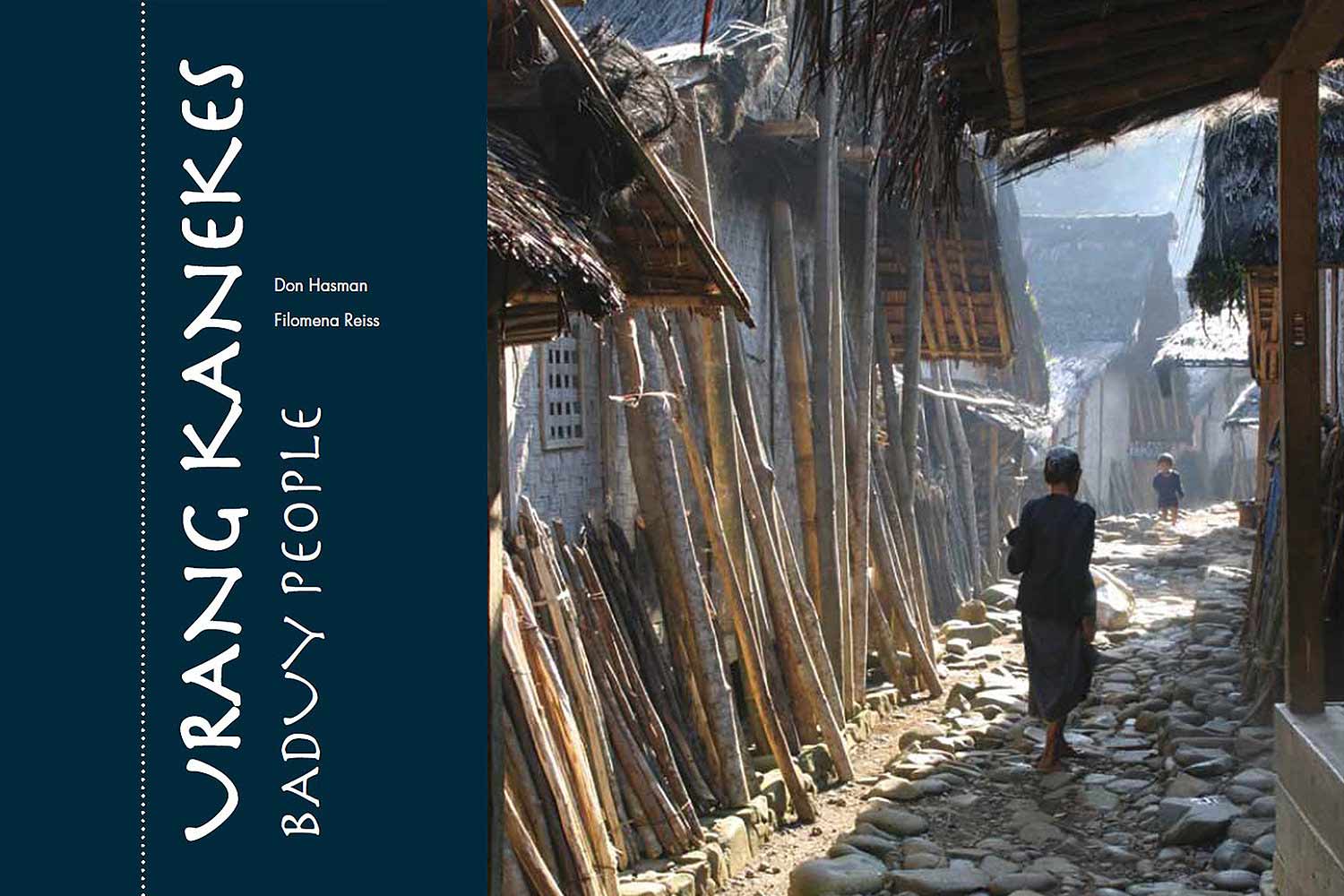 What inspires you to choose that theme?
It is the unique culture and lifestyle of the Baduy tribe. For me, it's totally new and exclusive only within the local tribe. There are many traditions that had already been forgotten but they can still be found in Baduy. Even inner and outer Baduy have very different vibes.
What is the difference between Inner and Outer Baduy?
Inner Baduy has rules that strictly prohibit video recording and especially for taking pictures. This isn't found in Outer Baduy.
Then how did you get to take pictures in Inner Baduy?
It was done secretly, for the sake of my interest and curiosity. I did it discreetly because I knew they would not give any permission. But all the pictures published were only of Outer Baduy. I don't want to violate their rules to show the pictures of Inner Baduy.
What was the experience like taking pictures of Inner Baduy?
I think they're all the same but what makes Inner Baduy special is that they managed to do what people think is impossible and beyond human's knowledge, like walking on water. Baduy people are also able to travel long distances in a short time without any footwear. They have these abilities with the help from their ancestors' spirits. It is their special ability that still exists today and I have seen it with my own eyes.
What have you learned from Ethnophotography?
It starts from learning the tools they use, their behaviour, art and cultures, to their daily activities. Every place I went to has their own tradition. Too bad there is not so many has interest in ethnophotography, out of thousands of photographers, only about 700 have covered this genre. 
Any tips and tricks you would share on Ethnophotography?
- Camera and lenses are necessary
In big cities, we need to take pictures as fast as we can so we don't lose the moment. Thus, I need camera with tele lens. Usually I use Canon EF28-300 mm f/3.5-5.6L IS USM that can be used for many purposes. To capture moments, I use Canon EOS-1D X Mark II.
- Research
You need to conduct research before you reach your destination. We need to have work plan to decide the concept and the itinerary trip. While you take pictures, note the newest, the best, and the first photo.
- Observe and gather information
The research, result and field observation are most likely to be different. When you reach your destination, find as many updated information from the locals.
- Be active, productive, creative, and honest
Don't just sit and stare while you're on a photography trip. You need to be active, productive, and creative to capture a good picture, and you cannot exaggerate it. Every picture has to be honest. Ethnophotography has to be natural and unstaged. Every captured moment has to be genuine and true to life.
- Make it natural (without lighting)
To take pictures, I usually just use camera and lenses. I use natural light from the sun, the best lighting from God, without any external flash. I want to make natural pictures, without exaggeration.
EOS-1D X Mark II; EF28-300mm f/3.5-5.6L IS USM; 32mm; f/2.8; 1/25 sec; ISO-32000
Have you ever climbed mountains for Ethnophotography?
I was the first to climb the Himalayas 3 times; in 1976, 1978, and 1996. My purpose was to take pictures and you can see the photos in Tempo magazine in 1978. In every trip, I always want to take pictures and write the stories for the people to see. I have to make something out of my journey. The first climb took 2 weeks time. The second, one and a half month, for I need to walk for 29 days. All flights were cancelled due to clouds and fog. Along the trip I spent 10 rolls of film and produced hundreds of photos.
How beautiful is Indonesia's natural landscape?
There are many beautiful cities in the world but I think Indonesia outnumbers them. Indonesia seems to has everything. For skiing, we can go to Carstensz Pyramid, Papua. Indonesia has awesome deserts, tropical forests, and seabeds, all at once. Indonesia has what other countries don't. 
Find out which Canon's EF lenses best used for landscape photography here.
EOS 400D; EF-S18-135mm f/3.5-6.3 IS; 39mm; f/9; 1/100 sec; ISO-400
As a senior photographer, what do you think of young photographers today?
Awesome. They are quick to learn even when they lack of basic techniques of photography. They haven't got their grip yet. But with the right attitude, sooner or later they will master the art of images.
What do you think of pictures that undergo editing process?
For me it's alright, as long as photographers mention that the photo was edited. Technology is legitimate to use for facilitation and time efficiency.
Is there anything you would like to say to Indonesian young photographers?
You have to preserve the ethics in taking pictures. Being honest is a must and it is not okay to be greedy.
PowerShot G1 X Mark II; 32mm; f/6.3; 1/500 sec; ISO-200
Check out the below articles for beautful places in Indonesia and around Asia:
When Bajawa Coffee Accompany Our Astrophotography Search
Cukul, Find the Hidden Gem of Bandung, Indonesia
5 Places in Asia for Awesome Travel Photos
---
Receive the latest update on photography news, tips and tricks.
Be part of the SNAPSHOT Community.
Sign Up Now!
---
About the Author
An Indonesian photographer with a sense of adventure. Despite being 77 years old, Don Hasman would never stop exploring the world to take pictures. Conquered Himalaya, explored caves, scuba dived, and contributed in numbers of Cultural Anthropology researches.