Products >>
All Products
Buyer's Quick Guide: Speedlite 600EX II-RT
Canon's flagship external flash, the Speedlite 600EX II-RT, boasts a powerful light output as well as a fast recycling time that lets you capture fleeting photo opportunities with utmost accuracy. This is one very reliable model indeed. (Reported by: Teppei Kohno)
Speedlite 600EX II-RT: Flagship model with powerful light and continuous flash output capabilities
Front
Back
The Speedlite 600EX II-RT is a great help in such scenes:
- To clearly illuminate subjects that are a distance away from the camera.
- Scenes such as live concerts or sports, when you need to carry out high-speed continuous shooting for subjects with intense movements.
- For capturing portraiture with significant background bokeh in mid-day lighting.
- When taking a landscape-orientation shot of a large group of people.
3 strengths of the Speedlite 600EX II-RT
Point 1: Range of coverage and continuous flash output capabilities
With its guide number of 60, the highest in the entire Speedlite series to date, the Speedlite 600EX II-RT can illuminate even faraway subjects. The flash angle covers focal lengths from 20mm wide angle all the way until a telephoto length of 200mm. Not only does this Speedlite illuminate subjects evenly and brightly, it also proves to be strong in terms of continuous flash output. It is capable of firing up to 100 continuous flashes, which is significantly higher than the Speedlite 430EX III-RT which has a maximum of only 20 continuous flashes. This makes it ideal for users who want to get creative with stroboscopic flash.
Point 2: Easy operability despite the multitude of functions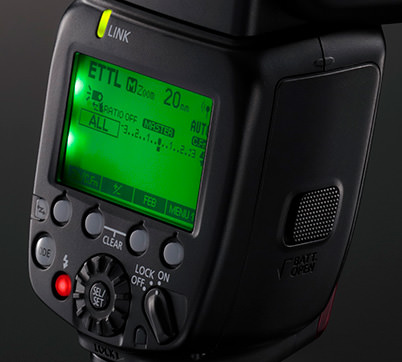 Despite a multitude of functions, the various functions can be selected by operating just a few buttons. Choosing different modes is easy as well as the large buttons and LCD monitor makes handling the Speedlite easier.
The Speedlite 600EX II-RT's easy operability extends to wireless firing and multi-flash photography. To set the unit as a 'Master' or 'Slave', just select the appropriate option on the display screen and you are good to go.
Point 3: Enhanced continuous flash shooting possible with battery pack
The recycling time can be further shortened and the overall number of flashes increased by using the dedicated Battery Pack CP-E4N (red rectangle, sold separately).
With CP-E4N
Recycling time: Approx. 0.1 – 1.1 seconds
Number of flashes: Approx. 300 – 2100 times
Without CP-E4N
Recycling time: Approx. 0.1 – 5.5 seconds
Number of flashes: Approx. 100 – 700 times
Use the Speedlite 600EX II-RT to achieve shots like these:
1. Capture unpredictable decisive moments accurately with the powerful continuous flash output
EOS-1D X Mark II/ EF16-35mm f/4L IS USM/ FL: 29mm/ Manual exposure (f/6.3, 1/200 sec)/ ISO 1000/ WB: Auto
The Speedlite 600EX II-RT charges quickly after each flash with a recycling time of 0.1 seconds, making fast continuous flash shooting possible. Scenes such as the split-second between jumps can be reliably captured while avoiding scenarios where the flash does not go off as intended.
2. Illuminate subjects positioned far away from the camera brightly and clearly
EOS 760D/ EF-S18-55mm f/3.5-5.6 IS STM/ FL: 55mm (88mm equivalent)/ Manual exposure (f/5.6, 1/400 sec)/ ISO 100/ WB: Auto
The powerful light output of the Speedlite 600EX II-RT ensures that sufficient light reaches the subject, even if it is positioned a distance away from the camera. The example image was shot in severe backlight, but notice how the flower head is sufficiently illuminated.
3. Create significant background bokeh in your portraits, even in midday
EOS 7D Mark II/ EF85mm f/1.2L II USM/ FL: 85mm (136mm equivalent)/ Manual exposure (f/2.5, 1/8000 sec)/ ISO 100/ WB: Auto
Using high-speed sync lets you use a faster shutter speed, which in turn enables you to use a larger aperture even in the bright midday sun and create a defocused background.
Speedlite 600EX II-RT Main Specifications
Guide Number: Approx. 60m at ISO 100 and 200mm flash coverage
Flash Coverage: 20 – 200mm (14mm when wide panel is used)
Bounce: Up: 90°, Down: 7°, Left/Right: 180°
Number of Flashes: Approx. 100 – 700 flashes
Recycling Time: Approx. 0.1 – 5.5 seconds
Power Source: Four AA-size or HR6 Ni-MH rechargeable batteries
Dimensions (W×H×D): Approx. 78.7×143.2×122.7mm
Weight: Approx. 435g (Speedlite body only, without batteries)
Accessories
Colour Filters SCF-E30R1 & SCF-E30R2
To correct reddish or bluish tints and adjust the colour of the subject and background.
Bounce Adaptor SBA-E3
For increasing the light coverage during bounce photography.
Speedlite Case
A dedicated case for carrying around the Speedlite 600EX II-RT.
Mini stand
For positioning the Speedlite 600EX II-RT on surfaces such as on tabletops.
Considering other Speedlites? Check out the following articles for more information:
Which Canon Speedlite Flash to Choose? 
Buyer's Quick Guide: Speedlite 270EX II 
Buyer's Quick Guide: Speedlite 430EX III-RT 
For information about the kind of photos you can take with Speedlites and tips on how to achieve them, check out:
In Focus: The Basics of External Flash Photography 
---
Receive the latest update on photography news, tips and tricks.
Be part of the SNAPSHOT Community.
Sign Up Now!
---
About the Author
Born in Tokyo in 1976, Kohno graduated with a Social Work degree from the Department of Sociology of Meiji Gakuin University, and apprenticed with photographer Masato Terauchi. He contributed to the first issue of photography magazine PHaT PHOTO and became an independent photographer after that, in 2003. The author of many books, Kohno not only shoots all sorts of commercial photographs, but also writes prolifically for camera and other magazines.