Tips & Tutorials >>
All Tips & Tutorials
The Fundamentals of Photography- Part13
Camera Basics #13: Live View
The implementation of Dual Pixel CMOS AF in Canon's latest camera models have vastly improved shooting conditions in Live View. Live View, which features fast AF speed that measures up to viewfinder AF, is gradually becoming the choice method of shooting for many photographers. In the following, we will explain more about the characteristics of Live View. (Reported by: Tomoko Suzuki)
Live View: A method whereby a real-time image is projected onto the LCD screen
Points-to-note
- Changes in colour and brightness are observable in real-time.
- Does not put pressure onto the subject while shooting.
- Enables you to shoot at a comfortable posture when shooting at high or low positions.
 
Which kind of scene types are suitable for Live View shooting? Which are better for viewfinder shooting?
Live View is a feature that enables you to verify the image projected on the rear LCD monitor as you shoot. DSLRs such as the EOS 77D and EOS 800D enable you to switch to Live View with a push of the Live View shooting button. Since Live View is the standard method employed for shooting in mirrorless cameras, such as the EOS M6, it can be used once the camera is switched on.
The biggest advantage of Live View is that it enables you to view changes in colour and brightness before releasing the shutter. When you perform adjustments in white balance and exposure compensation, the effects are simultaneously reflected on the LCD screen, so that you can preview them and determine whether to go ahead to shoot with the adjustments or adjust them further.
There are also other advantages. Being able to magnify the display and select the area you want to focus on makes it very useful when you want to carry out pin-point focusing, especially in macro photography. As Live View shooting removes the need for the photographer to look into the viewfinder which obscures his or her face, it relieves the subject of the pressure of being photographed—essential for portrait photography, where you need to bring out and capture the subject's most natural expressions. Moreover, Live View is very useful when shooting videos. The latest cameras equipped with Dual Pixel CMOS AF enables exceptional AF speed and seamless tracking of moving subjects when shooting videos.
Live View shooting and the rotatable LCD monitor: An outstanding pairing
Combining the use of Live View with the rotatable LCD monitor gives you a greater level of freedom for composition. You can even shoot at high and low positions without having to withstand uncomfortable postures. Rotating the LCD monitor by 180 degrees even enables you to take selfies with ease.
Rotatable LCD monitors come in either the 'vari-angle' or 'tilt' types, with vari-angle types used in DSLRs, and tilt types used in mirrorless cameras. Both of which feature their respective advantages and disadvantages. We explain more below.
Vari-angle type (screen flips horizontally)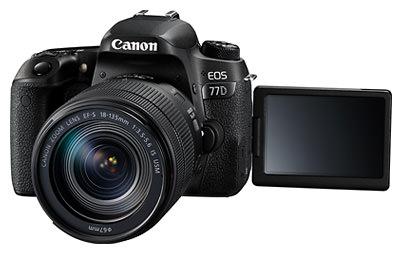 EOS 77D
Advantage
- Shoot from a high or low angle even while keeping the main camera body in a horizontal position
- Don't have to be directly behind the camera to shoot—it can be held somewhere slightly to the side
Disadvantage
- A need to get used to aligning the image, as the optical axis of the lens and LCD monitor are not aligned
- Requires more time to put the LCD screen back into place
Tilt-type monitors (screen flips vertically)
EOS M6
Advantage
- Optical axis of the lens and LCD monitor is aligned
- Able to put the LCD monitor back into place immediately
Disadvantage
- Limits to how you can move it
- Will have to tilt the camera to shoot from a low (or high) angle
Related Concept 1: Shooting Position
Shooting from a low angle
Shooting from a high angle
Left: EOS 80D/ EF-S18-135mm f/3.5-5.6 IS USM/ FL: 56mm (90mm equivalent)/ Aperture-priority AE (f/5, 1/400 sec, EV-1.0)/ ISO 100/ WB: Daylight
Right: EOS 6D/ EF24-105mm f/4L IS USM/ FL: 97mm/ Program AE (f/5.6, 1/160 sec, EV+1.0)/ ISO 100/ WB: Daylight
Live View enables you to shoot comfortably without having to get into difficult postures, such as at low positions very close to the ground, or at a high positions your eye level cannot reach, without having to look into the viewfinder. Do make use of Live View when you want to photograph a subject at a difficult shooting position.
Related Concept 2: Touch Shutter
EOS 80D/ EF-S18-135mm f/3.5-5.6 IS USM/ FL: 135mm (216mm equivalent)/ Aperture-priority AE (f/5.6, 1/200 sec, EV+0.7)/ ISO 4000/ WB: Daylight
The touch shutter is a function where the AF focuses and releases the shutter, simply by a tap from you onto the part of the screen you want to focus on while in Live View. Since there is no need to select the AF point like in viewfinder shooting, you are able to shoot quickly even in scenes that have objects with varied distances, like in the example above.
Receive the latest updates on photography news, tips and tricks by signing up with us!
About the Author
A monthly magazine that believes that enjoyment of photography will increase the more one learns about camera functions. It delivers news on the latest cameras and features and regularly introduces various photography techniques.
Published by Impress Corporation
After graduating from the Tokyo Polytechnic University Junior College, Suzuki joined an advertisement production firm. She has also worked as an assistant to photographers including Kirito Yanase, and specializes in commercial shoots for apparels and cosmetic products. She now works as a studio photographer for an apparel manufacturer.