Products >>
All Products
First Impression by Subject: Sports
What kinds of photos does the EOS 7D Mark II produce, and how does it revolutionise conventional photography? This article presents the first impression of the EOS 7D Mark II from the viewpoint of a professional in sports photography. (Reported by: Shinya Tanaka)
Excellent Tracking Performance that Locks Focus on the Moving Subject
The sports matches I photographed for this article were futsal, baseball, and jet skiing. As these activities are completely different in nature from each other, the shooting techniques as well as camera characteristics required also vary. The EOS 7D Mark II is equipped with all the requirements necessary to capture these scenes. Compared to the EOS 7D, significant advancements have been made to the AF performance and subject tracking performance. Besides movement in the vertical and horizontal directions, focus can also be maintained on subjects with back-and-forth movements once it is established. Similarly, image quality at high ISO speeds has improved dramatically with negligible noise. On top of that, what sports photographers find most welcome is that while the focal length leaves something to be desired in the case of the EOS-1D X, which is a full-frame camera, this is complemented by the APS-C format sensor in the case of the EOS 7D Mark II.
In addition to the features necessary for the different sports games, there is yet another feature which I found most amazing, the Anti-flicker shooting function. When I carried out high-speed continuous shooting at old or indoor stadiums in the past, there were many occasions where colour cast would occur even though I was able to capture the decisive moment. By enabling Anti-flicker shooting for the futsal game, I was able to carry out high-speed continuous shooting smoothly. The result is self-explanatory. All the photos were produced in the same colours.
Advancements are seen not just in the functions, but also the operability. With the wide range of information displayed inside the viewfinder, it is possible to customise the settings according to your preferences without having to move your eye away from the eyepiece every time. Also, the large LCD screen enables colours and the focus to be checked instantly. The EOS 7D Mark II is bound to bring dramatic changes to the world of sports photography. Besides outdoor sports, you are also encouraged to try out the newly-evolved EOS 7D Mark II on indoor games.
EF200-400mm f/4L IS USM Extender 1.4x/ 381mm (equivalent to 610mm in 35mm format)/ Shutter-priority AE (1/8,000 sec., f/4.5, ±0EV)/ ISO 400 / WB: Auto/ AI Servo AF/ Single-point AF
A shot of a jet ski speeding through the water, creating fierce splashes. Singe-point AF continues to maintain the focus on the top skier without any hunting caused by the splashes.
EF200-400mm f/4L IS USM Extender 1.4x/ 400mm (equivalent to 640mm in 35mm format)/ Manual exposure (1/2,000 sec., f/5)/ ISO 3200/ WB: Auto/ AI Servo AF/ AF point expansion
A pitcher pitching with all his might was captured with AF point expansion. I overlapped the AF point with the subject's face to include the umpire and catcher as part of the foreground blur.
Hot Feature
Anti-flicker Shooting
Useful for Indoor Sports inside a Gymnasium, etc.
The feature that amazed me most was the Anti-flicker shooting function. For previous cameras, high-speed continuous shooting in a dimly-lit gymnasium or an old building has always caused the problem of flicker. As this feature is not even available on the EOS-1D X, which is the flagship model, there is no doubt that the EOS 7D Mark II will bring about revolutionary changes to indoor sports photography.
Recommended Lenses
Covers a Range from Mid-telephoto to Super Telephoto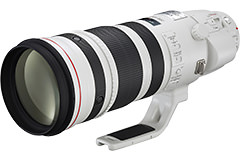 EF200-400mm f/4L IS USM Extender 1.4x
This is the long-awaited super telephoto zoom lens from Canon. By using the extender with a built-in lens, you can obtain an angle of view that is equivalent to a maximum focal length of 896mm in the APS-C format. Regardless of indoor or outdoor shoots, there is basically no worry of missing out on a decisive moment with the use of the zoom.
Click here to see details of the EF200-400mm f/4L IS USM Extender 1.4x
EF70-200mm f/2.8L IS II USM
Used as a main lens for indoor sports and as a sub lens for outdoor matches, this super telephoto lens is an extremely handy item. Considering the body size, the EOS 7D Mark II can be used as a main or a sub camera, so this lens makes a good combination with the camera for all types of sports photography.
Click here to see details of the EF70-200mm f/2.8L IS II USM
Shinya Tanaka
Born in 1977 in Tokyo. Member of the Association Japonaise de la Presse Sportive (AJPS). As a freelance photographer, Tanaka has been photographing sports events held worldwide, including the Beijing Olympics, Vancouver Paralympics, and Europe soccer games. He also shoots live and CD jackets for the music industry.

Digital Camera Magazine
A monthly magazine that believes that enjoyment of photography will increase the more one learns about camera functions. It delivers news on the latest cameras and features and regularly introduces various photography techniques.
Published by Impress Corporation