Love to capture portraits but looking to elevate your shots? Learn how to up the ante by shooting portraits at night with these 3 tips from photographer Joseph Mak and Canon's new EOS R.
1. Leverage ambient and artificial light
EOS R, EF35mm f/1.4L II USM lens, f/1.4, 35mm, 1/40sec, ISO800
Photography is often described as chasing the light, because light makes photography possible. But when the lack of light is your biggest challenge, how do you overcome it? Firstly, you'll want to look for places with plenty of street lights and neon signs to help illuminate and give your photos a lovely glow.
EOS R, EF35mm f/1.4L II USM lens, f/1.4, 35mm, 1/125sec, ISO320
Joseph explains, "When shooting under low-light conditions, I tend to use a prime lens as it usually has a large aperture to allow more light to enter. I use Canon's new EOS R full-frame mirrorless camera and EF35mm f/1.4L II USM lens, with the help of a dedicated EF-EOS R Mount Adapter. I keep my shutter speed to 1/40 so as to capture more ambient lighting. Even though I'm shooting at night, I'm able to enjoy precise focusing with the camera's low-light focusing limit of EV-6 at the central focus point."
EOS R, EF35mm f/1.4L II USM lens, f/1.4, 35mm, 1/40sec, ISO320
You can also use artificial lights to illuminate your subject. Joseph adds, "Fairy lights with a warm colour help to light up my subject's face. This warm tone also creates a contrast against the cool tones of the background."
Tip: Shoot your subject with the fairy lights either close to your lens or around your subject. In the photo above, he holds the fairy lights closer to the camera while shooting to create big light blobs.
Another way to deal with the lack of light when shooting at night is to increase the ISO speed. Capturing high image-quality photos at night is possible with the EOS R, as it achieves a standard ISO sensitivity range of 100-40,000.
Joseph adds, "To achieve better quality photos, I set my ISO speed to a range of 400 to 800. I'm able to scale my ISO speed faster by using the customisable Multi-Function (M-Fm) bar; with just a quick scroll on the bar, I can change the ISO to my desired speed."
Learn how to play with light in 3 Ways to Light Your Portraits When Shooting at Night with the EOS R.
2. Use props

EOS R,EF35mm f/1.4L II USM lens, f/1.4, 35mm, 1/60sec, ISO320
Add interest to your night portraits with props: think shiny surfaces that reflect the surrounding light and also help to light up your subject's face. In this shoot, Joseph experiments with a prism and spectacles that his subject wears.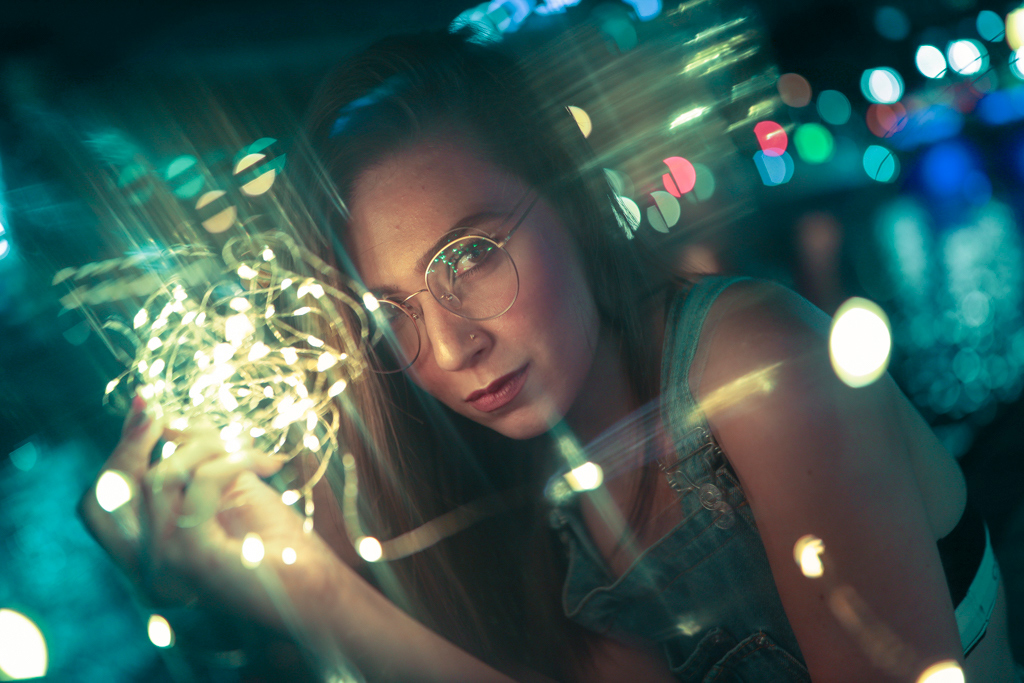 EOS R, EF35mm f/1.4L II USM lens, f/1.4, 35mm, 1/60sec, ISO320
"Try various angles when holding the prism – sometimes placing it right in front of the lens – to achieve reflections of your subject's face. By asking my subject to wear spectacles, I'm also able to capture the fairy lights reflected on her specs."
When using a prism, have your subject in focus and then slowly introduce the prism at the side of the lens. Twist the prism and monitor the effect on your camera's LCD screen – experiment until you find the reflections that you want in your photos.
Joseph credits the EOS R for enabling him to shoot more efficiently. "The camera's new FV (flexible AE) exposure mode works perfectly for shooting at night. It enables me to adjust exposure settings like aperture, shutter speed, and ISO between AUTO and direct adjustment in a single mode. This means I can change my settings even while looking through the viewfinder, without having to use the mode dial or LCD screen."
Shooting at different angles is easier with the camera's Vari-angle LCD monitor. "Even though my subject is sitting on the ground, I can flip the camera's LCD screen upwards to focus on her face easily, without having to crouch down and keep looking at the screen."
For more creative ways of using props in your photography, check out Tips to Create Light Painting Photos with Torch and Glow Sticks.
3. Make it better with bokeh
EOS R, EF35mm f/1.4L II USM lens, f/1.4, 35mm, 1/125sec, ISO320
What better way to wrap up a night shoot than by capturing some bokeh-licious shots? Bokeh, the soft, out-of-focus and blurry effect in the background, is achieved when you use the widest aperture of your lens and ensure there are street lights behind the subject.
Joseph notes, "With street lights in the background, shooting at night helps the bokeh patterns to really stand out. If you want some noticeable bokeh bubbles, ask your subject to stand where the bright lights are further away. The shallow depth of field will transform the lights into colourful bubbles in the background."
Learn how you can DIY bokeh with 5 Creative Hacks to Up Your Instagram Game.
EOS R, EF35mm f/1.4L II USM lens, f/1.4, 35mm, 1/40sec, ISO320
Eyes can make or break a portrait. When shooting portraits, it is important to keep your focus on the eyes. With up to 5,655 selectable AF positions, the EOS R gives you the freedom to focus on any part of the frame. "Plus, with Eye Detection AF the camera is able to focus on the subject's pupil with pinpoint accuracy – useful when photographing portraits with shallow depth of field on a large aperture lens," notes Joseph.
Discover how to capture blur-free and well-lit photos with Shoot Beautiful Night Portraits with No Tripod, No Flash.
There's more to shooting creative night portraits than incorporating bokeh or using props to achieve special effects. Look for unusual locations and identify the light source when shooting night portraits. Learn how you can play with light in various locations with 3 Ways to Light Your Portraits When Shooting at Night with the EOS R.
Read more on the EOS R:
Reimagine Optical Excellence with EOS R
An Interview with the Developers: Introducing Canon's First Full-Frame Mirrorless Camera, EOS R
An Immersive Shooting Experience Awaits with the All-New EOS R
---
Receive the latest update on photography news, tips and tricks.
Be part of the SNAPSHOT Community.
Sign Up Now!
---
About the Author
Photography is not just about having the best equipment or the latest gadget. It's about seeing things around us. Everyone has a different perspective of things, and each views the same subject matter differently. It is always very interesting to see the different perspectives recorded in photographs, and I will always try to understand what story each photographer is trying to tell from their photographs. My style of photography is to keep it simple and clean. The key element in the photo is to be able to tell a story of the scene. Photography is an art of visual storytelling, rather than snapping a photo by itself.
Every photographer ought to be respected for the work they produce, because each photograph taken by them reflects his own unique personality.