Happenings >>
Campaign
Who Runs The World With Mong Chin
Lifetime Asia teams up with Canon, offering prominent social media influencer, Yeoh Mong Chin a chance to push her boundaries as she attempts to finish six races in six countries over eight weeks. It seems impossible, but this rookie runner is not alone. In each country, she'll meet musicians, food bloggers, and fashion designers… people from all walks of life who will inspire and help her in her journey.
From designing the coolest leggings on the planet and indulging in the most deliciously healthy natural food, to learning the movements of Balinese dance, each encounter provides bursts of inspiration as Mong conquers dirt roads, highlands, grasslands and pavements. With their support, she hopes to complete the challenge and inspire people everywhere to get moving!
But the reality of an influencer's life is that the work never stops – content that resonates with her more than 150,000 followers needs to be generated regularly. In between race training comes the task of discerning trends and interesting Instagrammable activities, scoping out the best spots for a photo shoot, and meeting other influencers in the region.
Yeoh Mong Chin, also known by her social media moniker 'Mongabong', is one of Singapore's most successful influencers. She started her social media presence in 2012 by doing blogshop modelling and documenting her pursuits, passions, and beauty recommendations for friends. Fast forward six years later and this fashionista and lifestyle guru's social media presence counts more than 150,000 Instagram followers and over 50,000 YouTube subscribers.
The Singapore Management University graduate has carved a niche in the Asian blogging scene, making Mongabong.com one of the most visited blogs due to its easy-to-digest commentary, engaging photos, travel inspiration and affordable beauty discoveries for 20-something females.
EOS M50

Best-in-class image quality and 4k video capture capabilities for the traveler seeking a truly flexible camera. Upgrade your travel photos and videos to live your stories in vivid moments.

EOS M100

A trendy camera for the budding lifestyle influencer to snap those in-vogue moments. It is the best option to enable visual storytelling – may it be for personal use, or for new talents to get their work noticed.
WATCH THESE HANDY TUTORIAL VIDEOS

[Tutorial] 5 Essential Tips for Food Photography

[Tutorial] 4 Ways to Make Your Talent Look Good in a Fitness Photo Shoot

[Tutorial] 6 Tips for Better Photos in Low Light

[Tutorial] 6 Tips for Better Photos in Low Light

Behind-The-Scenes in Hanoi: Meet the Hanoi Circus Community

Behind-The-Scenes in Singapore: Toruk the First Flight

Behind-The-Scenes in Kuala Lumpur: Make a Smoothie Bowl

Behind-The-Scenes in Kuala Lumpur: Latte Art @ Juan Valdez Cafe

Behind-The-Scenes in Chaing Mai: Scare Yourself Silly @ The Castle Ghost House

Episode 1 Cut-down: Who Runs The World With Mong Chin (Chiang Mai)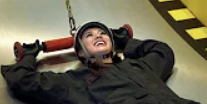 Episode 2 Cut-down: Who Runs The World With Mong Chin (Kuala Lumpur)

Episode 4 Cut-down: Who Runs The World With Mong Chin (Hanoi)
Click on the countries below to follow Yeoh Mongchin's adventure
Can this rookie runner run the world? Swapping eyeshadow for workout wear, social influencer Yeoh Mong Chin will attempt 6 runs in 6 countries over a span of 8 weeks! Will she be able to overcome the challenges?