Products >>
All Products
In Focus: EOS 5D Mark IV- Part5
12 Powerful New Features of the EOS 5D Mark IV
The much-anticipated EOS 5D Mark IV has made its debut. As you know, this brings a sea of change to the playing field for full-frame DSLRs about four years after the launch of the EOS 5D Mark III. Let's take a look at new features of the EOS 5D Mark IV that you will not want to miss. (Reported by: Ryosuke Takahashi)
*This review was done with a prototype, which may differ in external appearance from the actual product.
A trusty all-rounder DSLR packed with new features
The EOS 5D series is one of the major full-frame DSLR lines that have paved the way not just for Canon, but the entire camera industry. Building on the strengths of the EOS 5D Mark III, the EOS 5D Mark IV has garnered much attention as the camera to set the bar for full-frame DSLRs moving forward.
In a way, it is a definitive model that perpetuates the design and development philosophies of the rest of the EOS 5D series in addition to boosting entry-level and comprehensive capabilities. A prime example is how the imaging sensor has been ramped up to approximately 30.4 megapixels, but the goodies don't stop there – the camera comes with the in-camera Digital Lens Optimizer (DLO), previously only available with the EOS-1D X Mark II. What's also surprising is the DLO caters to JPEG shooting for the first time on an EOS camera – even before the EOS-1D cameras get their turn.
With a continuous shooting speed of up to 7 fps even at approximately 30.4 megapixels, this versatile camera can also meet the needs of most shoots. It also strikes me that this is the first EOS camera to come with Dual Pixel RAW Optimizer, a new feature for DPRAW and DPP (Digital Photo Professional).
The EOS 5D Mark IV also comes with many other new features, of which the Dual Pixel CMOS AF stands out the most. This technology had already been incorporated into the EOS-1D X Mark II, but has nonetheless transformed the Live View shooting and movie shooting interfaces of the EOS 5D Mark IV.
The EOS 5D Mark IV has plenty to offer, and is the ultimate all-rounder that has captivated both dedicated long-time users of the EOS 5D Mark II and EOS 5D Mark III, as well as those who wish to progress to a more advanced model.
TOPIC 01: 30.4-megapixel CMOS sensor
All sensors on the camera are newly-developed and rapidly generate data output by the approximate 30.4 megapixels. Thanks to the various technologies used including a new refinement process, the pixel pitch has been maintained despite the higher pixel count. (The pixel pitch for the EOS 5D Mark IV is approximately 5.36 microns.) Normal ISO speed has been raised to ISO 32000.
TOPIC 02: Maximum ISO speed of ISO 102400
ISO speed can be expanded to ISO 102400 and the normal range has an upper limit of ISO 32000, an improvement of 1/3 stops from the EOS 5D Mark III's. The achievement of both high pixel count and ISO speed is made possible by the synergy between sensor technology and image processor.
TOPIC 03: Dual Pixel CMOS AF with minimum focusing brightness of EV-4
Although the Dual Pixel CMOS AF on the EOS 5D Mark IV has much in common with that on the EOS 80D, the focusing capability in low light during Live View shooting has been improved to minimum EV-4, a leap from the EOS 80D's EV±0. Besides surpassing the flagship EOS-1D X Mark II's EV-3 with this specification, this camera is also the first full-frame EOS camera to come with FlexiZone - Multi autofocusing.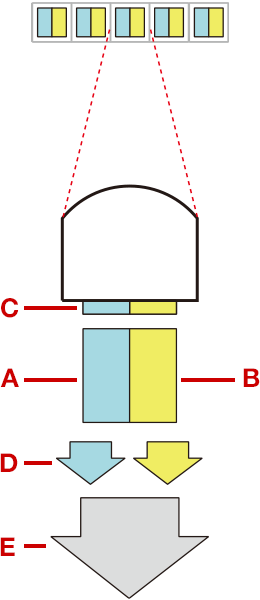 A: Image A
B: Image B
C: Photodiode
D: During focusing
E: During shooting
For more about the Dual Pixel CMOS AF, read the following article:
[Part 2] Live View of EOS 70D to become the other "viewfinder" – Unveiling the Dual Pixel CMOS AF –
TOPIC 04: Touchscreen functionality
This is a first for the EOS 5D series – you can take your shots by tapping the LCD screen to focus and release the shutter, enlarge the image playback and see the next frame in a movie. You can even select functions directly from menu items or the Quick Control screen.
TOPIC 05: New image processing function DPRAW
DPRAW is a new RAW format that additionally includes Dual Pixel CMOS AF information. By shooting in this format, the Dual Pixel RAW Optimizer in DPP can be used during post-production, where Image Microadjustment, Bokeh Shift and Ghosting Reduction can be applied.
TOPIC 06: More robust lens aberration correction
With the EOS 5D Mark IV, peripheral illumination correction, distortion correction, chromatic aberration correction and diffraction correction can be applied in-camera or through the DLO. The difference can be seen even when shooting in JPEG format.
TOPIC 07: Up to 7 fps continuous shooting
1 fps higher than that of the EOS 5D Mark III, the highest continuous shooting speed of the EOS 5D Mark IV is second only to that of the EOS 7D Mark II, going by the numbers, making this one high-performance camera. The structure of the mirror and electronic circuit were newly developed to achieve this agility.
TOPIC 08: High-precision 61-point reticular AF II
This is the same AF system as the EOS-1D X Mark II's. The coverage area has been extended all around, by as much as approximately 24% for the left and right blocks. All points are compatible with an aperture of f/8. With the EOS iTR AF, subjects can be aligned more accurately with focusing points. Automatic tracking of moving subjects is also improved.
A: Cross-type focusing: f/4 horizontal + f/5.6 or f/8 vertical
B: f/5.6 or f/8 vertical focusing
C: Cross-type focusing: f/5.6 or f/8 vertical + f/5.6 or f/8 horizontal
D: Dual cross-type focusing: f/2.8 right diagonal + f/2.8 left diagonal
f/5.6 or f/8 vertical + f/5.6 or f/8 horizontal
TOPIC 09: 150,000-pixel RGB + IR metering sensor
This camera has a 150,000-pixel RGB + IR metering sensor utilising face and colour recognition. This stabilises exposure and relays information to the AF function by both detecting the brightness of the subject and recognising colour information.
TOPIC 10: Compatible with 4K 30p movie shooting
The EOS 5D Mark IV's full-frame sensor can be used for 4K movie shooting, at the Digital Cinema Initiative (DCI) Standard of 4K/30p. Tasteful slow motion playback is enabled by the rapid HD frame rate of 100 fps (PAL) / 119.9 fps (NTSC).
TOPIC 11: Intelligent Viewfinder II
This viewfinder is compatible with new functions such as the flicker warning. A dedicated electronic level display replaces the one that was displayed with the AF frame.
Check out this article for more about the Intelligent Viewfinder.
Optical Viewfinder
TOPIC 12: Dust- and water-resistant components
With shoots in harsh locations in mind, this camera has tougher dust- and water-resistance. The camera dials and buttons have dust- and water-resistant sealing materials around them; what's more, the area around the lens mount has incorporated a dust- and water-resistant ring.
Receive the latest updates on photography news, tips and tricks by signing up with us!
Ryosuke Takahashi
Born in Aichi in 1960, Takahashi started his freelance career in 1987 after working with an advertising photo studio and a publishing house. Photographing for major magazines, he has travelled to many parts of the world from his bases in Japan and China. Takahashi is a member of the Japan Professional Photographers Society (JPS).

Digital Camera Magazine
A monthly magazine that believes that enjoyment of photography will increase the more one learns about camera functions. It delivers news on the latest cameras and features and regularly introduces various photography techniques.
Published by Impress Corporation