Tips & Tutorials >>
All Tips & Tutorials
Rediscovering Centre Composition: 2 Exercises For Your Next Photowalk
It's easy to dismiss centre composition as amateurish—after all, it's probably the most intuitive composition technique. But this very simplicity is good to fall back on when we need to shift our mindset away from the overall composition of an image back onto the subject. Here are two exercises to try out. You can apply them separately or together! (Reported by: Kazuyuki Okajima, Digital Camera Magazine)
EOS R/ RF50mm f/1.2L USM/ Aperture-priority AE (f/2.8, 1/1300 sec)/ ISO 100/ WB: Auto
It's possible to pay too much attention to composition
"Composition" refers to how we arrange the elements of a photograph inside the frame. It's an essential part of visual arts including photography. However, when we think too much about how to compose our shots, it's easy to end up focusing on the overall "big picture" and neglecting our main subject. That's how we end up with images that are technically perfect, but with the viewer's attention on everything and yet nothing in particular.
Recentre attention onto the subject, literally and figuratively
Placing the subject smack in the centre of the image is the most direct way of drawing attention. It is so intuitive that as a beginner photographer, you probably had to learn to stop overusing it! But its very simplicity makes it an easy way to practice building your awareness of the subject, as you don't have to think of too much else. Such awareness helps you create images with clearer intent.
Of course, it's not a matter of simply going out to shoot everything with centre composition: practice has to be done purposefully to show results! Here are two exercises to try out. Spend an hour on each of them, or two hours on both—even that is enough to start looking at scenes differently.
Exercise 1: Practise your footwork, with the help of two restrictions
A "composition-priority" mindset can lead to habits that limit your creativity when it comes to shooting to focus attention on a subject. Two such common habits are:
i) Seeing the scene only through your lenses
ii) Adjusting the composition with only your hands (by zooming or moving the camera, but otherwise staying in the same fixed shooting position).
To counter these, try shooting with the following two restrictions:

Restriction #1: Use only the AF frame in the centre
Hone your awareness of the subject
If you've been accustomed to the rule of thirds and other such compositions, you'll probably be tempted to shift the AF frame off centre. But when you do so, you end up putting a lot of effort into considering factors such as the balance in the composition, and pay less attention to your main subject.
Making it a point to use only the AF frame in the centre forces you to place the subject right in the middle. Your shooting flow becomes quite simple: identify the subject→align it with the AF frame→release the shutter. Eventually, you'll find yourself becoming more conscious of your subjects, and it becomes easier to build a connection.

Restriction #2: Use a prime lens (or tape down your zoom)
Build your physical awareness of distances and angles
Zoom lenses are really convenient. With one (or a few) turns of the zoom ring, you can go from a wide shot that shows the subject in context, to a close up shot that shows it in incredible detail. But relying too much on that doesn't just limit your perspectives, it can also stop you from building that sense of distance that will help you capture photo opportunities more intuitively.
To counter that, use a prime lens. You could also tape down a zoom lens, but I find using a prime lens better because it leaves you with no other option! The easiest lens to use would be a standard prime lens with a focal length between 35mm to 50mm full-frame equivalent, as it provides a field of view that is similar to human vision.
Fascinated? You might want to try out this other technique if you need a break from the exercises here!
Standard Lens Techniques: Using the Point of View to Draw the Viewer In
Also see: 50mm Landscapes, My Style: The Lens that Inspires Adventure

Stepping back

Moving close

Moving around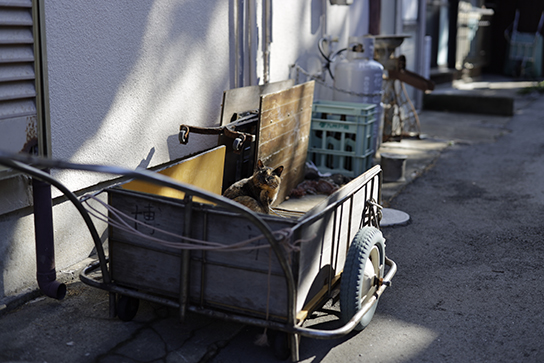 When you "zoom with your feet", you will naturally experiment more with different camera angles and positions as you try to figure out the best way to capture your subject.

Tip: Observe the scene without the camera first
The "frame" created by the camera's viewfinder or rear monitor inevitably limits your view. Using your own eyes to observe first gives you a much better sense of the scene and atmosphere—and more ideas on what to photograph.
Challenging yourself to with a fixed focal length for a whole day, a whole week, or even a whole month is also a great way to inspire creativity. Here's what else you can try:
3 Deceptively Simple Challenges to Level Up Your Photography Skills
Exercise 2: Break out of the "frame mindset" and think in terms of point of interest
Instead of prioritising composition, prioritise the subject
When we get too caught up with achieving good composition, it's also easy to get into the "frame" mindset where we see a scene in terms of two-dimensional frames. We forget that the elements are three-dimensional, and so, when we move to adjust the composition, we tend to move in a linear way to change the position of the elements within the frame.

Stop doing this: Frame mindset
How we often end up moving when we prioritise composition.
While the "frame mindset" helps us to achieve a balanced composition, too much "balance" could scatter the viewer's attention to the corners, instead of focusing it on a particular subject. To break away from that, embrace the "point of interest" mindset, where you identify one main subject and see it as a three-dimensional point of interest.

Do this instead: Point of interest mindset
In the point of interest mindset, you're constantly keeping the subject as priority. It's now just a matter of what you choose for the background and foreground.
Here are some more examples of how this approach can help you to communicate your intent to the viewers better.

It focuses your composition
When you literally place your subject in the centre, it leads to a subconscious mindset shift: the subject also becomes your centre of attention, and you start to compose around it instead of with it. The way you move when you adjust your composition changes accordingly too.
Frame mindset
In this shot, I was thinking too much about balancing colours and elements. It's hard to tell what the main subject is—the window, red building, tree branches and sky all compete for attention but nothing really stands out.
Point of interest mindset (centre composition)
Composed to place the window of the red building in the centre. It looks so much more impactful, doesn't it?

It becomes easier to guide the viewer's attention
With a fixed point of interest, it's easier to concentrate on the focusing and exposure. You also become more conscious about elements that are potentially distracting or obstruct the viewer's line of sight. For more awareness, remember to observe the scene with your eyes first. You might miss out such details when looking through the viewfinder or rear monitor.
Frame mindset
The main subject blends in with the background. In a scene like this, the eye tends to seek contrast and will find a ready source of distraction in the bright sky.
Point of interest mindset
Moving around the subject as my point of interest, I found that shooting from the opposite side provided a background that made the subject stand out better.
Bonus tip: Make sure that your subject is properly exposed
Underexposed subject
In high contrast situations such as when there is backlight, using the default evaluative metering mode, where the camera meters light using the whole image to determine the best exposure, might not achieve ideal results. For example, in the image above, it has caused the subject to be underexposed and the background to be blown out. Our eyes are drawn to the bright background instead.
Of course, you could shoot in RAW format and adjust the brightness in post-processing later. But for purposes of these exercises, how about moving your feet to find an angle with less contrast instead? You never know when a little footwork on the spot can lead to new discoveries!

What else to check: Competing interests
Watch out for elements that distract the viewer or compete with your main subject for attention. If they are at the edges of the frame, you can simply crop them away later. However, if they block the subject or are very near to it, your best solution is to adjust your angle on the spot.
Some easily neglected distractions:

Text in the background
Our eyes fall on the text, not the plant.

Brighter colours
Here, our eyes get drawn to the white car door because of the brighter colour.

---
What kind of interesting images can you achieve with a prime lens and centre composition? Tag us on Instagram at @canonasia or share it on My Canon Story and stand a chance to be featured!
---
Receive the latest update on photography news, tips and tricks.
Be part of the SNAPSHOT Community.
Sign Up Now!
---
About the Author
A monthly magazine that believes that enjoyment of photography will increase the more one learns about camera functions. It delivers news on the latest cameras and features and regularly introduces various photography techniques.
Published by Impress Corporation
Born in Fukuoka City in 1967, Kazuyuki Okajima graduated from the Tokyo School of Photography (current name: Tokyo Visual Arts). After working as a studio assistant and photographer's assistant, he became a freelance photographer. In addition to working as an advertising and magazine photographer, he travels the world shooting images imbued with a strong poetic sentiment. His many publications include the photo collection Dingle. Exhibitions of his work include "The Light and Wind of Dingle," "Shio-sai" (Tidal Tints), and "Let's Go to School."