Products >>
All Products
EF-S17-85mm f/4-5.6 IS USM – A Standard zoom lens with true wide-angle to tele coverage
In this series of articles, we will go through one by one, the recommended lens for all APS-C users. With it as a guide, you will be able to start building your own lens system. In this article, we will learn more about the stardard zoom lens EF-S17-85mm f/4-5.6 IS USM. (Reported by: Ryosuke Takahashi)
True wide-angle to tele coverage
Covering an angle of view equivalent to approximately 27 to 136mm in the 35mm format, this standard zoom lens is characterized by the long zoom range on its telephoto end. It supports a wider range of photography genres compared to the basic kit lens, and its telephoto range is effective for capturing landscape shots or subjects that are nearer to you.
At a Glance!
Focal length useful for telephoto shots
Cost effective
17mm
FL: 17mm/ Aperture-priority AE (1/30 sec., f/6.3, -0.3EV)/ ISO 1250/ WB: Auto
The lighting condition inside the church was dimmer than expected, but I was able to capture this photo without using a tripod, thanks to the powerful IS function.
85mm
FL: 85mm/ Program AE (1/200 sec., f/7.1, -0.3EV)/ ISO 100/ WB: Auto
While the ships appeared as a point image at the focal length of about 55mm, I was able to capture them in a moderately large size at the telephoto end of about 85mm.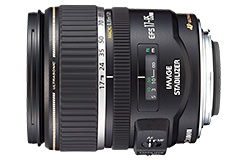 EF-S17-85mm f/4-5.6 IS USM
Lens construction: 17 elements 12 groups
Closest focusing distance: Approx. 0.35m
Max. magnification: Approx. 0.2x
Filter size:φ67mm
Size: Approx. φ78.5×92mm
Weight: Approx. 475g
Ryosuke Takahashi
Born in Aichi in 1960, Takahashi started his freelance career in 1987 after working with an advertising photo studio and a publishing house. Photographing for major magazines, he has travelled to many parts of the world from his bases in Japan and China. Takahashi is a member of the Japan Professional Photographers Society (JPS).