Inspirations >>
Photos & People
Island Life Photography in Bali Part 5: North Bali
Most visitors to Bali confine their holiday to Kuta, Seminyak, Canggu, Uluwatu, and Ubud. But there is so much to discover on the other side i.e. North Bali.
EOS 5D Mark IV; EF11-24mm f/4L USM; f/7.1; 1/800 sec; 24mm; ISO-160
Take a scenic route
You can drive along scenic routes, with an average travel time of three hours. Along the way, you will be amazed with beautiful landscapes, friendly people and other attractions to shoot.
EOS 5D Mark IV; EF70-200mm f/4L IS USM; f/4; 1/1000 sec; 150mm; ISO-160
Discover hidden gems
Bedugul is one of my favourite stops enroute to Singaraja, the former colonial capital of Bali. It offers nature experiences like challenging treks and hidden waterfalls. Bedugul is a resort in the Beratan Mountains, and is renowned for its sweeping views, cooler climate and three lakes.
EOS 6D; EF11-24mm f/4L USM; f/9; 1/640 sec; 20mm; ISO-250
Go from crystal-clear waters to heaven
Another route to the North takes you along the East Coast through Karangasem Regency. Here you will find beautiful white sandy beaches and crystal-clear water. A perfect location for diving, snorkelling and underwater photography. Boats to Penida, Cenigan and Lembongan also leave from here — providing even more photo opportunities.
EOS 5D Mark IV; EF11-24mm f/4L USM; f/8; 1/1000 sec; 11mm; ISO-160
Gateway to Heaven
Finding quiet places is getting harder and harder, and this is what makes Pura Lempuyang a "must see". This Balinese Hindu temple stands on the slopes of Mount Lempuyang. Make your way up its many stairs to see an amazing sight of a temple reaching the sky. This place is nicknamed Gateway to Heaven.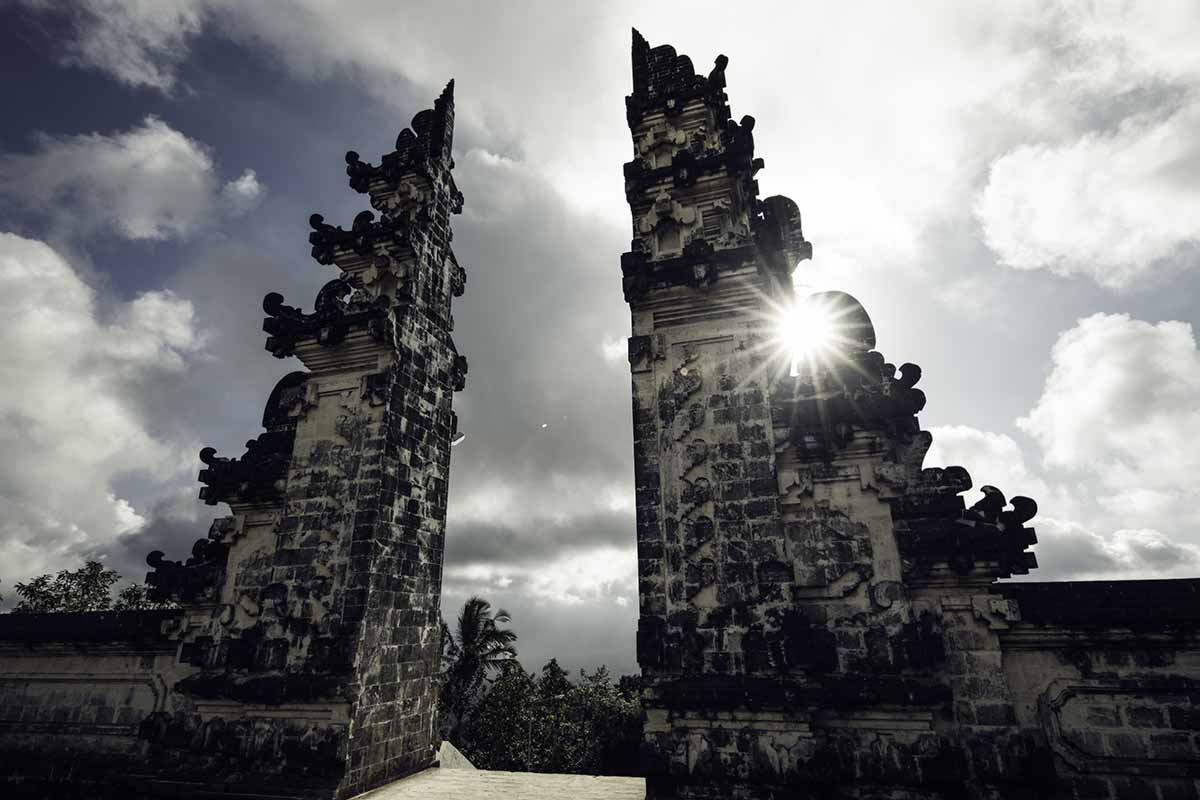 EOS 5D Mark IV; EF11-24mm f/4L USM; f/10; 1/640 sec; 19mm; ISO-160
The right equipment is essential
I usually take three Canon EF Lenses for road trips around Bali. For my visit up north, my kit comprised:
1. EF50mm f/1.4 USM - at maximum aperture and with its shallow depth of field focus, it is very effective in low-light situations. A smart choice for portraits.
2. EF70-200mm f/4L IS USM - with fluorite UD lens elements, this lightweight, compact telephoto zoom lens provides excellent optical performance, in terms of resolution and contrast. Its Image Stabiliser makes it especially good for portraits. Add on to your kit as it won't weigh you down.
EOS 5D Mark IV; EF11-24mm f/4L USM; f/5; 1/1000 sec; 11mm; ISO-160
3. EF 11-24mm f/4L USM - this is a truly versatile wide-angle zoom with an advanced optical design and constant f/4 maximum aperture. It's reasonably-sized and is worth carrying with you every day.
If you are unsure which lens you should bring to your photography outing, you can read on How to Choose the Right Lenses for my photography.
My choice for excellent results
I pair the lenses with my Canon EOS 5D Mark IV. It is a powerful, well-designed and easily portable camera that is smooth, fast and intelligent. Its versatility makes it ideal for various photography styles — be it landscape, portraits or underwater — in any condition.
Read Rafael's previous adventures in Bali: Bukit Peninsula, Mount Batur, Ubud and Nusa Penida.
---
Receive the latest update on photography news, tips and tricks.
Be part of the SNAPSHOT Community.
Sign Up Now!
---
About the Author
A photographer and surfer from Rio De Janeiro, Brazil. His motto is: I live the life I love. He is currently based in California, USA.