Products >>
All Products
What Photographers Say About RF Lenses- Part
Lens Impressions: RF24-70mm f/2.8L IS USM in Street Photography
As the standard zoom lens in the much-anticipated RF zoom trinity, the RF24-70mm f/2.8L IS USM is one lens that many EOS R users have been waiting for. Street photographer Ikuko Tsurumaki usually prefers using prime lenses, but she was blown away by its convenience. Weighing less than 1 kg, it offers a handier, street photography-friendly alternative to the massive RF28-70mm f/2L USM. She shares with us her impressions. (Reported by Ikuko Tsurumaki, Digital Camera Magazine)
A versatile lens that has become my favourite RF lens
Just like its EF counterpart (EF24-70mm f/2.8L II USM), the most charming characteristics of the RF24-70mm f/2.8L IS USM are its ease of use and versatility: Not only does it have a fast constant aperture, it covers the wide-angle to medium telephoto focal lengths, sufficient for most scenes. Weighing 900g, it offers excellent balance when paired with the EOS R. I walked around shooting the whole day and felt no discomfort at all.
Shoot as your heart desires
As the lens is driven by Nano USM, the AF was fast and highly accurate. Having up to five stops' image stabilisation not only meant that I could shoot by hand at night, I could even use a slow shutter to create motion blur by hand, and my shots would still be sharp where necessary.
Taking quick snapshots in the streets, the camera-lens pairing helped to decisively catch the very moments that I wanted to capture, with just the right framing. It was as if the gear and my emotions were in perfect harmony.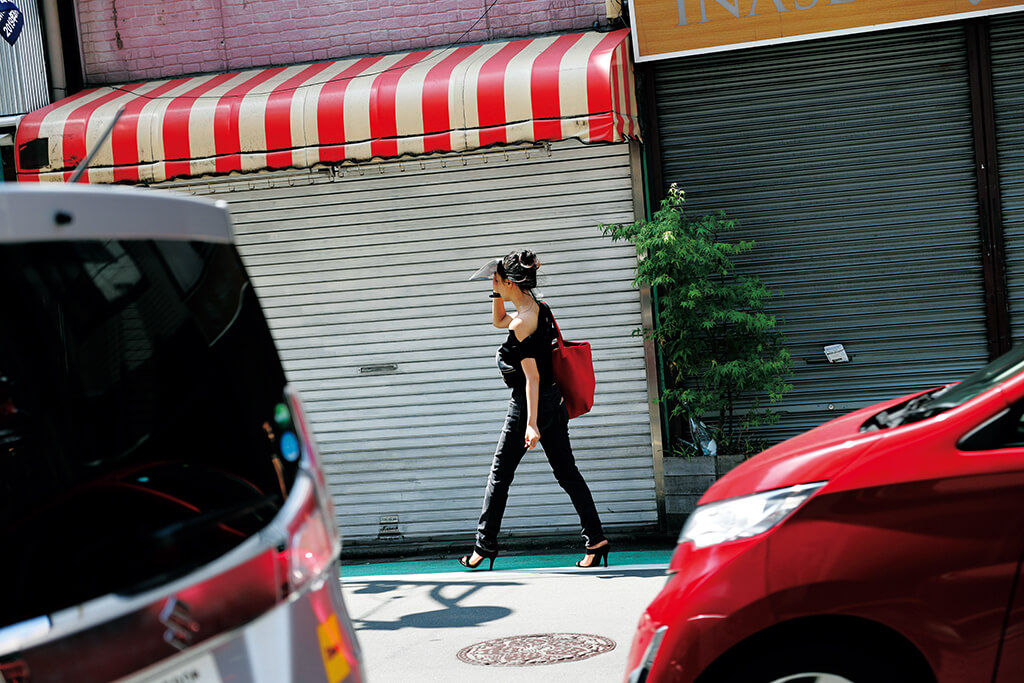 EOS R/ RF24-70mm f/2.8L IS USM/ FL: 61mm/ Aperture-priority AE (f/2.8, 1/800 sec, EV-1.0)/ ISO 100/ WB: Auto
A coincidental meeting of red accents, especially with the lady with the red bag covering her face from the sun and the red car that was just about to drive by her. Thanks to the fast, accurate AF, I was able to capture the moment where they all fell in the right, picture-perfect places.
Stunning quality that makes ordinary scenes extraordinary
Aided by the short flange focus distance and the large mount diameter, at the f/2.8 maximum aperture, the lens produced images with stunning visual resolution across the entire zoom range. Ordinary everyday scenes were rendered clean and clear with excellent dimensionality. I usually prefer to shoot with prime lenses but was won over by the huge range of images that was possible with just this fast, constant aperture zoom lens.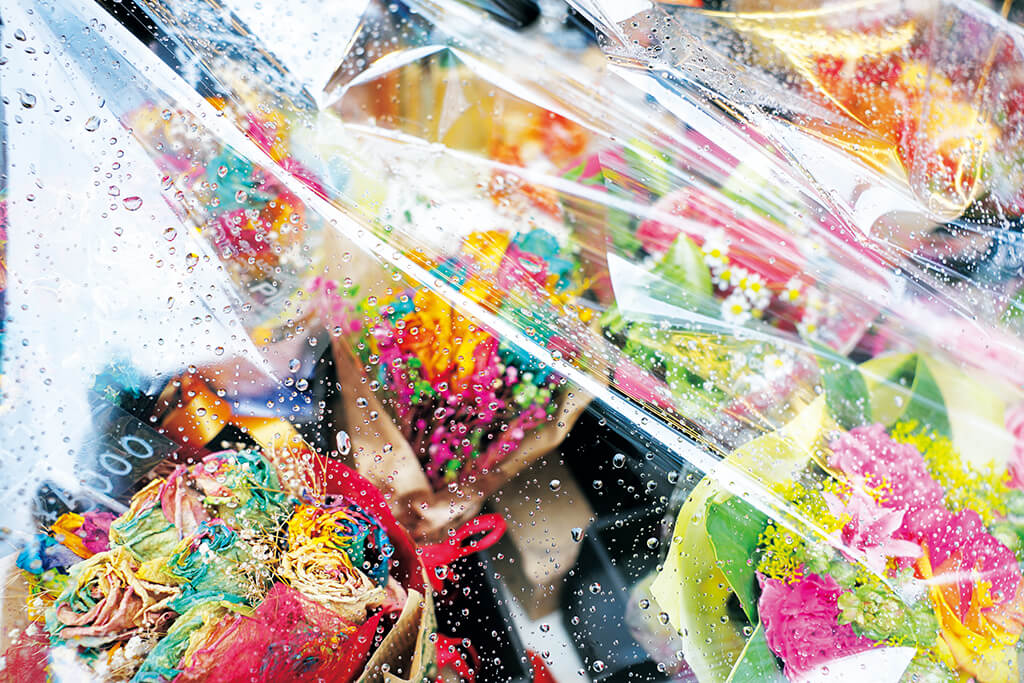 EOS R/ RF24-70mm f/2.8L IS USM/ FL: 24mm/ Aperture-priority AE (f/2.8, 1/80 sec, EV+1.0)/ ISO 100/ WB: Auto
This was shot wide open at f/2.8, with the focus placed on the plastic sheet protecting the flower bouquets from the rain. The excellent depictive prowess of this lens is evident in the smooth, gradual tones, textures and faithful colours. There is beautiful bokeh in the flowers at the back, even though they weren't very far away from focal plane.
Capture amazing wide-angles, medium telephoto shots, and close-ups—all with the same lens
With the wide-angle range, which goes as wide as 24mm, you can achieve images made impactful by the wide-angle perspective exaggeration effect. At the 70mm medium-telephoto end, you get a natural perspective compression effect that keeps the atmosphere of the scene the way it is. At 32mm, you get the 0.3x maximum magnification, which lets you shoot close-ups of small objects such as plants and accessories.
In this sense, the lens is capable of handling a huge variety of daily scenes, achieving impeccable results regardless of your shooting style. It makes an excellent everyday lens for use with the EOS R-series cameras.
EOS R/ RF24-70mm f/2.8L IS USM/ FL: 24mm/ Aperture-priority AE (f/7.1, 1/160 sec, EV-1.7)/ ISO 100/ WB: Auto
A highway lit by the strong setting sun. Shooting at 24mm produced a wide-angle perspective effect that resulted in a dynamic picture. Using the Vari-angle monitor on the EOS R lets you shoot from a low angle without having to go into an uncomfortable body position
3 outstanding features
#1: It's smaller, lighter and handier than the RF28-70mm f/2L USM
The size difference between the two lenses is obvious at a glance, and you will certainly feel it when walking all around town with your gear. The RF28-70mm f/2L USM has the faster maximum aperture, but the RF24-70mm f/2.8L IS USM has the wider angle-of-view.
#2: It's a standard zoom lens with a large f/2.8 constant aperture
From the same lens, you can achieve impactful wide-angle shots at 24mm, a natural angle-of-view at 35mm and 50mm, and just the right amount of telephoto perspective compression effect at 70mm. At 24mm, you also get the closest focusing distance of 21cm, close enough for wide-angle macro shots.
Shot at 24mm from the closest focusing distance (21cm)

Learn how to make the most of the different focal lengths in:
Professional Composition Techniques (3): Making Good Use of Lenses
#3: Slow shutter shots by hand? It's a breeze with up to 5 stops' image stabilisation
The built-in IS mechanism (image stabilisation) corrects the effects of camera shake by up to five shutter speed stops' equivalent. (For more about this, read: How are Image Stabilisation Stops Determined?) This not only helps in dark places, it also lets you create slow shutter effects such as light trails and motion blur even without a tripod.
This was shot by hand at 1/2 second.
Find out about some other cool effects you can create with a slow shutter in:
Slow Shutter Art: Creating Surreal, Spinning Radial Blurs
Slow Shutter Art: Using Zoom Burst to Transform Stars in the Sky into a Meteor Shower
Slow Shutter Art: 3 Brilliant Tips for Photographing Light Paintings
EOS R with RF24-70mm f/2.8L IS USM attached
Lens hood: EW-88E
Lens construction
A: Aspherical lens elements
B: UD lens elements
C: ASC
Smudge-resistant fluorine coating on the front and rear lens surfaces
Key specifications
Lens construction: 21 elements in 15 groups
Closest focusing distance: 0.21 – 0.38m
Maximum magnification: 0.3x (at 32mm)
No. of aperture blades: 9 (circular)
Filter diameter: 82mm
Size: φ88.5 x 125.7mm
Weight: approx. 900g
Sample images
EOS R/ RF24-70mm f/2.8L IS USM/ FL: 70mm/ Aperture-priority AE (f/2.8, 1/125 sec, EV-0.3)/ ISO 100/ WB: Auto
A leaf on the glass roof on a rainy day, shot from directly below. The lens has helped to capture the texture of the raindrops on glass in crisp yet natural-looking detail. The clarity of the rendering makes even mundane scenes like this look impressive.
EOS R/ RF24-70mm f/2.8L IS USM/ FL: 61mm/ Aperture-priority AE (f/5, 1/200 sec, EV-0.7)/ ISO 100/ WB: Auto
The backpack strewn on the ground of this park tell us how eager the children were to play. I really felt the convenience of a zoom lens here: With just a tiny adjustment to the focal length, I was able to capture the scene the way I wanted almost at the same moment I decided to shoot it.
---
Receive the latest update on photography news, tips and tricks.
Be part of the SNAPSHOT Community.
Sign Up Now!
---
About the Author
A monthly magazine that believes that enjoyment of photography will increase the more one learns about camera functions. It delivers news on the latest cameras and features and regularly introduces various photography techniques.
Published by Impress Corporation
Born in Tokyo in 1972, Tsurumaki started learning photography while working with an advertising agency, and became a photographer after her career as an assistant. She is currently engaged in activities including photo shoots for magazines, writing articles, and conducting photography lectures and seminars.