Products >>
All Products
In Focus: PowerShot SX70 HS- Part2
6 Things You Didn't Know You Could Do with a Canon PowerShot
Previously, we learned about the amazing image quality, functionality, optical zoom and low-light capabilities that a compact camera is capable of (See: 5 Reasons to Get a Compact Camera). On top of that, a Canon PowerShot compact camera gives you control over your shots that you probably never knew was possible. Here are six ways that it does so.
1. Frame your image easily from different angles
No more getting down and dirty flat on the ground—unless you want to

Part of the fun of photography lies in exploring new angles and perspectives, and sometimes, that means getting into a ground-grazing low position:

Or craning your neck to capture an unexpected discovery overhead:
See what you are shooting more easily with Canon's latest PowerShot compact cameras, which come with either a tilting or fully-articulating Vari-angle touchscreen rear monitor. Who said floor level shots had to mean getting down and dirty?
Pro tip: Tilting/ fully-articulating screens can help you capture water reflections more easily than ever
Achieving the perfect composition for that water reflection shot might be easier when the lens is close to ground level. More tips on photographing water reflections here and here.
2. Enjoy the benefits of Remote Live View Shooting
Shoot from angles that you previously thought were impossible
Sometimes, getting the shot that you want requires you to be somewhere other than right behind the camera.
Here are just a few examples:
- Large group selfies
- OOTDs
- Artistic self-portraits
- Unconventional angles from places that don't fit a human
- Adorable "caught red-handed" shots of that pet that misbehaves when you're not around
All recent Canon PowerShot cameras support Remote Live View Shooting on the Canon Connect Camera smartphone app. Now you can see what your camera sees, change basic shoot settings, and make sure that everything is all right before you release the shutter with your smartphone. And you can do it from all the way across the room—or even the next.
Releasing your shutter remotely with the Remote Live View shooting or the Bluetooth Remote Controller function on Camera Connect also helps to prevent camera shake in slow shutter shots like this.
Tip: Remote Live View Shooting works for movie shooting too.
3. Get control over your built-in flash
Yes, you can take nicely-lit images with a built-in flash—and more!
Have you ever used a built-in flash and felt that the resulting image was too bright? One thing that few people know is that on a PowerShot compact camera, just like on Canon's DSLR and mirrorless cameras with a built-in flash, there is a function called "Flash exposure compensation" that works like exposure compensation, giving you better control over the brightness of the images you shoot with the flash.
Know this: You can also choose when the flash fires: immediately after the shutter opens (1st-curtain, default), or immediately before the shutter closes (2nd-curtain). 2nd-curtain flash can create some very cool effects, which you can see in this article.
Learn more on how to make the most of your built-in flash in:
In Focus: Built-in Flash Techniques

Tip: If you are thinking of taking photography even further...
For even better control over lighting, consider getting a PowerShot model such as the flagship PowerShot G1 X Mark III, which comes with a hot shoe that allows you to mount an external flash unit. You will be to use techniques such as bounce flash photography, which makes the lighting in portraits look even more natural. (Click here to learn more about the benefits of an external flash)
4. Fast and precise focusing even on moving subjects
Point, shoot and get your subject in sharp focus
Your lighting, angles and other creative aspects might all be in place, but how well you nail the focus can make the difference between a failed shot and a "keeper". And focus is not something you can simply "fix in post".
The autofocus (AF) system in a Canon PowerShot camera, supported by the powerful DIGIC image processor, is the product of years of research and development into camera technologies. That's why you can look forward to quick, precise autofocusing and seamless subject tracking, even during continuous shooting. Never miss a picture-perfect moment ever again.
​Pro tip: Seamless subject tracking makes panning shots a breeze
Panning shots like this are challenging to execute. Having an excellent continuous AF tracking system like the one on PowerShot compact cameras helps to keep the moving subject in focus even as you move the camera, increasing your success rate. The Dual Sensing IS image stabilisation system, which corrects camera shake by up to 5 shutter stops' equivalent on models like the PowerShot SX70 HS, helps too!
Learn more about how to take panning shots here
5. Get a more direct view of your subject through a viewfinder
The closest you'll get to having a camera in your eye
The viewfinders on the PowerShot G5 X Mark II (left) and PowerShot SX70 HS (right)
Here are a few reasons why some photographers prefer shooting through a viewfinder:
- It allows a more secure hold on the camera since you are holding it so close to your body.
- Your eye and the camera's "eye" seem to become one, which can make you feel a better connection to what you are shooting.
- The rear LCD screen can be hard to see in the glaring sun. The viewfinder is easier to see when shooting outdoors in bright sunlight.
If that sounds tempting to you, look for PowerShot models such as the PowerShot G1 X series, the PowerShot G5 X series, and the PowerShot SX70 HS. These come with a built-in electronic viewfinder (EVF), which combines the viewfinder experience with the what-you-see-is-what-you-get preview and informative display of Live View.
It's like having the best of both worlds.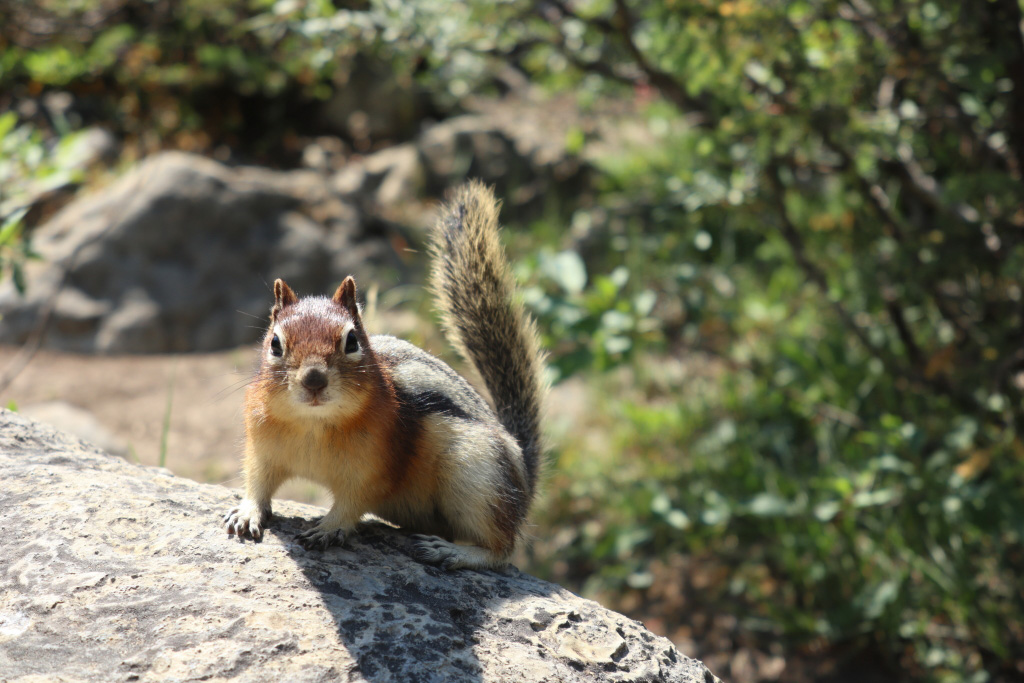 Shooting through the viewfinder not only allows you to see your shot better in bright sunlight, but helps you to concentrate on small, moving subjects like the squirrel above.
Tip: Want a viewfinder in a slim, ultra pocket-friendly body? Check out the PowerShot G5 X Mark II, which has an EVF that retracts into the camera body when you are not using it.
6. Shoot in RAW format
For those who want even more control over their final image, PowerShot models such as the PowerShot SX70 HS and the cameras in the PowerShot G series offer the option to record in RAW format. Compared to JPEG files, which contain only 8-bit information, RAW format files contain 14-bit information on all the colour and tones captured by the image sensor. This makes it easier to recover details through post-processing.
Pro tip: RAW format is your best friend when shooting sunrises and sunsets
When strong light sources like the sun are in the frame, it is hard to achieve a well-exposed shot straight out of the camera. Shooting in RAW lets you recover highlight and shadow details, such as those in the beach, waves and clouds in this shot. Find out how a photographer shot and edited a similar high-contrast scene here.
Tip: Use Canon's free Digital Photo Professional software for your basic post-processing needs.
Know this: The PowerShot G5 X Mark II and G7 X Mark III allow continuous shooting in RAW format at up to 30 frames per second, which means that you can get creative control over fast action shots too.

Learn more about Canon's PowerShot SX and G series compact cameras in:
In Focus: PowerShot SX Series
In Focus: PowerShot G Series
---
Receive the latest update on photography news, tips and tricks.
Be part of the SNAPSHOT Community.
Sign Up Now!
---