Tips & Tutorials >>
All Tips & Tutorials
In Focus: EOS R- Part19
Can the EOS R Survive the Harsh Winter in Canada?
Earlier this year, landscape photographer Edwin Martinez set out on an adventure of a lifetime to Western Alberta, Canada. His challenge was to capture the stunning wintery landscapes of the Canadian Rockies at a frosty -15°C. Did he and his trusty EOS R full frame mirrorless camera survive the Canadian winter? Read on to find out.
EOS R, EF16-35mm f/2.8L III USM lens, f/11, 16mm, 1/13 sec, ISO100
What inspired you to travel to Canada for this shoot?
The winter scenes are one of the most challenging and photogenic seasons to photograph– snow capped mountains and ice formations are the best in the Canadian Rockies. Winter in Alberta is known to be challenging and beautiful, therefore, I set out to travel and conquer this season and photograph these iconic locations.
What do you find most stunning about the Canadian landscape?
The diversity of the Canadian Rockies landscapes from the frozen lakes to majestic mountain ranges are the most stunning, but the most unique has to be the
frozen methane bubbles
in Abraham Lake. There are few places in the world where you can see this phenomenon.
EOS R, RF35mm f/1.8 MACRO IS STM lens, f/5.6, 35mm, 1/1600 sec, ISO800
What are some of the tips on shooting these landscapes?
To help you maximise your gear when shooting in winter:
Have a reliable system–temperatures in this place can be below 0°C and gear failure happens most of the time. In all honesty, the Canon EOS R has never failed me even at -20°C.
Use your histogram to check the exposure rather than visual cues from the LCD screen. The histogram is a more accurate way of determining exposure; use this both in live view and playback.
Always check your weather and surroundings, winter can be unpredictable. When walking on frozen lakes, make sure the ice is more than six inches thick. Never walk on ice that is opaque or frosty, this means that there is water underneath.
Learn how to use the focus stacking technique to get near foreground element and middle ground sharp.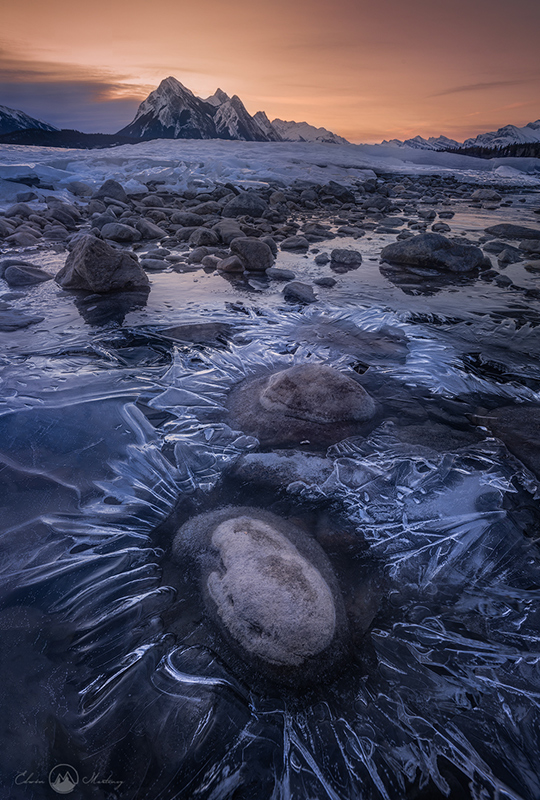 EOS R, EF16-35mm f/2.8L III USM lens, f/11, 16mm, 1/6 sec, ISO400
What are some interesting points you've found when shooting with the EOS R system?
My go-to lenses in shooting winter landscapes are the following:
Ultrawide angle lens (Canon EF16-35mm f/2.8 Mark III with Canon mount adapter) – When you want to photograph interesting foreground and also get the mountain ranges in your frame, a wide angle lens is the best for this scenario.
RF24-105mm f/4L lens – the perfect travel lens that gives you enough wideness and reach for telephoto scenes like mountain ranges or wildlife.
EOS R, EF16-35mm f/2.8L III USM lens, f/11, 16mm, 0.8 sec, ISO50
What's your camera setup?
I often photograph using filters and also during sunrise and sunset. My aperture most of the time is at F11 and ISO at the lowest native (ISO 100), thus the low shutter speed. I use:
CPL – Enhance colors and remove glare or unwanted reflections from ice
Filters – ND filter if I want to blur water or create streaks of cloud
Graduated filter – To balance the sky and foreground
What is the one thing we can take away from this series of photos?
Challenge yourself and try to push the capabilities of your creativity and your gear's limitation. A camera is not a piece of jewellery that you try to baby; push its capabilities and maximise its potential. The EOS R, despite its size, can take the harshness of the winter season.
EOS R, EF16-35mm f/2.8L III USM lens, f/8.0, 17mm, 1/4 sec, ISO100
To learn more about shooting in winter, explore the following articles:
---
Receive the latest update on photography news, tips and tricks.
Be part of the SNAPSHOT Community.
Sign Up Now!