Products >>
All Products
In Focus: EOS R System Reviews- Part9
Why I'm Glad I Bought the EOS RP
Daily life photographer Sayaka Suzuki is particular about the camera she uses—it has to be a portable yet versatile performer that responds to her needs and fancies. She tells us how the EOS RP satisfies. (Reported by: Sayaka Suzuki, Digital Camera Magazine)
A small, light full-frame camera perfect for capturing the magic in ordinary everyday moments
As a daily life photographer, I shoot to record images of everyday life. To capture them with the best impact, I need a camera and lens combination that is not only light, but also capable of a wide range of expression. Even if shooting conditions are bad, it's still frustrating to miss picture-perfect moments. At the same time, gear that is too large and fussy gets in the way when you want to capture life just the way it is.
Just when I was searching for the camera that was just right, I found the EOS RP.

That sense of ease I needed to capture authenticity
It always feels like my best images come from the things that are right at my feet. I seldom get good shots when I try too hard or "manufacture" scenes. I believe that the key to creating truly unique images lies in the things around you, captured true to life. For that reason, I am quite selective about my camera.
The biggest reason why I chose the EOS RP was that sense of ease I feel when shooting with it. I liked how it had a full-frame image sensor and powerful capabilities, and yet, was petite enough to carry around comfortably even with my small hands.
EOS RP/ RF35mm f/1.8 Macro IS STM/ FL: 35mm/ Manual exposure (f/1.8, 1/1,250 sec)/ ISO 250/ WB: Shade (A6, G5)
This was in old red train that has become an attraction in the park. The sunlight entered diagonally, resulting in dramatic lighting. The shot gazes at my son playing on the floor amid the light and shadow. The rich tonal range that the EOS RP can capture means that even high contrast scenes like this can be rendered beautifully.
Favourite things about EOS RP #1: A dynamic duo with the RF35mm f/1.8 Macro IS STM
A light weight and ease of use are must-haves in a camera to be used for daily life photography. It is terrible when you end up regretting not doing more of this or that! Many people who use prime lenses want to be able to shoot closer to their subjects, and this is one desire that the RF35mm f/1.8 Macro IS STM addresses.
EOS RP/ RF35mm f/1.8 Macro IS STM/ FL: 35mm/ Manual exposure (f/1.8, 1/50 sec)/ ISO 200/ WB: Shade (B8, G8)
A tiny ornamental deer in the display window of a shop in my neighbourhood, shot through the glass. With a macro lens like the RF35mm f/1.8 Macro IS STM, you can shoot as close to your subject as your intuition tells you to, without stressing out about the closest focusing distance.

Diversifying the way that you shoot within the boundaries of everyday life
Whenever I shoot, be it travel or daily life, I always consider: what if I were to compile all my images into a book? There would be the shots that illustrate the main theme, but also empty spaces that need to be filled with something different.
This motivates me to vary how I shoot the scenes that I encounter. For example, I would take panning shots of trains when I go to see them with my son; or look for ways to express the rich tones and colours of the scenery that I encounter when I travel. Even I were in the kitchen, if beautiful light suddenly shone in, I would reach for my camera to capture it, ladle in one hand.
EOS RP/ RF35mm f/1.8 Macro IS STM/ FL: 35mm/ Manual exposure (f/1.8, 1/250 sec)/ ISO 200/ WB: Shade (B7, G8)
While out on a walk, I came across this shop that operated fishing boats, and decided to shoot it through the glass window. I framed the image so that the fishing boat outside and the interior of the shop were incorporated in a way that was nicely balanced. The resulting composition is unique to the 35mm angle-of-view.
Favourite things about EOS RP #2: The touch-screen LCD monitor that makes interacting with people easy
I like my images to be as true to myself as possible, and this also means being relaxed and natural when I shoot. Trying too hard results in shots that don't reflect the real you. For example, when I photograph my son, I like to interact with him at the same time, at his eye level. It's easy to do so with the fully-articulating Vari-angle touchscreen LCD panel on the rear, which makes camera operations very intuitive.
EOS RP/ RF35mm f/1.8 Macro IS STM/ FL: 35mm/ Manual exposure (f/1.8, 1/4,000 sec)/ ISO 200/ WB: Shade (A4, G3)
My son running out to sea, bathed in the evening sun. For situations like this, a low angle works best. I squatted down, adjusted the Vari-angle LCD screen and looked through it, waiting for the perfect moment.
Favourite things about EOS RP #3: The reliable EVF that lets you see subjects at night and in dim indoor conditions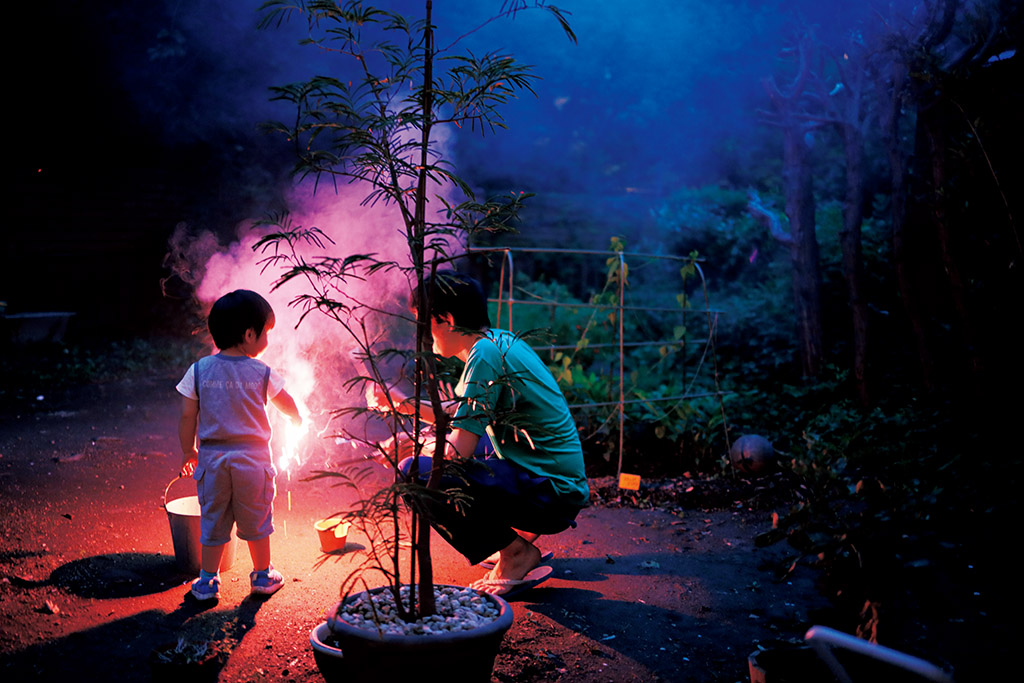 In dark places or locations that are too bright, that feeling of losing sight of a subject that's right in front of you is something you want to avoid. It feels so much better when you can see the subject all the way until you release the shutter. The excellent EVF on the EOS RP provides a clear view of the scenes that I fall in love with, regardless of the shooting conditions, keeping me reassured even when I shoot in dark locations.
EOS RP/ RF35mm f/1.8 Macro IS STM/ FL: 35mm/ Manual exposure (f/2.8, 1/2,000 sec)/ ISO 200/ WB: Auto (B7, G5)
My son calls the white flowers in our backyard "star flowers". I put the ones that he picked for me into a glass vase filled with water and photographed them from the top. The sun was blindingly strong, but the EOS RP's EVF helped me to take the shot with no problem at all.

The EOS RP: a versatile, reliable shooter that meets your whims and fancies
Daily life photography takes place under rather "self-centred" conditions. It's a photography genre that wouldn't be viable if we couldn't have a camera constantly by our side.
Daily life photos are, after all, reflections of everyday life. Each image of the sphere that we live in is proof that you are living life in your own way, and in that sense, it also becomes a record of your lifestyle. Compact, light, and user-friendly with powerful imaging capabilities, the EOS RP is a versatile, reliable shooting companion that meets my needs. And that's why I'm glad I bought it.
Sayaka Suzuki's verdict: EOS M50 vs EOS RP
Before the EOS RP, I was using the EOS M50, which is also high on usability. But the fact that the EOS RP is a full-frame camera that's compact and easy to use was a big pull factor for me. The presence of a lens that works extremely well with the camera (the RF35mm f/1.8 Macro IS STM in my case) is also very appealing.
Learn more about the EOS RP and RF35mm f/1.8 Macro IS STM in:
Lens Impressions: RF35mm f/1.8 Macro IS STM in Street Photography
EOS R vs EOS RP: Which to Choose?
In Focus: EOS RP
---
Receive the latest update on photography news, tips and tricks.
Be part of the SNAPSHOT Community.
Sign Up Now!
---
About the Author
A monthly magazine that believes that enjoyment of photography will increase the more one learns about camera functions. It delivers news on the latest cameras and features and regularly introduces various photography techniques.
Published by Impress Corporation
After graduating from the Department of Design in the Tokyo University of Art and Design, Suzuki worked in video production before becoming an independent photographer in February 2012. A versatile photographer who shoots a variety of genres ranging from daily life photography to advertising work, her passion revolves around "lifestyle". She seeks to cherish the things within a 5-metre radius of herself in her personal projects. Suzuki also runs AtelierPiccolo, a shop that brings together the two things she loves most: lifestyle and photography.

Website: http://suzukisayaka.pupu.jp/about.html
Instagram: @sayakasuzuki_photo