A sea of clouds is a beautiful sight in the day, but it can be absolutely stunning at night, especially if it is decorated with city lights that glitter through the cloud covers. If you ever encounter such a sight, here are some tips for achieving a fairytale shot where the urban details are sharp and clear but the clouds remain soft and fluffy! (Reported by: Yusuke. O, Digital Camera Magazine)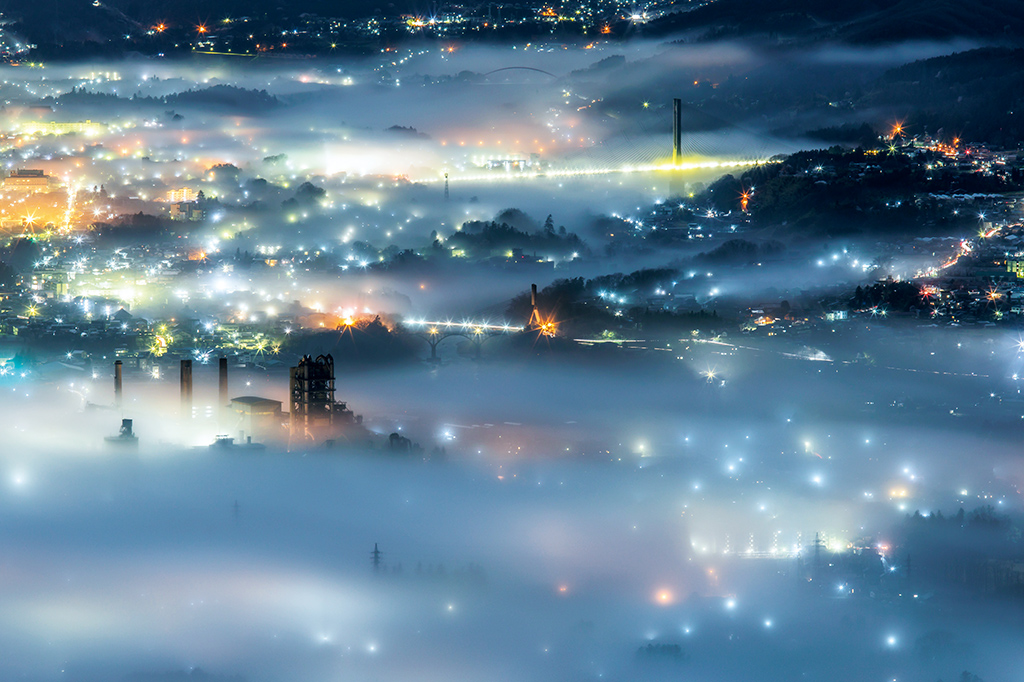 EOS 5D Mark IV/ EF70-200mm f/4L IS USM/ FL: 185mm/ Bulb mode (f/14, 218 sec)/ ISO 200/ WB: 4,000K
Location of shoot: Minoyama Park, Chichibu, Saitama Prefecture, Japan
Step 1: Use a narrow aperture to get a sharp shot of everything all the way to the image edges
In real life, a sea of clouds usually doesn't look as bright as it does in photos. That's why people are usually tempted to shoot with a wider aperture to make the clouds look brighter. However, shooting at a very wide aperture could make the objects at the edges of the image appear soft. To ensure that these look sharp, use a narrow aperture. Here, I shot at f/14.
f/4

f/14

f/11 is the rule-of-thumb that many landscape photographers start with to ensure sharp shots. Find out why in:
f/11: The Ideal Aperture for Sharp Depictions of Natural Landscapes with Depth
Step 2: Slower shutter speed, lower ISO speed for better clarity
A very high ISO speed causes visible image noise, which can make your shot look lower in quality. Keep the ISO speed low—I try not go higher than ISO 400, but this also depends on your gear and your own threshold for high ISO graininess. Compensate for the lower ISO speed with a longer exposure time. If your camera has a bulb timer function, this is where it will come in handy.
ISO 100/ 320 sec

ISO 1600/ 20 sec


Know this: Use your smartphone as a remote shutter release with the Canon Camera Connect app
For extra long exposures like this, you will need a sturdy tripod and a remote shutter release. If you don't have a remote shutter release but are using a camera with Wi-Fi (all recent camera models), the Canon Camera Connect smartphone app has a remote live view shooting function that can do the job, too.
Tap the shutter release button in the Remote Live View shooting function in Canon Camera Connect to start the exposure. The Live View display will turn black and display "Shooting". The timer in the top right corner (in red) shows how much time has elapsed. If you are using the bulb timer function, the exposure will end after the configured time. If not, simply tap the stop button to end the exposure.
Step 3: Merge several bracketed shots to make the street lights look brighter
The Chichibu district where this shot was taken is a well-known spot for shooting a sea of clouds amid urban night scenery, and in particular, I wanted to showcase the colourful street lights that shone through the clouds. The large contrast between the bright and dark areas make it challenging to capture the colours properly in one shot, so you might find it more effective to take a number of shots with exposure bracketing, and then merge them into one HDR shot.
100 sec

200 sec

300 sec


Manual exposure bracketing: Use your shutter speed to control the exposure
Auto Exposure Bracketing isn't available in Bulb mode, so I bracketed the shots manually. To keep the aperture and ISO speed constant, I adjusted the shutter speed to change the exposure.

Merged image
Fascinated by the sea of clouds? Here are some (daytime) sea of cloud scenes with shooting tips:
6 Useful EOS R Features for Photographing Mountains with Clouds
Understanding Dynamic Range: How to Avoid Unnecessary Blown Highlights
Fantastic Landscapes: Layering a GND Filter with Another Filter
For more nightscape photography tips, check out:
One Location, Two Looks: Abstract Nightscapes – Tranquillity vs. Vibrancy
Must-try Tips for Capturing Dramatic Nightscapes
Ultra Wide-angle Lens Technique: Light Trails from a New Perspective
---
Receive the latest update on photography news, tips and tricks.
Be part of the SNAPSHOT Community.
Sign Up Now!
---
About the Author
Keen on capturing beautiful images of night scenery, Yusuke O. bought his first camera, a Canon EOS 550D, in 2011. Since then, he has devoted himself to capturing scenery, especially nightscapes, and is currently exploring astrophotography. He is always in search of night scenes that do not reveal themselves to the naked eye.
Instagram: @snufkin25