Inspirations >>
Photos & People
In Focus: EOS R- Part12
EOS R: The Next Step of My Photography Journey
Do you remember how you started photography? For Canon Malaysia EOS Youth Ambassador 2018 Acacia Mardiana, it all began with the delight at how photographs preserve memories of people and places. But what started out as a hobby and a way to record experiences grew into a passion when she discovered her love for travelling. With a little help and encouragement from social media, it has blossomed even further, and she is now embarking on a career as a travel photographer and designer. She tells us about her photography journey, and why she thinks the EOS R is perfect for the next phase of it. (Text&Photos by: Acacia Mardiana)
EOS R/ RF24-105mm f/4L IS USM /FL: 35mm/ Manual exposure (f/4.5, 1/640 sec, EV±0)/ ISO 100/ WB: Auto
The start of my photography journey
Photography is like saying "I love you" to places or people that you care for
I started noticing my love for photography when I was a teenager. There was a photo of our family during Hari Raya taken at our kampung in Pahang, Malaysia, that struck a chord. My father travelled quite a lot, so it was quite hard for us to take a nice, proper family photograph together. I remember wanting to hold on to that memory forever because I knew that things will not always be as it was then. As cliché as it sounds, I enjoy how photographs freeze these precious moments. To me, photographing a place or a person you care for is like saying "I love you" to it, because you want to keep it to be remembered. Till now, I still love photography for its seamlessness and its instant ability to preserve the present.
Back then, I used to borrow cameras from my friends, or just use a phone. I'd take photographs of the people around me and my neighbourhood and copy the editing styles I saw online.
Getting serious about photography
I found myself planning trips based on the photos that I wanted to take
As a teenager, I had been an avid explorer of art, design and photography websites. Seeing beautiful creations and visuals from across the globe opened up my mind to international cultures, and made me want to go out and see the world.
That was something I managed to achieve after I graduated with my degree in Architecture in 2014. I worked hard to save up for my first trip abroad alone, as well as my first camera, the EOS 600D. Travelling motivated me to get deeper into photography, and I began to travel even more when I was studying for a Master's Degree in Architecture in London from 2014 to 2017. At one point, I visited a different city almost every month!
Capturing images of the places that I went started off as a way for me to record my experiences. But when I started sharing them out on my social media platforms, my family, friends, and even strangers gave positive feedback and encouragement. With that, I soon I found myself looking forward to and planning my trips based on photos that I wanted to take.
Slowly, local brands in the UK and Europe started reaching out and requesting me to photograph lifestyle content for their products and events. To this day I'm still attached to certain brands. Right now, I'm working with a local travel company (Awesome Adventure) to photograph for their trips. My biggest reward and motivation in photography is being able to travel, connecting with others, sharing experiences, and expanding my work through visuals.
EOS R/ EF16-35mm f/2.8L II USM/ FL: 16mm/ Manual exposure (f/13, 1/400 sec, EV±0)/ ISO 800/ WB: Auto
Location: The Oculus, New York
EOS R/ RF24-105mm f/4L IS USM/ FL: 24mm/ Program AE (f/9, 1/320 sec, EV±0)/ ISO 100/ WB: Auto
Location: Sloan, Nevada ("Seven Magic Mountains", an art installation by Ugo Rondinone that symbolises the cross between artificial and natural landscapes)
My architectural training taught me that how something works and what it conveys are just as important as how it looks. It still influences how I approach my shots, from the composition to the back story, the lighting, the colours that catch my eye, and even the subjects. And I still love taking photos of buildings, streets, industrial details, structural compositions, and shots that show the scale of architecture in comparison with humans.
Growing as a photographer
I absolutely love not knowing everything. Having the chance to get to learn is fantastic
For me, understanding the technical aspects of photography is the biggest hurdle. It's something I still am trying to learn. But in a world where everyone feels like they should show that they know everything, it's a relief to admit you're a work in progress. I absolutely love not knowing everything, and having the chance to get to learn is fantastic. There are so many things I want to do, and it all just boils down to more, constant, and continuous learning.
With the EOS 600D (2016)
EOS 600D/ EF-S18-55mm f/3.5-5.6 IS II/ FL: 23mm (37mm equivalent)/ Manual exposure (f/3.5, 20 sec, EV±0)/ ISO 1600/WB: Auto
Location: Bahariya, Egypt
This was one of my first-ever night shots, and I was quite unprepared. We were in the middle of the desert, my battery was low, and I didn't bring a spare battery or a tripod. My friend helped me to figure out the settings for this, and we didn't even shoot in RAW for back up. I had to pull out the colours, adjust the brightness and reduce the noise on JPEG to arrive at this final image.
From this experience, I learned to be more prepared: To read up about recommended set-ups for the scenes, and pack so that I'd have the appropriate equipment and a spare battery on hand.
Graduating to full-frame
I was blown away by the level of detail that I could capture
EOS R/ EF16-35mm f/2.8L II USM/ FL: 16mm/ Manual exposure (f/2.8, 1/60 sec, EV±0)/ ISO 10,000/ WB: Auto
Location: Antelope Canyon, Arizona
My EOS 600D was a great camera for a beginner. I'm not a very sentimental person, but it will always have a special place in my heart. It was the only camera I used throughout my early years of travelling—not only was it lightweight and portable, its basic functionality made it easy to use, and most importantly, it got the job done. I also used nothing other than my EF-S18-55mm f/3.5-5.6 IS STM kit lens for three years.
But on one work trip, I got to try out a full-frame camera and was stunned by how much more of the scene that I could capture. The level of the detail and the quality of the low light shots were also amazing. It was also around that time that I started experimenting with other lenses. I felt like a child who had just discovered the candy store. My mind was blown away by these experiences! There were so many possibilities of manipulating and controlling photography based on all these permutations.
It has been a great four years with the EOS 600D, but now that I've experimented with my photography and tried out a full-frame camera and different lenses such as fish-eye lenses, it does feel like it's time for an upgrade.
EOS R: New territory, new playing ground
But I'm always up for a good adventure
With the nature of my work, I definitely need a camera that's easy to travel with—one that's portable, not too bulky, and can withstand a lot of moving and varying weather conditions. It also needs to have a flipscreen, Wi-fi and Bluetooth connectivity, as well as excellent low-light performance.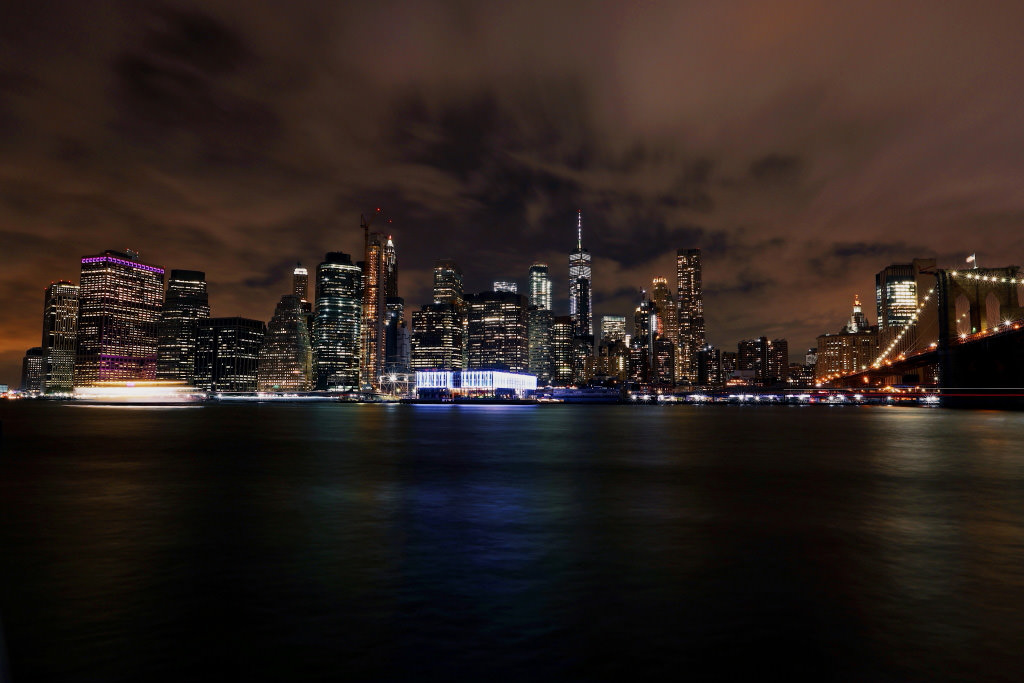 EOS R/ EF16-35mm f/2.8L II USM/ FL: 23mm/ Manual exposure (f/14, 20 sec, EV±0)/ ISO 100/ WB: Auto
Location: Manhattan, New York
I was spellbound by the EOS R when I got to try it on a recent trip to the United States. It ticks all the boxes and more. Not only did it fit nicely into my satchel, the low-light capabilities also stood out: I was impressed at how my shots of the Arizona night sky and Manhattan skyline came out—image quality excellent all the way to the edges. I also loved how customisable the camera is, with three shooting pre-sets (C1, C2 and C3), the touch bar and the customisable control ring on the RF lenses.
I loved the size, weight and image quality of the EOS R (pictured here with the EF16-35mm f/2.8L II USM and EF-EOS R Mount Adapter). The solid grip makes it really easy to hold.
Having worked almost exclusively with DSLR cameras, I would have to get used to using a mirrorless camera. The new features on the EOS R and the RF lenses are also something I would have to familiarise myself with. But I'd like to see how I can establish myself with it. It feels like a completely new territory, and I'm always up for a good adventure.
Find out more about the EOS R at:
Reimagine Optical Excellence with EOS R
Expand Your Range of Shooting Possibilities with the All-New RF Lenses
3 Features on the EOS R That Will Change the Way You Shoot
4 Things You Didn't Know About 4K Video on the EOS R
For more hands-on reviews of the EOS R at various travel destinations, check out:
EOS R Hands-on Review: Capturing the Beauty of Japan
24 hours in Seoul: 10 Captivating Photos Shot with the EOS R
Hands-On Review: Why the EOS R is a Good Addition to My Travel Photography Kit
---
Receive the latest update on photography news, tips and tricks.
Be part of the SNAPSHOT Community.
Sign Up Now!
---
About the Author
An architectural graduate, designer and freelance travel photographer, Acacia Mardiana decided to explore other aspects of visual arts after completing her Master's degree in 2017. Since then, she has worked on various branding and marketing projects as photographer and designer, as well as a number of her own projects that seek to motivate, inspire, and share about her travel experiences. She was shortlisted as a Canon Malaysia EOS Youth Ambassador in 2018, and continues to be engaged with the Canon photography community.
Instagram: @acaciadiana
Twitter: @shafoshizzle
Blog: http://advenshatime.blogspot.com/