Products >>
All Products
In Focus: Capturing Moments with EOS R System- Part3
EOS R: Gliding Through Fog, Sweat, Smiles and Tears
Figure skating often makes people think of athletes in beautiful costumes, doing difficult jumps and complicated turns with confidence and ease. But Canon Malaysia EOS Youth Ambassador Annice Lyn, also the first female Malaysian photographer to be accredited for the XXIII Olympic Winter Games (PyeongChang 2018) has another story that she wants to tell, one close to her heart as a former competitive figure skater. EOS R in hand, she takes us behind the scenes to a foggy skating rink late at night, where athletes are hard at work, trying to make their dreams a reality. (Photos by: Annice Lyn)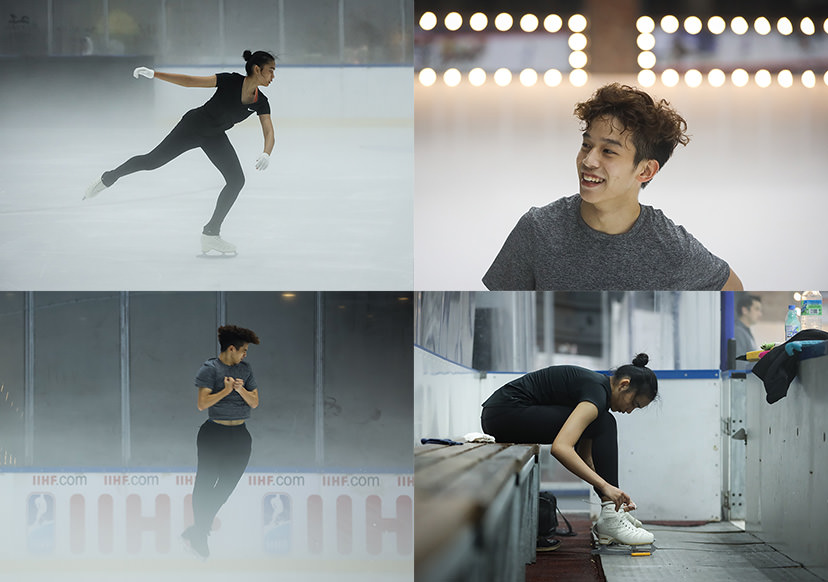 Despite the fog
It's 11pm on a weekday night. At this time, many young adults would be either relaxing at home or out with friends. Not Chew Kai Xiang and Aina Sorfina, two of Malaysia's national figure skaters, who are hard at work at the Malaysia Ice Skating Stadium.
In a tropical country like Malaysia, Olympic-sized training facilities for a winter sport such as figure skating are rare. This means that "private ice time" for training often has to be late at night, when the mall where the stadium is located has closed. The central air conditioning is also off by then, which results in a fog that fills the whole rink. It is difficult to see, and even harder to establish focus during photography. But this does not discourage the skaters, nor our photographer, Annice Lyn.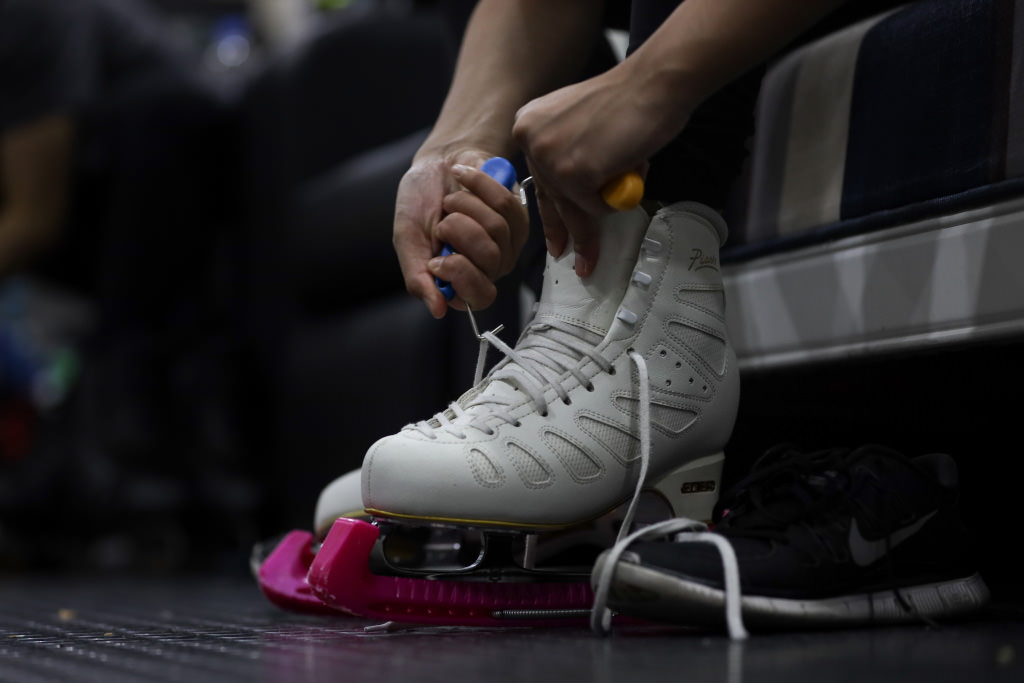 EOS R/ EF70-200mm f/2.8L IS III USM/ FL: 88mm/ Manual exposure (f/2.8, 1/100 sec, EV±0)/ ISO 1000/ WB: Auto
Lacing up figure skates before a training session is also a time for mental preparation. Usually a viewfinder shooter, Annice found having a Vari-angle flip screen on the EOS R refreshing: "It allows me to explore shooting from different perspectives".
"No one sees the raw moments that come before those three minutes of glory"
As someone who hopes to take pictures that tell human stories and "celebrate the highlights of people's lives and do them justice", Annice loves to get to know her subjects well before she photographs them. While she also shoots weddings, and humanitarian interests, it is clear that sports—especially figure skating—holds a special place in her heart.
For this particular series of shots (this article shows a selected few), she wanted to preserve images of the skaters in a way no one else would. "Most figure skating photos show clean ice, with the figure skaters in full costume, looking confident," she tells us. "But people don't see the unglamorous moments, or the countless hours of overcoming technical difficulties that they go through for each three minute programme on ice."
Annice herself knows the challenges in figure skating very well. "I was a figure skater myself. I know what is like to feel frustrated and hopeless when I can't master a spin or jumping elements. But no one sees these moments when we are down and disheartened."
And yet, these feelings of disheartenment—and the passion and determination to overcome them—are very much a part of the competitive ice-skating journey. For the two young skaters here, the journey hopefully includes the 2022 Winter Olympics in Beijing.
EOS R/ EF70-200mm f/2.8L IS III USM/ FL: 165mm/ Manual exposure (f/2.8, 1/800 sec, EV±0)/ ISO 4000/ WB: Auto
Sweat glistens on Aina's forehead as she lands from a jump. One of the first things Annice did with the EOS R was to customise the control ring on the Control Ring Mount Adapter EF-EOS R to control ISO speed. She found this much more convenient than looking for the ISO speed button at the top of a DSLR camera. The mount adapter also allowed her to use her existing EF70-200mm f/2.8L IS III USM lens with the EOS R.
EOS R/ EF70-200mm f/2.8L IS III USM/ FL: 200mm/ Manual exposure (f/2.8, 1/3500 sec, EV±0)/ ISO 3200/ WB: Auto
It is hard to get jumping shots correct, and the fog made focusing even more difficult. Annice was surprised by the the speed and precision of the EOS R's Dual Pixel CMOS AF system, which helped her obtain a sharp image of Aina doing a double jump with continuous shooting. She customised the multi-function bar for easy access to the AF point selection features, and this made changing the AF method quick and easy. For this scene, Annice mainly used either Zone AF or one of the two new Expand AF area modes. She also found Touch & Drag AF especially helpful when she shot double and triple jumps and camel spins.
"One day, if they do make it to the Olympics, I hope these visuals will remind them of how far they have come and what they put up with to get there"
Being able to get up close and personal with the figure skaters and witness such raw moments are, Annice feels, a privilege that makes her work as a photographer rewarding. The very real and human nature of their journey is what she hopes to document: "I hope one day if they do make it to the Olympics, these visuals will remind them how far they come and what they put up with to be there".
EOS R/ EF70-200mm f/2.8L IS III USM/ FL: 100mm/ Manual exposure (f/2.8, 1/800 sec, EV±0)/ ISO 1600/ WB: Auto
The end of a great training session. There was a lot of hard work and frustration, but the skaters also had fun and encouraged each other. Chew Kai Xiang looks up at the giant display screen in the rink, face full of hope for the upcoming ISU Junior Grand Prix—and perhaps, also for the 2022 Olympics.
EOS R: Great for different scenes
EOS R/ RF24-105mm f/4L IS USM/ FL: 24mm/ Manual exposure (f/4, 1/200 sec, EV±0)/ ISO 5000/ WB: Auto
Annice Lyn also does humanitarian photography, documenting scenes for donation purposes. Visiting the scene of a fire at an orphanage (where thankfully, only this room was burnt and no one injured), she felt compelled to take this photo of this little girl who had been following her around. She was amazed by the EOS R's low light capabilities: Despite the darkness, the view through the EVF was clear. This allowed her to preview and change her exposure settings to capture the essence of the fire scene quickly, before the burning smell from the aftermath became unbearable.
Click here to find out more about the EOS R
For more stories captured by the EOS R, check out:
EOS R: Capturing Compelling Moments in Equestrian Photography
---
Receive the latest update on photography news, tips and tricks.
Be part of the SNAPSHOT Community.
Sign Up Now!
---
About the Author
Former national competitive figure skater Annice Lyn developed her passion for photography while obtaining her architectural degree. She believes that the art of photography is being able to articulate and transports fragments of moment into timeless imagery. The first female photographer based in Malaysia to be accredited for the XXIII Olympic Winter Games (PyeongChang 2018), her work has been picked up by the Associated Press, AFP, the Washington Post, USA Today and various news online platforms, both locally & internationally. A current Canon Malaysia EOS Youth Ambassador, she seeks to visually document mainly humanitarian interests, sports and visual artwork photography via her platform Anntopia.

Website: www.anntopia.net
Instagram: @annicelyn (Personal), @sportsbyannicelyn (Sports), @anntopia (Visual Arts)
Facebook: http://www.facebook.com/byanntopia