Products >>
All Products
Lens Impressions: RF28-70mm f/2L USM in Natural Landscapes
With its constant aperture of f/2, the RF28-70mm f/2L USM is an entire aperture stop faster than the f/2.8 aperture on most premium standard zoom lenses, allowing twice as much light to enter the camera. A generous optical construction consisting a number of special lens elements also promises excellent optical quality. Toshiki Nakanishi shows why he thinks this lens is a must-have for nature photographers. (Reported by: Toshiki Nakanishi, Digital Camera Magazine)
A generous lens construction that creates beautiful bokeh at f/2
The RF28-70mm f/2L is a robustly-built beast of a lens. It weighs approximately 1,430g, mainly for two good reasons: The larger lens diameter, which allows the light necessary for the constant aperture of f/2, and the internal lens construction, which requires bigger lens elements to match the lens diameter and also incorporates a number of special lenses.
Also worthy of mention: The lens features a mechanism that absorbs shock from impact coming from the front of the lens.
Sharpness and detail even at f/2
In landscape photography, we usually stop down the aperture to ensure that the details of nature are captured without softness. However, the RF28-70mm f/2L USM delivers sharpness and high contrast even at maximum aperture: The textures of trees and leaves were rendered in fine detail, as you can see in the images below. I feel encouraged to use the maximum aperture more, and doing so will no doubt expand the range of creative possibilities.
Internal lens configuration: Designed for premium image quality
The lens incorporates:
- Four aspherical lens elements to correct spherical aberration, distortion and astigmatism;
- Three UD lens elements to reduce both longitudinal (axial) and lateral (transverse) chromatic aberration; and
- Two different types of coating (Air Sphere Coating and Subwavelength Structure Coating) to further reduce flare and ghosting in backlight.
These have no doubt contributed to the excellent image quality, as you can see from the examples below. The enhancements to improve performance in backlight, in particular, make this is a must-have standard zoom lens for landscape photographers.
Sample images
Shot at 29mm
EOS R/ RF28-70mm f/2L USM/ FL: 29mm/ Aperture-priority AE (f/11, 0.4 sec, EV+2.0)/ ISO 200/ WB: Daylight
The images are excellently resolved up to the edges. Tonal transitions are smooth and gradual in the highlight areas, and you can use them to make colours appear to melt to into white.

Shot at 34mm
EOS R/ RF28-70mm f/2L USM/ FL: 34mm/ Aperture-priority AE (f/16, 1/8 sec, EV-0.7)/ ISO 200/ WB: Cloudy
With the adoption of an uncompromising design and advanced coating technologies, this lens is capable of capturing the subject in high contrast regardless of the light direction. In this photo, every single wheat ear is clearly reproduced.

Shot at 50mm
EOS R/ RF28-70mm f/2L USM/ FL: 50mm/ Flexible-priority AE (f/2, 1/6,400 sec, EV±0)/ ISO 100/ WB: Daylight
The RF28-70mm f/2L USM is not only sharp, but also excels in colour reproduction. As this image shows, it is capable of producing impressively rich and deep tones when you use it to capture landscapes with a strong dark-light contrast.

Shot at 52mm
EOS R/ RF28-70mm f/2L USM/ FL: 52mm/ Flexible-priority AE (f/2, 1/500 sec, EV±0)/ ISO 100/ WB: Daylight
The maximum aperture of f/2 demonstrates its power in dimly-lit scenes like this one, where the atmosphere is depicted so vividly, it is as though the coldness of the surroundings have been trapped in the image.

Shot at 70mm
EOS R/ RF28-70mm f/2L USM/ FL: 70mm/Flexible-priority AE (f/11, 1/10 sec, EV±0)/ ISO 100/ WB: Daylight
The lines reproduced are extremely fine and the sharpness of the image resembles that of a prime lens. It conveys the tense atmosphere of the earth so well that one can even feel the smell of the withered leaves from the photo.
Usage tip: Make the best of f/2 at different focal lengths
The RF28-70mm f/2 USM is like having a few f/2 prime lenses all in one body. This doesn't just provide better mobility, but also convenience and ease of composition: You don't have to keep switching lenses, you have an entire range of focal lengths at your disposal when you frame your shot, and f/2 is available all throughout. The last point is the beauty of this lens, and it definitely benefits the range of creative expression.
The images below show how you can use f/2 at different focal lengths to fulfil various shooting intents.
At 28mm: Add depth to your image with bokeh
I closed in on the silver frost on the trees with the focal length set to the 28mm wide-angle end. Using the maximum aperture and setting the focus on the back of the scene created depth in the image.

At 35mm: Gain a faster shutter speed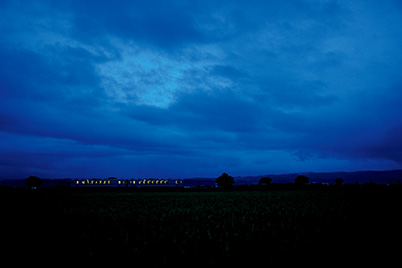 A shot of the blue moment after sundown. Thanks to the f/2 aperture, I was able to shoot at 1/800 second even at ISO 1600.

At 50mm: Create a foreground bokeh effect that reproduces what your eyes see
Using f/2 at a focal length of around 50mm creates a foreground bokeh effect, resulting in a shot that closely replicates what we see with the naked eye. This is useful for taking quick snapshots, not just of natural landscapes but also portraits and street scenes.

At 70mm: Draw attention to the dimensionality of objects
The telephoto end provided a close-up effect that was just nice for this shot. You can enhance your photography experience by making use of foreground and background bokeh to produce images with a stronger impact.
EOS R with the RF28-70mm f/2L USM attached
Lens Hood EW-103
Specifications
A: Aspherical lens elements
B: UD lens elements
Lens construction: 19 elements in 13 groups
Closest focusing distance: 0.39m
Maximum magnification: 0.18x
No. of aperture blades: 9 (circular blades)
Filter diameter: 95mm
Size: φ103.8 x 139.8mm
Weight: approx. 1,430g
See works by other photographers using this lens in:
EOS R: Capturing Compelling Moments in Equestrian Photography
3 Tips to Elevate Your Wedding Storytelling (and Why the EOS R Helps)
Roberto Valenzuela: What It Takes To Be a Master Wedding Storyteller
Find out more about RF lenses in:
Expand Your Range of Shooting Possibilities with the All-New RF Lenses
6 Significant Features of RF Lenses
RF Lenses: Which One Suits Me?
---
Receive the latest update on photography news, tips and tricks.
Be part of the SNAPSHOT Community.
Sign Up Now!
---
About the Author
A monthly magazine that believes that enjoyment of photography will increase the more one learns about camera functions. It delivers news on the latest cameras and features and regularly introduces various photography techniques.
Published by Impress Corporation
Born in 1971 in Osaka. After learning photography on his own, Nakanishi moved the base for his photography activities to the town of Biei located in Kamikawa-gun of Hokkaido. While capturing landscapes that focus on light, he also produces works that bring out the figurative beauty of nature. Head of PHOTO OFFICE atelier nipek.