Products >>
All Products
In Focus: RF Lenses Review- Part14
RF35mm f/1.8 Macro IS STM: Compact, Multipurpose, Great for Street
With a moderately wide angle of 35mm, the RF35mm f/1.8 Macro IS STM is an ideal prime lens for street photography. At the same time, it also offers the specs of a macro lens, enabling you to take close-up shots up to a magnification of 0.5x when the need arises. Compact and lightweight, it is an excellent basic lens to go with the EOS R and EOS RP. (Reported by: Masatsugu Koorikawa, Digital Camera Magazine)
EOS R/ RF35mm f/1.8 Macro IS STM/ FL: 35mm/ Aperture-priority AE (f/4, 1/20 sec, EV±0)/ ISO 1600/ WB: Auto
A close-up shot of the keys of an antique typewriter. This was shot at the closest focusing distance of 17cm. Notice the sharpness of the area-in-focus and the smoothness of the bokeh—the ability to balance both is what makes this lens stand out. I set the aperture to f/4 so that the image would not be too defocused.
A compact semi-macro lens that works well for shooting both far and near objects
The most attractive feature of the RF35mm f/1.8 Macro IS STM is that it allows the photographer to move extremely close to the subject. With a macro feature that offers a closest focusing distance of 17cm and magnification of 0.5x, coupled with the 35mm wide angle-of-view, the lens is capable of producing close-up shots that also capture the surroundings.

Up to 5 stops' image stabilisation; corrects different types of camera
It is also equipped with a Hybrid IS that addresses shift camera shake, delivering up to five stops' image stabilisation for shooting stills. All the sample images in this review were taken handheld, but camera shake was not a cause for concern at all. Similar to the RF24-105mm f/4L IS USM, the RF35mm f/1.8 Macro IS STM supports Dual Sensing IS, which also corrects camera shake caused by slow body movements such as those that occur when you breathe.

Superb image quality throughout the entire aperture range
The image quality is best described as superb. The area in focus is reproduced sharply starting from the maximum aperture and the image quality does not seem to deteriorate when the aperture is stopped down.

Beautiful, creamy bokeh
Conventional macro lenses tend to create bokeh that is rather hard-edged. However, due to the circular aperture, the bokeh created by the RF35mm f/1.8 Macro IS STM was impeccably soft and smooth, even when the aperture was moderately stopped down.
Sample images

Shot at f/5.6
EOS R/ RF35mm f/1.8 Macro IS STM/ FL: 35mm/ Aperture-priority AE (f/5.6, 1/1,000 sec, EV±0)/ ISO 100/ WB: Auto
A shot of a water pipe bridge on Edogawa River in Ichikawa City, Chiba Prefecture that was taken on a clear day. The train on the bridge in the background is a Tozai Line train operated by Tokyo Metro. The resulting image appears excellently sharp up to the edges, even at the relatively wide aperture of f/5.6.

Shot at f/1.8
EOS R/ RF35mm f/1.8 Macro IS STM/ FL: 35mm/ Aperture-priority AE (f/1.8, 1/5,000 sec, EV±0)/ ISO 100/ WB: Auto
Red spider lilies blooming on a riverbank. This is a close-up shot with a magnified view of the flowers, but unlike medium telephoto macro lenses, the wide 35mm angle-of-view lets you also capture the surrounding environment.

Shot at f/5.6
EOS R/ RF35mm f/1.8 Macro IS STM/ FL: 35mm/ Aperture-priority AE (f/5.6, 1/350 sec, EV±0)/ ISO 1600/ WB: Auto
A tightly-composed shot of the stairs in a building with the aperture stopped down to f/5.6. The wide angle allows the lens to be employed for photo shoots in a narrow indoor space. It is a handy lens that helps to capture the surroundings in both close-up and normal shots.
You might also be interested in:
Interior Photography: 5 Tips On Shooting Commercial Spaces
Key feature 1: 0.5x close-up performance; versatile 35mm angle-of-view
Street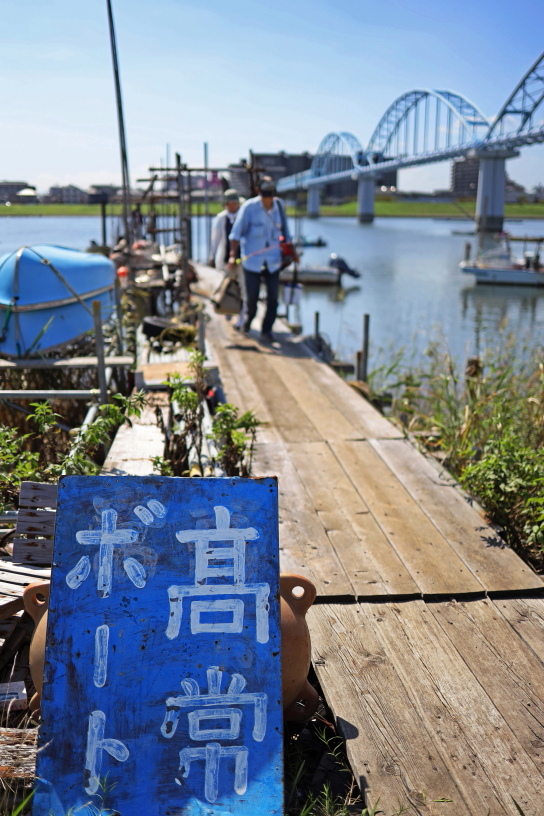 Macro
Most lenses are characterised by only one distinctive aspect, but the RF35mm f/1.8 Macro IS STM offers two: It is not only lightweight with an angle-of-view perfect for street photography, but also a macro lens that lets you capture the details on small subjects. This versatility makes it a very cost-effective option.
Key feature 2: Hybrid IS for easier handheld macro photography
Camera shake is generally attributable to angular shake, which occurs when the camera and lens are tilted in the vertical or horizontal direction. However, when you are shooting close-up, shift shake, which occurs when the camera moves in a vertical or horizontal direction parallel to the focal plane, can become more noticeable.
On the RF35mm f/1.8 Macro IS STM, the gyro sensors and acceleration sensors in the Hybrid IS system help to detect both types of shake, resulting in better, more thorough image stabilisation.
A) Angular camera shake
B) Shift camera shake
C) IS Unit
D) In-lens microprocessor
E) Acceleration sensor
F) Vibration gyro
Summing up: A worthwhile addition to the camera bag
While the RF35mm f/1.8 Macro IS STM is the only non-L lens among Canon's initial lineup of four RF lenses, it can also be regarded as one that offers the best mobility in the current RF lens series.
It is:
- Compact and lightweight: This makes it not just portable, but also a good match with the EOS R and EOS RP.
- Versatile: The 35mm angle-of-view offers a perspective that is moderately wide but still natural—just as good for street and travel photography as it is for food photography.
With the semi-macro capabilities, you can even shoot closeups of small objects such as flowers and trinkets.
- Accessibly-priced: It is priced lower than other existing RF lenses, which belong to Canon's premium L-series lineup.
Photographers looking for an affordable native lens for their EOS R-series cameras will probably find this a very worthwhile addition to their camera bags.
EOS R attached with the RF35mm f/1.8 Macro IS STM
Lens Hood EW-52
Specifications
A: Aspherical lens elements
Lens construction: 11 elements in 9 groups
Closest focusing distance: 0.17m
Maximum magnification: 0.5x
No. of aperture blades: 9 (circular blade)
Filter diameter: 52mm
Size: φ74.4 x 62.8mm
Weight: approx. 305g
Read about another photographer's impressions of this lens here:
Lens Impressions: RF35mm f/1.8 Macro IS STM in Street Photography
Find out more about RF lenses in:
Expand Your Range of Shooting Possibilities with the All-New RF Lenses
6 Significant Features of RF Lenses
RF Lenses: Which One Suits Me?
---
Receive the latest update on photography news, tips and tricks.
Be part of the SNAPSHOT Community.
Sign Up Now!
---
About the Author
A monthly magazine that believes that enjoyment of photography will increase the more one learns about camera functions. It delivers news on the latest cameras and features and regularly introduces various photography techniques.
Published by Impress Corporation
Born in Nara. Besides taking portrait and merchandise photos for camera and music magazines, Koorikawa also releases works with the waterfront of Tokyo Bay as the theme.