Inspirations >>
Photos & People
Part11
Thanying: Democratising Royal Thai Cuisine
If you want to 'eat like a king', a full-blown royal Thai cuisine meal may be the ultimate way to do it. It won't just be delicious; but also painstakingly prepared with mind-boggling levels of attention to every tiny detail.
Flavours are carefully balanced so nothing is too sweet, sour, salty or spicy (although your definition of 'too spicy' may differ greatly from that of heat-loving Thais).
EOS M6, EF-M28mm lens, f/5.6, 28mm, 1/40 sec, ISO1600
This portrait of Queen Rambhai Barni shows the elaborate tableware used by Thai royalty. The angle of the shot also captures the old-world charm of the restaurant where this painting holds pride of place.
Meat and seafood are completely shelled or deboned. Fruits are de-seeded; their peels skillfully sliced off and folded into garnishing; their flesh carved into beautiful shapes. Extra time and attention are given to selected dumplings and desserts, which are lovingly sculpted into brightly coloured, jewel-like morsels of temptation.
And here's the kicker: you won't even need to cut your food because everything comes in perfect, artfully arranged, bite-sized pieces.
But at Thanying Restaurant in Bangkok, which claims to serve 'genuine royal Thai cuisine', this won't be the kind of food you will get. And we'll tell you why this is a good thing.
EOS M6, EF-M28mm f/3.5 MACRO IS STM lens, f/5.6, 28mm, 1/6 sec, ISO1600
As diners approach the restaurant, they get a peek at the elegant dining room. A single leaf included in the frame, and subtle reflection on the window glass brings to mind the verdant garden just outside the shot.
EOS M6, EF-M28mm f/3.5 MACRO IS STM lens, f/3.5, 28mm, 1/40 sec, ISO6400
In this shot of the restaurant's elaborate entrance, we set the camera filter to create a blue tint to project a feeling of serenity – something which permeates the entire Thanying dining experience.
When you eat at Thanying, you'll enjoy what matters most: food that tastes exactly like the dishes served in the palace. They serve you the 'meat' of the cuisine, if you will – while discarding less crucial (but extremely time-consuming) elements like deboning and decoration.
EOS M6, EF-M22m f/2 STM lens, f/2.8, 22mm, 1/50 sec, ISO1600
Even with something as common as rice, a little extra care with food styling and thoughtful composition can result in a beautiful image with a nice depth of field.
EOS M6, EF-M22mm f/2 STM lens, f/2.8, 22mm, 1/60 sec, ISO1600
A good way help viewers fully appreciate the details in these one-bite appetisers is to frame a single piece using a spoon, with the full platter blurred out in the background.
This way, they are able to drive prices down by a whopping 80% or more, making royal Thai flavours more affordable and accessible to the common people.
How do they ensure the food tastes genuine? Well co-owner Sorut Visuddhi knows the flavours of royal Thai cuisine very well – he grew up on them.
EOS M6, EF-M22mm f/2 STM lens, f/2.8, 22mm, 1/80 sec, ISO1600
Food shots can look complex and messy. Bokeh effects help minimise clutter by focusing on key elements in a dish while fading the rest gently to still provide an impression of the overall dish.
His mother was Her Serene Highness Princess Sulabh-Valleng Visuddhi, great-granddaughter of King Mongkut (best known globally as the King in The King and I). 'Thanying' is a conversational abbreviation of her royal title, and she was once Head Chef in the Sukhothai Palace kitchen for her half-sister, Queen Rambhai Barni of King Rama VII.
EOS M6, EF-M28mm f/3.5 MACRO IS STM lens, f/3.5, 28mm, 1/40 sec, ISO5000
Personal items like this family photo of Thanying Sulabh-Valleng Visuddhi with Queen Rambhai Barni help create the feeling that we are dining in a royal home instead of a restaurant.
Sorut's mother taught him all about the intricacies of the royal Thai cuisine experience – everything from ingredients and flavours to preparation and service.
Sorut opened Thanying Restaurant when a new king ascended to the throne and brought his own retinue to the palace, including a full kitchen staff to replace his mother's cooks. The restaurant kept those skilled cooks employed, and as they retired Sorut personally trained their replacements both in the kitchen and in the dining room.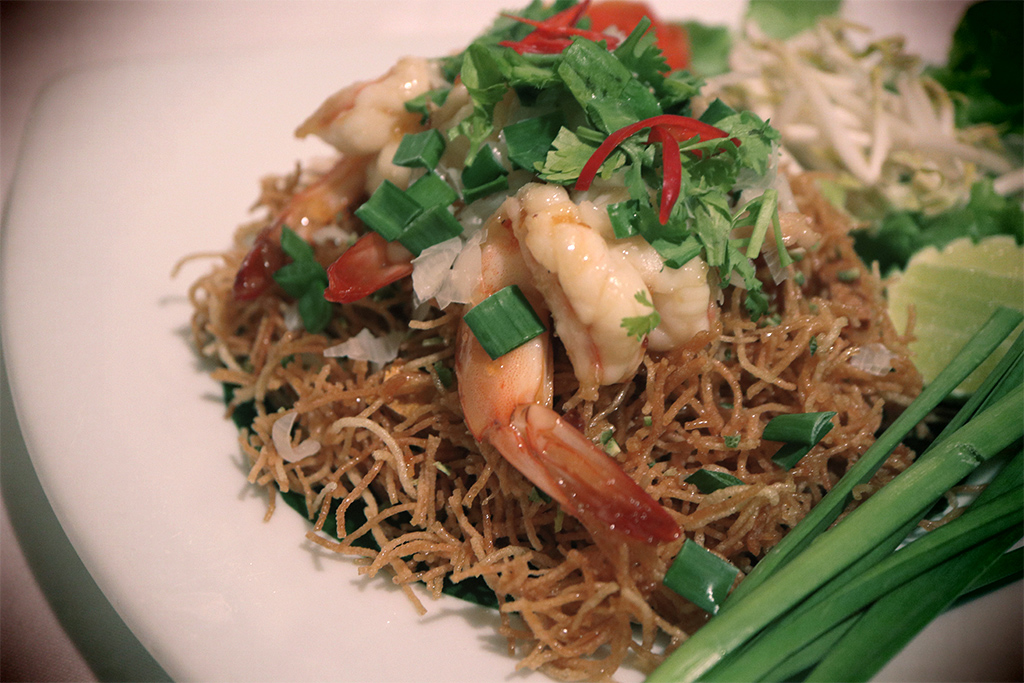 EOS M6, EF-M28mm lens, f/3.5, 28mm, 1/40 sec, ISO2000
When taking food photos, accurately capturing textures can go a long way towards 'feeding' the viewer through their eyes.
When we visited Thanying, the high standards of his training became immediately apparent.
Yes, we had to peel our own prawns and slip chicken flesh off the bones ourselves, but the taste of the food was very good indeed. Every item was perfectly cooked and seasoned, and may have been even better if we hadn't taken so much time snapping photos.
EOS M6, EF-M22mm f/2 STM lens, f/2.8, 22mm, 1/50 sec, ISO1600
Try different angles when photographing food. In this example, a higher angle clearly shows the relationship between the main curry dish and the fried bread that serves as its accompaniment.
And the service? Just impeccable. Despite being unaccustomed to our many questions, everyone tried their best to answer us. Noticing that we were snapping photos, they immediately offered to move us to a better-lit table. They even wanted to call us a cab as we paid the bill. The care and attention we enjoyed made us feel like we were honoured guests in a royal home.
EOS M6, EF-M22mm f/2 STM lens, f/2.8, 22mm, 1/60 sec, ISO3200
Complementary colours like red and green, which sit opposite each other on the colour wheel, make for a beautiful contrast in photos. For example, in this fiery prawn dish with its striking Thai basil topping.
Few of us will ever dine or live like royalty. But at Thanying, we can all at least enjoy a small, authentic taste of what that would be like.
EOS M6, EF-M28mm f/3.5 MACRO IS STM lens, f/4.0, 28mm, 1/40 sec, ISO3200
The bold colours on the Thanying menu is a good reflection of the wonderful flavours they serve up.
Thanying Restaurant
10 Thanon Pramuan
Silom Road
Bang Rak
Bangkok 10500
Thailand
---
Receive the latest update on photography news, tips and tricks.
Be part of the SNAPSHOT Community.
Sign Up Now!