Travel photography, to many, is about capturing the moments that make up the trip. What about a travel photographer? We speak to Joseph Mak and learn how he overcomes the various challenges present in this genre of photography. 
Travel photography consists of a wide variety of subjects. For me, it is about capturing the different moments while travelling; landscape, portraiture, street, macro, birding, and many others. It might seem like an easy task but when you're travelling, it is not so simple.
EOS 5DS R, EF16-35mm f/2.8L II USM lens, f/16, 1/200 sec, ISO 50
Sunset in Tenerife, Spain
You never know when the next great shot is going to appear, so be camera ready and always on a lookout.
Firstly, always be ready for the shot as travel photography covers every moment we see on the road. You never know when the next great shot is going to appear, so be camera ready and always on a lookout.
To get images of the highest quality, it is important to use the techniques and equipment that best fit a situation, for instance with landscape photography, using filters and a sturdy tripod are essential to get the very best image. Controlling lighting, be it flash or reflectors, is just as vital for good portrait photography as well, so use that equipment and enjoy better results. For street photography, I would set my camera to AV or M mode, and ensure that the minimum speed is sufficient.
I have been using EOS 5D from the first version to the current 5DS R series. This series performs like a workhorse, allowing me to capture professional images in extreme conditions and without weighing me down while travelling. The camera survived in -40 degrees Celsius in deep winter and its battery lasted a full day. Its 50-megapixel resolution gave me the option of commercial big print and cropping to the specific size that I want.
 
EOS 5D Mark II, EF24-70mm f/2.8L USM lens, f/11, 1/640 sec, ISO 800
Rainbow across a field in Xinjiang, China
EOS 5DS R, EF24-70mm f/2.8L II USM lens, f/2.8, 1/320 sec, ISO 800
Girl in a slum in India
EOS 5D Mark III, EF70-200mm f/2.8L IS II USM lens, f/8, 1/100 sec, ISO 400
Our camera almost toppled due to the deep winter winds of Inner Mongolia
I usually bring a trinity of lenses: 16-35mm, 24-70mm, 70-200mm, plus 24mm TS-E and 35mm prime lenses. For some locations, I will bring along my 200-400mm to shoot landscapes and safari. Filters and tripod are also compulsory items in my list.
There are a lot of unknown situations when you travel. Sometimes, I encounter distance issues, as the distance of the subject is further than what we expected. The Canon EOS 5DS R helps us a lot thanks to its 50-megapixel resolution. I can crop in and the resolution after cropping would remain at 20 megapixels. The interval timer function in the 5DS R also helps when I forget to bring my shutter release cable for time-lapse shots.
EOS 5DS R, EF70-200mm f/2.8L IS II USM lens, f/8, 1/2000 sec, ISO 1250
Bears snatching food in Kamchatka, Russia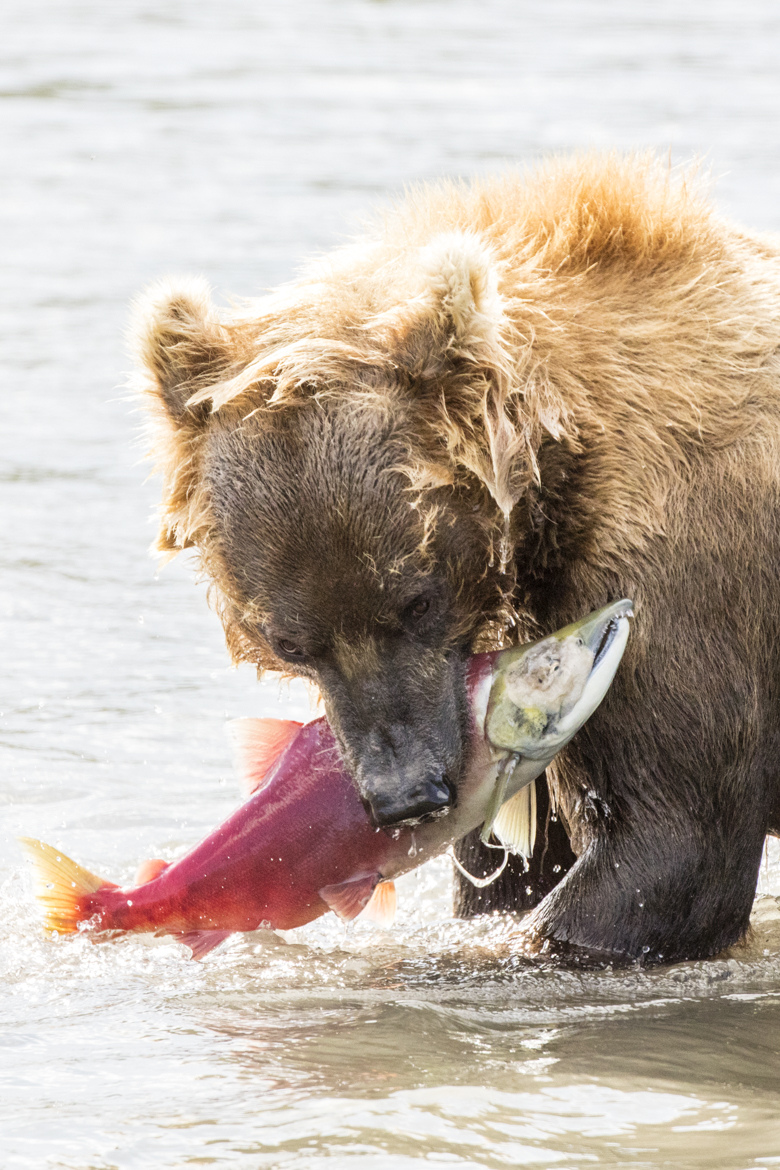 EOS 5DS R, EF200-400mm f/4L IS USM lens, f/8, 1/1600 sec, ISO 1600
A bear bites into his catch in Kamchatka, Russia
Moisture, heat and cold are the basic weather elements. I need a camera that I can trust to perform the job on the ground. The 5D series is weather resistant, hence ideal for places that I would go to such as deserts, lava fields, misty rivers, ice caves – as they are places of extreme conditions. 
EOS 5DS R, EF70-200mm f/2.8L IS II USM lens, f/8, 1/800 sec, ISO 500
Camel herder in Pushkar, Rajasthan

The 5DS R allows me to use its built-in HDR function for the wide spectrum of lighting. It also enables me to stitch three 50-megapixel photos to combine into a 150-megapixel photo using my TS-E lens whenever I am shooting landscapes.
EOS 5DS R, TS E24mm f/3.5L II lens, f/20, 5 sec, ISO 50
Lava field with an active volcano in Kamchatka, Russia

I believe I have shot in over 30 countries. Norway was the most memorable – deep fjords, high mountains and long, long shoreline beaches surround you wherever you look and wherever you stand from the moment you arrive. Unspoiled and dramatic, the scenery here is almost too perfect, and you always have the feeling you are walking through a digital creation of what the perfect example of nature should look like.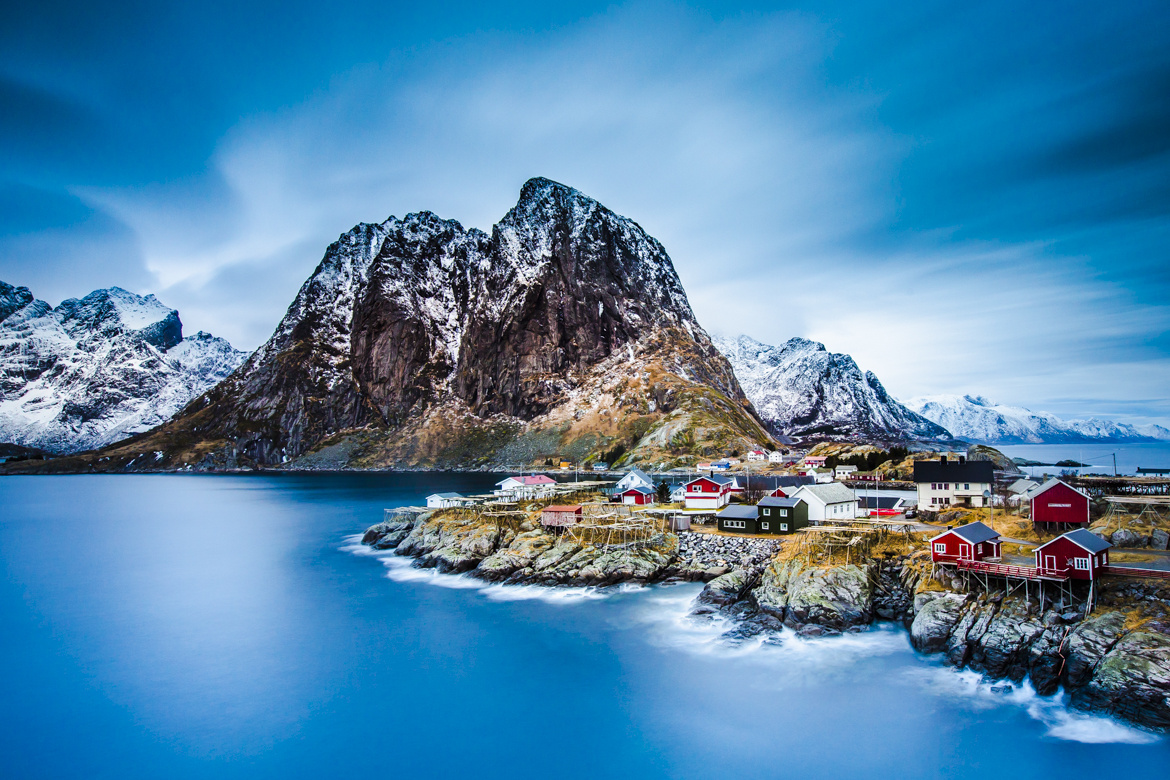 EOS 5D Mark III, EF16-35mm f/2.8L II USM lens, f/18, 60 sec, ISO 100
Moving clouds among the red houses of Norway
I would return to Patagonia, Chile, home to stunning fjords, a dramatic coastline and endless shoreline. The majestic mountain and waterfall, together with the dramatic clouds and burning sky. It's a place that captivates your senses and I definitely want to go back again.
EOS 5DS R, EF16-35mm f/2.8L II USM lens, f/11, 4 sec, ISO 50
Field of flowers in Patagonia


EOS 5DS R, EF16-35mm f/2.8L II USM lens, f/18, 1/13 sec, ISO 100
Sunrise among the mountains of Patagonia
Is being a travel photographer the ultimate job? Yes, I agree that people love to travel and see the world. But that is if they are travelling for leisure. As a professional, I have a job to do. It may look glamorous and a dream job to many, but it is extremely hard work. It is still my dream job though, and I love it despite the tough life it can be.
A typical day for my team starts at 4am and ends at 11pm, sometimes even later. Those long hours include preparing for and overseeing an early morning shoot for sunrise and hiking up to locations in the dark, to ensure my clients have the best opportunities for that magical shot during the golden hour at daybreak. Then it's back to base for breakfast and a quick break, before we are off again for more shoots, whether street photography or portraiture, depending on the tour. 
It is still my dream job though, and I love it despite the tough life it can be.
EOS 5D Mark III, EF16-35mm f/2.8L II USM lens, f/16, 1/10 sec, ISO 100
Winter sunrise in Inner Mongolia 
We do get a little time to rest during lunch, where we share experiences with clients to find out what they thought of the earlier shoots and how they are getting on. After lunch, itineraries may vary; it could be more location shooting, maybe a post processing workshop or other training.
By the time all of that is done, we are back into preparation for the sunset shoot to make the most of the light, and often our clients would be hoping to try some astrophotography too, so the day carries on until our clients are done shooting. They always come first as that is a very important part of our service. This continues for 8 consecutive days on a standard tour, then we get 2 days to recover when we return to base, but not all of it is rest. Preparation for the next tour starts almost immediately, and then the next tour starts and it will be long days all over again. 
EOS 5DS R, EF16-35mm f/2.8L II USM lens, f/2.8, 1/25 sec, ISO 2500
Shooting the stars in Tenerife, Spain

It is definitely not a job for everyone, and if you just see the images, it looks very glamorous, but it is incredibly tough and challenging work. However, I get to travel to wonderful places and meet amazing people every day, so the hardship is worth the experiences I have through my work. There is nothing I would rather do.
EOS 5D Mark III, EF70-200mm f/2.8L IS II USM lens, f/8, 1/500 sec, ISO 2000
Horsemen and women of Inner Mongolia
Seeing other people who share my passion for photography reach their goals, learn new techniques and improve as photographers is wonderful. Many customers have gone on to achieve distinction awards from the photographic society using photos taken on our tours, and it fills me with pride that they have achieved so much and that I can say I helped them.
Of course, not all our customers are photographers, and just having people tell me how wonderful our trip was, the different experiences at a location they may have been to many times before even, from the food and drink to the people they meet, really makes me happy that we are providing the service I had set out to create.
Before I switched to photography, I ran an IT company for 13 years, an experience that has given me the skills to manage and run the licensed travel agency business I set up to help facilitate my travel photography. Because I love travel photography so much, I now take others along on trips with me to share the experience of new places, as well as offer guidance and advice for others and sharing knowledge as we shoot together improves our photography.
Meeting new people every day in this way is something I truly love, and I believe as photographers we never stop learning, sharing our experiences and knowledge should be part of every photographer's life. I think this is where I have learned and progressed more than anywhere personally, sharing experiences and stories with others, learning from others' successes and mistakes have helped me grow as a photographer, and I take pleasure in doing the same for others.
The performance of the EOS 5D and its high quality images make me want to capture even more beautiful pictures. It is never enough.
Receive the latest updates on photography news, tips and tricks by signing up with us!
About the Author
Photography is not just about having the best equipment or the latest gadget. It's about seeing things around us. Everyone has a different perspective of things, and each views the same subject matter differently. It is always very interesting to see the different perspectives recorded in photographs, and I will always try to understand what story each photographer is trying to tell from their photographs. My style of photography is to keep it simple and clean. The key element in the photo is to be able to tell a story of the scene. Photography is an art of visual storytelling, rather than snapping a photo by itself.
Every photographer ought to be respected for the work they produce, because each photograph taken by them reflects his own unique personality.