Products >>
All Products
EF50mm f/1.4 USM – Standard Prime Lens with Soft Bokeh
In this series of articles, we will go through one by one, the recommended lens for all APS-C users. With it as a guide, you will be able to start building your own lens system. In this article, we will learn more about the standard prime lens EF50mm f/1.4 USM. (Reported by: Ryosuke Takahashi)
Effect of photo according to the selected aperture value
With an angle of view equivalent to about 80mm in the 35mm format, the EF50mm f/1.4 USM is a mid-telephoto lens that is best suited for shooting portraits and still objects. Its resolving power increases as the aperture is stopped down, and thus the depictive characteristics vary according to the aperture value. A soft depiction can be produced by the residual aberrations when the aperture is almost fully open, and this is the reason why this lens is so popular. Meanwhile, a sharp image is formed near f/5.6, which allows you to reproduce the details of the subject faithfully. Understand the depictive characteristics of this lens so that you can make good use of it to enhance your photographic expression.
At a Glance!
Soft depiction at the maximum aperture
Supports full-time manual focusing
f/1.4
FL: 50mm/ Aperture-priority AE (1/80 sec., f/1.4, +0.7EV)/ ISO 100/ WB: Auto
The entire image appears soft as if it was covered with a veil. Aberrations are intentionally retained at the maximum aperture to produce this soft depiction.
f/8
FL: 50mm/ Aperture-priority AE (1/500 sec., f/8, -0.3EV)/ ISO 100/ WB: Auto
About half a century after its release, I found this Japanese car at the far west of Europe. I captured it by stopping down the aperture to f/8 to increase the resolving power.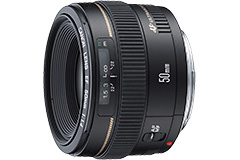 EF50mm f/1.4 USM
Lens construction: 7 elements 6 groups
Closest focusing distance: Approx. 0.45m
Max. magnification: Approx. 0.15x
Filter size:φ58mm
Size: Approx. φ73.8×50.5mm
Weight: Approx. 290g
Ryosuke Takahashi
Born in Aichi in 1960, Takahashi started his freelance career in 1987 after working with an advertising photo studio and a publishing house. Photographing for major magazines, he has travelled to many parts of the world from his bases in Japan and China. Takahashi is a member of the Japan Professional Photographers Society (JPS).