Products >>
All Products
Lens Review: RF24mm f/1.8 Macro IS STM in Nature Photography
The RF24mm f/1.8 Macro IS STM is a compact, lightweight wide-angle prime lens that also offers a large f/1.8 maximum aperture and the benefits of 0.5x macro shooting. This makes it a gem for capturing images of nature's beauty, whether they are of landscapes like grand mountains and waterfalls, wide close-ups of plants and insects that also show their surroundings, or even astrophotography with the sparkling Milky Way at night. Landscape photographer Chikako Yagi shares her discoveries. (Reported by: Chikako Yagi, Digital Camera Magazine)
Speed, macro, and ultra-wide shooting in one tiny body
Fast and wide with macro capabilities: It's like a 3-in-1
For the many photographers waiting for a fast full-frame wide-angle prime lens for the RF mount, myself included, the RF24mm f/1.8 Macro IS STM is one highly anticipated lens. As a fast, compact, and affordable prime lens with half-macro (0.5x magnification) capabilities, it shares the same concept as the RF35mm f/1.8 Macro IS STM but is wider at 24mm, which puts it at the borders of ultra-wide-angle lens (less than 24mm) territory. This provides greater versatility for shooting not just scenery but also starscapes, where its large f/1.8 maximum aperture also proves handy.
Highlight #1: Outstanding portability
Highlight #1: Outstanding portability
When I held it for the first time, the RF24mm f/1.8 Macro IS STM felt as small and light as the RF35mm f/1.8 Macro IS STM. The two are very similar specification-wise, and in the real world, it's almost like there's no difference. Balance with the camera is good—the combination doesn't feel front-heavy at all.
At 63.1mm long, it fits easily into my hand and is very portable. When you shoot, the tip of the lens extends slightly, but the overall length barely changes. With this lens in your bag, you could probably bring out one more lens than you usually do without feeling much of a difference.
Unique wide macro images with excellent colours and quality
The most outstanding feature of this lens is its close-up shooting capabilities— it provides a maximum magnification of 0.5x (half-macro) at the very short 0.14m closest focusing distance. This results in unique "wide-angle macro" images, where you not only get a close-up of the subject but also much more background context compared to a traditional telephoto macro lens.
On top of that, the lens is also capable of creamy bokeh because of the large f/1.8 aperture.
EOS R5/ RF24mm f/1.8 Macro IS STM/ Aperture-priority AE (f/1.8, 1/5000 sec, EV -1.0)/ ISO 100/ WB: Auto
This tiny praying mantis is easy to overlook, but the macro capabilities of the RF24mm f/1.8 Macro IS STM allow me to make it the centre of attention with little effort. I was surprised by the sharpness of the lens—even the texture of the praying mantis' feelers is splendidly replicated.
EOS R5/ RF24mm f/1.8 Macro IS STM/ Aperture-priority AE (f/1.8, 1/800 sec)/ ISO 100/ WB: Auto
This close-up of a lotus was shot at the 0.14m closest focusing distance with the focus placed on the stamens in front. The area that is in focus is sharp, whereas the petals in the foreground and background blend smoothly into beautiful bokeh. Notice the beautiful colours and contrast, even at maximum aperture. This applies across the entire aperture range, even when shooting close-ups.
On an APS-C camera: Get even closer
With the 1.6x crop on an APS-C EOS R camera, the RF24mm f/1.8 Macro IS STM provides an angle of view equivalent to 38.4mm on a full-frame camera. This makes it function like a 35mm lens, or a standard lens with a slightly wider angle of view. As a result, subjects look even bigger in the frame, with results equivalent to a 0.8x magnification ratio. This also applies when you use the 1.6x crop mode on a full-frame camera.
On a full-frame camera: 24mm
On an APS-C camera: approx. 38.4mm (full-frame equivalent)
Also see:
Full-Frame vs APS-C Camera: Which Should I Choose?

Image stabilisation: Up to 6.5 stops; Hybrid IS
With macro shooting, you're often working with less light, and any camera shake gets magnified. This makes handheld shooting more challenging. At the same time, it's a shooting style that I enjoy. The RF24mm f/1.8 Macro IS STM takes that into account—it supports three IS systems.
1. The conventional Optical Image Stabilizer (Optical IS) corrects camera shake by up to around 5 stops.
2. When the lens is attached to a camera with In-Body IS, Coordinated Control IS increases the image stabilisation effect to up to 6.5 stops.
3. Hybrid IS enhances the effects of the Optical IS by compensating for shift camera shake, which occurs when the camera moves parallel to the subject and is more pronounced in macro and close-up photography.
All these let me engage in handheld macro photography with peace of mind.
Highlight #2: Easily accessible AF and IS switches
Highlight #2: Easy-to-access AF and IS switches
The lens barrel design is simple, but not at the expense of user-friendliness: it features an AF/MF and IS On/Off switches on the side. This is very convenient for macro photography, where a quick switch to manual focusing is often necessary to ensure more precise focusing.

Supports full-time manual focusing
Full-time manual focusing is possible, allowing an even more seamless transition from AF to manual focusing. All you need to do is simply turn the focusing ring.
Both methods of switching to MF mode allow you to employ focus peaking and the Focus Guide (as long as you've enabled them on your camera), which provide visual aids that make pinpoint manual focusing easier.
Performance as a wide-angle lens
Capture scenery in impressive detail
The most outstanding feature of the lens may be its wide-macro capabilities, but beyond just macro, it is also a very capable wide-angle lens. You can harness its dynamic perspective exaggeration effect to make distances look longer and scenes deeper by playing with your camera angles and positions, or make use of the inherently larger depth-of-field of shorter focal lengths to deep focus.

Image quality
Just like for close-up shooting, images are sharp where they need to be across the entire aperture range, with the clarity you would expect from a prime lens. Some chromatic aberration and vignetting are visible at maximum aperture, but these disappear once you stop down slightly.
EOS R5/ RF24mm f/1.8 Macro IS STM/ Aperture-priority AE (f/8, 1/6 sec, EV -1.0)/ ISO 100/ WB: Auto
To utilise the lens' wide 24mm focal length, I shot close to the wooden walkway, which was tinted in the rosy hues of sunrise. This exaggerated perspectives, which also gives the scene additional visual depth—the elements in the background look further away.
EOS R5/ RF24mm f/1.8 Macro IS STM/ Aperture-priority AE (f/9, 4 sec)/ ISO 50/ WB: Auto
This 4-second exposure was shot with a tripod. The wide 24mm angle of view captures the spread and majesty of this scene, right down to the reflections of the greenery on the water surface and the cool, refreshing atmosphere created by the flow of the waterfall.
Great for astrophotography, too
Macro and landscape photography are two of the most conventional genres for this lens, but let's not neglect starscapes. With its large maximum aperture, the RF24mm f/1.8 Macro IS STM is very well suited for shooting at night, especially when the scenery includes the vast starry night sky. You might see some sagittal coma flare at f/1.8, but that should disappear when the lens is stopped down slightly.
EOS R5/ RF24mm f/1.8 Macro IS STM/ Aperture-priority AE (f/1.8, 15 sec)/ ISO 1600/ WB: Auto
Urban lights have made the sky bright in this shot, but the lens renders the Milky Way clear and sharp. The large f/1.8 maximum aperture lets you keep the ISO speed low to minimise noise, ensuring that the stars in the sky look clearer and brighter and the sky cleaner.

In conclusion: Excellent mobility for exploring nature's beauty
The RF24mm f/1.8 Macro IS STM is a versatile lens that promises to be useful in many types of scenes. I was glad for its compact, lightweight size, which makes it easy to bring around and explore different angles with. It's one trusty lens that you'll want to have with you at all times.
EOS R5 + RF24mm f/1.8 Macro IS STM

Lens Hood EW-65B (sold separately)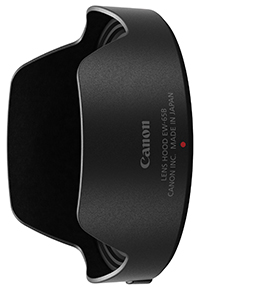 Key specifications
Lens construction: 11 elements in 9 groups
No. of aperture blades: 9 (circular blades)
Minimum aperture: f/22
Closest focusing distance: 0.14m
Maximum magnification: 0.5x
Filter diameter: 52mm
Size: φ74.4 x 63.1mm
Weight: approx. 270g
A: UD lens
B: PMo aspherical lens

Looking for a wide-angle lens to add to your kit? Read more about the other RF lens options in:
Lens Review: A Liberating Walk with the RF16mm f/2.8 STM
Lens Review: Taking a Walk with the RF15-30mm f/4.5-6.3 IS STM
Lens Review: RF14-35mm f/4L IS USM in Landscape Photography
Lens Review: RF15-35mm f/2.8L IS USM in Landscape Photography
If you're looking for an affordable macro lens that's longer than this, also consider:
RF85mm f/2 Macro IS STM: A Closer Look at Nature
About the Author
A monthly magazine that believes that enjoyment of photography will increase the more one learns about camera functions. It delivers news on the latest cameras and features and regularly introduces various photography techniques.
Published by Impress Corporation
Chikako Yagi was twenty when she started teaching herself photography using a film SLR camera. She left regular employment to become a full-time landscape photographer in 2016. An apprentice of renown photographers such as Kiyoshi Tatsuno and Tomotaro Ema, she is a member of the Shizensou Club, which was founded by the former and is one of Japan's most famous landscape photographers' clubs. In 2013, she was selected as one of the Top 10 Photographers of Tokyo Camera Club.
www.chikakoyagi.com
Instagram: @chikako_yagi