Products >>
All Products
What Photographers Say About RF Lenses- Part
Lens Impressions: RF24-240mm f/4-6.3 IS USM in Street Photography
Boasting up to 10x zoom magnification, the RF24-240mm f/4-6.3 IS USM has a powerful focal length range, which, supported by up to 5 stops of image stabilisation, makes it extremely versatile. No doubt handy for travel and street photography, it also surprised our photographer with its unexpected optical quality and speed. He shares more below. (Reported by: Kazuo Nakahara, Digital Camera Magazine)
Image quality and bokeh so good, it's hard to believe that this is a superzoom
The RF24-240mm f/4-6.3 IS USM captures images that are very unlike a typical superzoom lens.
On a superzoom lens, the wider focal length range often comes at the price of three things: Bokeh quality, sharpness, and AF speed. However, Canon's first superzoom RF lens seems to have achieved a balance between all qualities, and at a rather high level of performance too.
The result: A lens that not only provides the convenience of a huge, 10x zoom range in addition to image quality and usability, but does not compromise on any of them. This is no doubt possible due to the RF mount, which offers much more design flexibility than the EF mount.
Find out more about the RF mount in:
6 Significant Features of RF Lenses
The specifications on paper
The body size
The lens is compact for a superzoom lens made for a full-frame camera. When attached to the EOS RP, the total equipment length is the same as the APS-C format EOS 800D attached to the EF-S18-200mm f/3.5-5.6 IS STM.
Lens construction
The lens consists of 21 elements in 15 groups. This includes 1 aspherical lens element and 2 UD lens elements, which serve to improve corner-to-corner image quality and prevent chromatic aberration.
The lens has a sturdy build, and adopts a two-stage barrel extension when zooming towards the maximum focal length. Zooming is smooth, with no rattling feel.

AF
Superzoom lenses usually have more issues with AF compared to other types of lenses. But with the use of Nano USM, a relatively new motor that is just the size of a fingertip, the AF on the RF24-240mm f/4-6.3 IS USM is fast and smooth.

My shooting experience
Hold and operational feel
The lens felt just a little front heavy when mounted onto the lightweight EOS RP, but I was able to have a good grip on it and on the camera, and so did not experience fatigue holding it.
Zooming and AF were smooth and easy.
Image quality
Images are well-resolved at both the wide-angle and telephoto ends, and even those shot at the maximum aperture are still good for use.
I was especially amazed by the bokeh quality. Many superzoom lenses produce rather "untidy" bokeh that is quite an eyesore, but on this lens, both the foreground and background bokeh are extremely creamy and refined.
EOS RP/ RF24-240mm f/4-6.3 IS USM/ FL: 240mm/ Aperture-priority AE (f/6.3, 1/640 sec, EV+0.3)/ ISO 1250/ WB: Auto
Here, I used the maximum focal length on the lens to create foreground bokeh that accentuates the shot. Although the widest aperture at this focal length is f/6.3, you still can create large foreground bokeh if you move close to the objects that you want to blur. Notice how the focal length also makes the person seated at the back appear closer—an example of the telephoto perspective compression effect. (More sample images below.)
Summing up
Many users will probably be torn between the RF24-240mm f/4-6.3 IS USM, with its very narrow f/36 minimum aperture that makes taking slow shutter shots easy, and the RF24-105mm f/4L IS USM with its constant aperture. Both lenses also boast up to 5 stops of image stabilisation. However, if you frequently shoot subjects such as planes, trains or even children, the larger zoom range of the RF24-240mm f/4-6.3 IS USM allows you to adjust your composition quickly over a greater distance, which is a compelling benefit.
3 notable features of the RF24-240mm f/4-6.3 IS USM

1. Its 10x zoom range is the largest in the RF lens line-up
With this, you can shoot grand, scenic landscapes or exaggerated, ultra-wide-angle perspectives at the 24mm end, and close-ups with compressed, telephoto perspectives at 240mm without having to switch lenses.
24mm
240mm
2. The hybrid focusing/control ring reflects the Canon's thorough efforts to make the lens more compact
The control ring and focusing ring have been combined into one hybrid ring, and users just need to flick the switch to toggle between the two functions. This design makes the lens more compact: It is just a bit longer than the RF24-105mm f/4L IS USM.
3. It achieves up to 5 stops' image stabilisation
The lens not only incorporates a revamped optical image stabilisation algorithm, but also supports Dual Sensing IS, where in-lens gyro sensors work in tandem with the image sensor in the camera body. This helps to stabilise camera shake by up to 5 shutter speed stops' equivalent.
Click here to find out: How are Image Stabilisation Stops Determined?

Shot at 240mm, 1/8 sec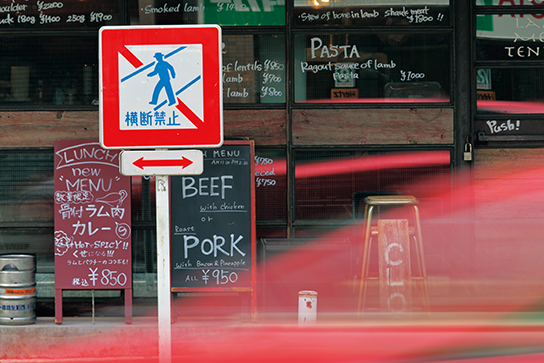 Sample images
EOS RP/ RF24-240mm f/4-6.3 IS USM/ FL: 24mm/ Aperture-priority AE (f/6.3, 1/125 sec, EV+0.7)/ ISO 800/ WB: Auto
A water puddle created by a sudden downpour. The 24mm wide-angle end of the lens, together with the Vari-angle LCD monitor on the EOS RP, made it easy to shoot from a ground-grazing low angle and capture the reflection within.
More tips for capturing water reflections here:
Tips for Water Reflection Photography: Fun with Puddles!
EOS RP/ RF24-240mm f/4-6.3 IS USM/ FL: 24mm/ Aperture-priority AE (f/5.6, 1/640 sec, EV +0.3)/ ISO 100/ WB: Auto
To take this shot, I stretched out my hands, used the Vari-angle monitor, and moved as close as I could to the road signs. The 24mm angle-of-view not only captured a large part of the blue sky above, but also helped to create a dynamic perspective effect from the road signs and buildings.
EOS RP/ RF24-240mm f/4-6.3 IS USM/ FL: 52mm/ Aperture-priority AE (f/6.3, 1/320 sec, EV±0)/ ISO 3200/ WB: Auto
The images that you get at around 50mm—one of the most commonly-used focal lengths in street photography—also have excellent image quality. Although the bokeh effect won't be as strong as what you get on a prime lens, it still will be enough to draw attention to the details in the scene that tell a story. The EOS RP + RF24-240mm f/4-6.3 IS USM pairing offers very high mobility.
EOS RP/ RF24-240mm f/4-6.3 IS USM/ FL: 109mm/ Aperture-priority AE (f/5.6, 1/160 sec, EV+0.3)/ ISO 100
This image of a passer-by was shot from the sidewalk across the street. For scenes like this, the 70mm end of a standard zoom lens is usually not long enough. At 109mm, I was able to "subtract" unnecessary elements, achieving the simple, compact framing that is the signature of a medium telephoto angle-of-view.
EOS RP with RF24-240mm f/4-6.3 IS USM attached
Lens Hood EW-78F
Lens construction
A: Aspherical lens elements
B: UD lens elements
Specifications
Lens construction: 21 elements in 15 groups
Minimum aperture: f/36
Closest focusing distance: 0.5m (at 24mm)
Maximum magnification: 0.26x (at 240mm)
No. of aperture blades: 7 (circular blades)
Filter diameter: 72mm
Size (approx.): φ80.4 x 122.5mm
Weight (approx.): 750g
Using a superzoom lens means having the wide-angle, standard and telephoto angles-of-view at your disposal. Find out how to make the most of them in:
Professional Composition Techniques (3): Making Good Use of Lenses
Read about the other RF lenses in:
Canon Launches First Two Lenses in RF Mount "Zoom Trinity"
Lens Impressions: RF24-105mm f/4L IS USM in Street Photography
Lens Impressions: RF50mm f/1.2L USM in Portraits & Street Photography
Lens Impressions: RF28-70mm f/2L USM in Natural Landscapes
Lens Impressions: RF35mm f/1.8 Macro IS STM in Street Photography
RF85mm f/1.2L USM: An Ideal Lens Made Possible By the RF Mount
---
Receive the latest update on photography news, tips and tricks.
Be part of the SNAPSHOT Community.
Sign Up Now!
---
About the Author
A monthly magazine that believes that enjoyment of photography will increase the more one learns about camera functions. It delivers news on the latest cameras and features and regularly introduces various photography techniques.
Published by Impress Corporation
Born in Hokkaido in 1982, Nakahara turned to photography after working at a chemical manufacturing company. He majored in photography at the Vantan Design Institute and is a lecturer for photography workshops and seminars, in addition to working in commercial photography. He is also a representative of the photography information website studio9.