Products >>
All Products
What Photographers Say About RF Lenses- Part
Lens Review: RF50mm f/1.8 STM in Street Photography
A good, portable nifty fifty provides the mobility and versatility you need while exploring different angles out in the streets, and there is now a native option for the RF mount: the RF50mm f/1.8 STM. Street photographer Kazuyuki Okajima took the lens out on a walk with the EOS R6, and shares his impressions here. (Reported by: Kazuyuki Okajima, Digital Camera Magazine)
A handy, fast standard prime lens capable of close-up shooting
If you have been shooting with Canon lenses for a while, you will probably be familiar with Canon's EF50mm f/1.8 lenses. It might even have been the first lens you owned other than your kit lens! Small, affordable, and providing excellent image quality, it was—and still is—one of Canon's most popular lenses, with the EF50mm f/1.8 STM being the third generation. With the RF50mm f/1.8 STM, the EOS R mirrorless system now has its native RF mount version that provides a compact standard prime lens option at a wallet-friendly price point, in contrast to the larger, professional-grade RF50mm f/1.2L USM.

First impressions: Lightweight with appealing looks
For this field test, I used the lens with the EOS R6. The first thing that struck me was how light it was, followed by how good it looks, especially with the RF lens' signature silver mount core ring at its base.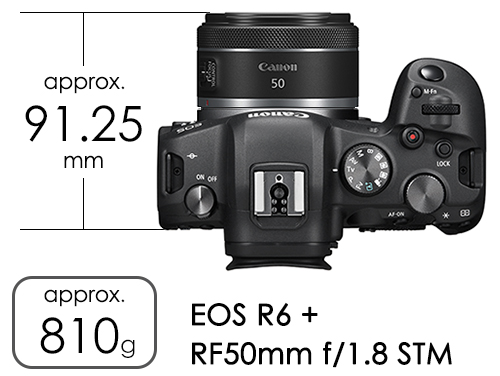 The lens balances well with the EOS R series cameras. It is portable enough to take on casual walks and small enough to fit even into a small bag, and with it, I felt that I was truly experiencing the mobility offered by mirrorless cameras. For the period that I had the lens, I often found myself shooting for the entire day with just the RF50mm f/1.8 STM alone—it was that much of a breeze!
Highlight #1: Creamy bokeh at f/1.8
Easy background separation to put your subject into the limelight
I prefer standard prime lenses to standard zoom lenses because I often encounter situations that require shooting at f/1.4 or f/2. Having a wider maximum aperture gives more control over the depth of field, and makes it easier to create pictures with depth and dimensionality.
At f/1.8, the maximum aperture of the RF50mm f/1.8 STM is one stop wider than the f/2.8 you get on fast standard zoom lenses. This doesn't just mean one stop more bokeh, it also means a one-stop gain in shutter speed. It is easier to separate the subject from the background and the foreground and make the elements that you want to showcase appear clearer and sharper.
EOS R6/ Aperture-priority AE (f/1.8, 1/800 sec)/ ISO 100/ WB: Auto
This subject was a little far away from me, but I still got strong background bokeh at the f/1.8 maximum aperture. It effectively separates the subject from the background and guides the viewer's eye to the flowers.
The area in the red frame, cropped in. This is where I placed the focus. The area around the flowers has a smooth, gradual blur. The lens beautifully reproduces not just the dimensionality of the scene but also the soft texture of the petals.
Highlight #2: Mobility
Frees you to capture images from diverse angles
With its compact, lightweight size, the RF50mm f/1.8 STM is very footwork-friendly—great for moving around to find new angles and compositions.
While the 50mm standard focal length is capable of capturing images with a perspective close to that of human vision, you can also create images that resemble those shot on a…
- Wide-angle lens: By putting lots of space between yourself and the subject and shooting from an angle that enhances the perspective exaggeration effect.
- Telephoto lens: By moving closer to the subject, removing perspectives, and limiting the amount of information in frame to make the composition simple.

Telephoto-like images
EOS R6/ Program AE (f/8, 1/800 sec)/ ISO 100/ WB: Auto
To create a telephoto-like image, close in on part of the subject instead of capturing it in its entirety. Any sign of the perspective exaggeration effect will make it look like it was shot on a wide-angle lens, so avoid tilting the camera upwards: keep it as straight and level as possible.
EOS R6/ Program AE (f/10, 1/800 sec, EV -1.0)/ ISO 100/ WB: Auto
By blurring the background and moving close enough so that unwanted elements are outside the frame, I simplified the composition and created a close crop much like what would have been achieved at a longer focal length. For an even narrower angle of view that draws more attention to faraway subjects, take a vertical shot.

Wide-angle-like image
EOS R6/ Program AE (f/5.6, 1/320 sec)/ ISO 100/ WB: Auto
If you don't pay enough attention to the framing, distant scenes can end up look too scattered, even on a standard lens! For this shot, I used the diagonal lines in the scene to tie the composition together and create a sense of perspective. The result: a shot that resembles that taken on a wide-angle lens.
Also see:
Professional Composition Techniques (3): Making Good Use of Lenses
Sharp and clear optics
While the RF50mm f/1.8 STM inherits the well-acclaimed optics of the EF50mm f/1.8 STM, it is also equipped with the RF mount's larger diameter and short back focus, as well as an additional PMo aspherical lens element, which further improve optical performance. Images are satisfyingly clear and crisp all the way to the edges, and lens aberrations are well corrected, providing flawless bokeh at maximum aperture f/1.8. I didn't see any obvious flaring and ghosting even in strong backlight.
Highlight #3: Sharp images
Sharper details even at slightly narrower than the maximum aperture
While the lens achieves lovely bokeh at maximum aperture, for situations where you want the scene and subject to appear even sharper, you can simply narrow the aperture. How narrow to go depends on the shooting distance and the distance from the background, but this lens is decently sharp even if you don't go too narrow.
If you change your aperture frequently, assign the control ring as your shortcut. Any softness from diffraction can be reduced with the Digital Lens Optimizer, so you can even deep focus with the f/22 minimum aperture if the situation requires.

f/4.5
EOS R6/ Aperture-priority AE (f/4.5, 1/160 sec, EV -1.0)/ ISO 100/ WB: Auto
The leaves on this tree are just starting to turn colour, a sign of approaching autumn. I narrowed the aperture slightly so that the parts that caught the sunlight would look sharper. There is still some bokeh in the elements opposite and behind the leaves, but that creates depth in the image.

f/9
If you aren't too far away from the subject, you can deep focus even without narrowing the aperture by too much. And if there is a lot of light, Program AE mode will automatically select a narrower aperture that makes the scene appear sharp.
Highlight #4: The 30cm closest focusing distance
Take close-ups of small subjects that fill more of the frame
While its close-up images may look similar to those shot on half-macro lenses such as the RF35mm f/1.8 Macro IS STM or RF85mm f/2 Macro IS STM, the RF50mm f/1.8 STM is a quarter macro lens (0.25x maximum magnification). The 30cm closest focusing distance lets you shoot closer to your subjects compared to the EF50mm f/1.8 STM, so that you can experience the fun of capturing close-ups of small subjects.
Aperture-priority AE (f/3.2, 1/100 sec, EV +3.0)/ ISO 100/ WB: Auto
It's great to have a lens that lets you shoot close-ups whenever you feel like it. You get crisp lines and great resolution across the entire image—notice how even the veins on these tiny leaves are well-resolved. Clarity is excellent, and contrast sufficient.
A closest focusing distance of 30cm lets you get quite close—in fact, close enough to cast a shadow on the subject! Be aware of that when you shoot.
Fast, seamless AF; 7 stops' image stabilisation with the EOS R5/R6
The STM (stepping motor)-driven AF is quiet, and focus acquisition was quick and smooth. The control ring was useful, turning into a focusing ring that enables manual focusing and full-time manual focusing at the flip of a switch.
While the lens does not have built-in image stabilisation, if you are using it with the EOS R5 or EOS R6, the in-camera In-Body IS provides stabilisation of up to seven shutter speed stops' equivalent. This lets you take handheld shots even at a shutter speed of around 2 seconds.
In summary: A handy walkaround lens capable of great versatility
Don't underestimate what you can do with a standard prime lens, especially with one that offers as much mobility as this. Useful across diverse fields and genre, you might just end up shooting even more with your EOS R series camera once you have added this to your kit!
*As this review was conducted on a pre-production model of the lens, there may be some differences in product external appearance and image quality.
RF50mm f/1.8 STM
Key specifications
Lens construction: 6 elements in 5 groups
Closest focusing distance: 0.3m
Maximum magnification: 0.25x
No. of aperture blades: 7 (circular blades)
Filter diameter: 43mm
Size: φ69.2 x 40.5mm
Weight: approx. 160g
Lens construction

Lens Hood ES-65B (sold separately)
Find out more about RF lens technology and the other RF lenses in:
In Focus: RF Lenses
---
Receive the latest update on photography news, tips and tricks.
Be part of the SNAPSHOT Community.
Sign Up Now!
---
About the Author
A monthly magazine that believes that enjoyment of photography will increase the more one learns about camera functions. It delivers news on the latest cameras and features and regularly introduces various photography techniques.
Published by Impress Corporation
Born in Fukuoka City in 1967, Kazuyuki Okajima graduated from the Tokyo School of Photography (current name: Tokyo Visual Arts). After working as a studio assistant and photographer's assistant, he became a freelance photographer. In addition to working as an advertising and magazine photographer, he travels the world shooting images imbued with a strong poetic sentiment. His many publications include the photo collection Dingle. Exhibitions of his work include "The Light and Wind of Dingle," "Shio-sai" (Tidal Tints), and "Let's Go to School."