Products >>
All Products
What Photographers Say About RF Lenses- Part18
Lens Impressions: RF24-105mm f/4L IS USM in Street Photography
As a kit lens for both the EOS R and the EOS RP, the RF24-105mm f/4L IS USM is probably the first RF lens that most users will own. With all the attention on the possibilities brought about by the new RF mount system, this new standard zoom lens has a lot more to live up to. Street photographer Maiko Fukui took the lens out on a spin with the EOS R, and shares her impressions. (Reported by: Maiko Fukui, Digital Camera Magazine)
Thoroughly-rendered image quality, all the way to the edges
Featuring a constant aperture of f/4 throughout its entire zoom range, the RF24-105mm f/4L IS USM is a standard zoom lens that provides the versatility to handle different scenes. Compared to the EF-mount version (EF24-105mm f/4L IS II USM), it is 95g lighter and has a stronger image stabilisation effect (up to 5 stops equivalent, compared to the latter's 4 stops).
Sharp, natural-looking images from corner-to-corner, throughout the entire zoom range
I was originally concerned that image quality may have been compromised in the quest to make the lens smaller and lighter. However, my worries were unfounded: Images are well-resolved up to the edges, even at the 24mm wide-angle end, and the sharp and natural-looking rendering continues throughout the entire zoom range. I very much enjoyed the freedom to fill the frame with my subject without the need to worry about softness at the edges.
Surprising bokeh quality for an f/4 standard zoom lens
You don't usually expect much from bokeh created at f/4, but here, I was pleasantly surprised. The bokeh quality was amazingly smooth and beautiful, so much that it didn't resemble what you usually get from a standard zoom lens, much less one with maximum aperture f/4.
Great for capturing fleeting moments
Mounted on the EOS R, the lens facilitates fast AF, resulting in a stress-free street photography experience. If you feel that the EOS R could have had more direct control buttons, the new control ring on the lens makes up for it, allowing quick, customisable control over exposure settings.
Read about the focusing features on the EOS R in:
8 EOS R Focusing Features We Can't Wait to Try
Compact and versatile
With its focal length range, which starts from the wide-angle range (24mm) and goes all the way through to the conventional standard and medium telephoto angles-of-view, its amazing bokeh capabilities and the powerful image stabilisation, this lens is so versatile it can meet the needs for all kinds of photographic expression. When you need to travel light or simply want to keep your gear to a minimum, this lens should be more than capable of handling most scenes that come your way.
Sample images
Shot at 24mm
EOS R/ RF24-105mm f/4L IS US/ FL: 24mm/ Aperture-priority AE (f/14, 1/100 sec, EV+1.3)/ ISO 200/ WB: Daylight
I shot with the 24mm wide-angle end to include both the roof silhouette and sun rays, and narrowed the aperture to f/14 to create the starburst effect. Though a backlit shot, there was very little flare and colours were also faithfully reproduced.
Shot at 72mm
EOS R/ RF24-105mm f/4L IS USM/ FL: 72mm/ Aperture-priority AE (f/4, 1/160 sec, EV+1.3)/ ISO 400/ WB: Daylight
Here, I made the signboard that caught my eye the main subject and added colour to it by creating foreground bokeh from leaves. A moderate bokeh effect was created at f/4, which successfully directed the attention of the viewer to the subject.
Shot at 85mm
EOS R/ RF24-105mm f/4L IS USM/ FL: 85mm/ Aperture-priority AE (f/7.1, 1/2,500 sec, EV+0.7)/ ISO 1000/ WB: Daylight
This medium telephoto focal length helps to create a perspective compression effect, which I used to make the colourful street road signs and building signboard look closer to each other. This effect is a rather useful tool for presenting a unique perspective in street photography.
Shot at 105mm
EOS R/ RF24-105mm f/4L IS USM/ FL: 105mm/ Aperture-priority AE (f/4, 1/80 sec, EV+1.0)/ ISO 500/ WB: Cloudy
This rack of neatly-arranged shoes in the display window of a shop was so compelling, I simply had to capture it. Instead of capturing the shot as it is, I created foreground blur using the handrail to add depth to the image. I used the 105mm telephoto end of the lens and adjusted my distance from the subject to achieve the best results.
Usage tip: Take advantage of the circular aperture—create bokeh circles
You get the largest bokeh circles at the tele-end, at maximum aperture
This lens has a circular aperture, which results in beautiful, round bokeh circles even when the aperture is as narrow as f/11. This comes in handy when you want a larger depth-of-field.
Need help? Check out: 4 Easy Steps to Capture Those Elusive Bokeh Circles!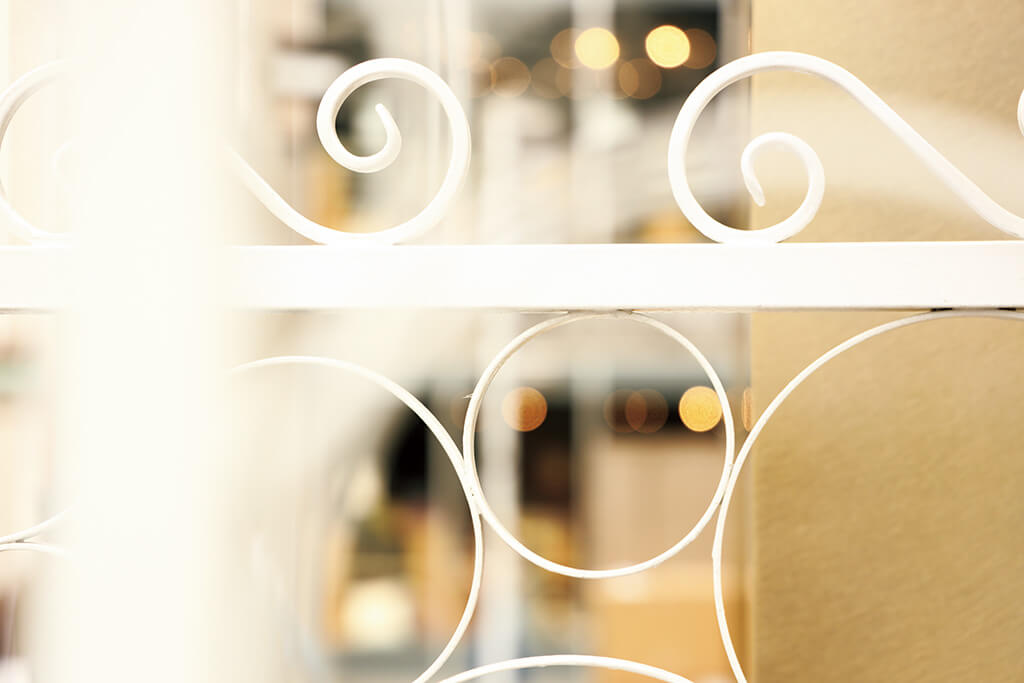 EOS R/ RF24-105mm f/4L IS USM/ FL: 105mm/ Aperture-priority AE (f/4, 1/250 sec, EV+1.7)/ ISO 320/ WB: Shade
The bokeh circles in the following shot were intended to add colour to the image, and I created them from the lights on the other side of the window grilles. This was shot at maximum aperture and at the telephoto end of the lens, since that's where you usually get the largest bokeh circles.
The images below show what happens to the bokeh circles at narrower apertures. Although they gradually become smaller as we narrow the aperture, they retain their beautiful circular shape.
f/4
f/5.6
f/8
f/11
f/16
f/22
The EOS R with the RF24-105mm f/4L IS USM attached
Lens Hood EW-83N
Specifications
A: Aspherical lens elements
B: UD lens elements
Lens construction: 18 elements in 14 groups
Closest focusing distance: 0.45m
Maximum magnification: 0.24x
No. of aperture blades: 9 (circular blade)
Filter diameter: 77mm
Size: φ83.5 x 107.3mm
Weight: approx. 700g
Find out more about RF lenses here:
Expand Your Range of Shooting Possibilities with the All-New RF Lenses
---
Receive the latest update on photography news, tips and tricks.
Be part of the SNAPSHOT Community.
Sign Up Now!
---
About the Author
A monthly magazine that believes that enjoyment of photography will increase the more one learns about camera functions. It delivers news on the latest cameras and features and regularly introduces various photography techniques.
Published by Impress Corporation
Born in 1983 in Osaka. Photographer. Actively involved in magazine and advertising photography, book writing, photography workshops and so on.