Tips & Tutorials >>
All Tips & Tutorials
In Focus: EOS R- Part10
3 Tips to Elevate Your Wedding Storytelling (and Why the EOS R Helps)
Wedding photography is challenging. From weather conditions and locations to human dynamics, there are many unpredictable variables. Even the most well-prepared photographer will have to make many on-the-spot decisions that could make or break the shoot. While you can't control everything, having a good grasp of technique can help increase your chances of achieving compelling, story-telling shots. International award-winning photographer and Canon Explorer of Light Roberto Valenzuela gives some advice. (Photos by: Roberto Valenzuela)
1. Think like a cinematographer
When you take one photo, it captures one moment. However, one moment does not necessary give enough context or background to tell a story.
Roberto shares that one technique that has worked well for him and helped him to become a great visual storyteller is to think like a videographer or cinematographer, and approach each scene like a story sequence.
We can see it in the following sequence:
i)
ii)
iii)
iv)
v)
vi)
vii)
viii)
All shots: EOS R/ RF28-70mm f/2L USM/ Manual exposure (f/3.2, 1/250 sec, EV±0)
i) The bridegroom stands gazing over the veranda, deep in thought—waiting?
ii) The bride, aided by her maid-of-honour, descends the stairs. As the viewer, we anticipate: We know they are in the same space, an encounter waiting to happen.
iii) A close-up, with the focus on her. We can almost imagine her pausing as she sees him.
iv) Another close-up, the focus this time on him.
v) From behind, she pulls him…
vi) ….into an embrace. They smile, shy but happy.
vii) He turns around and returns the embrace.
viii) They pull away and gaze lovingly into each other's eyes. If this were a movie, you could almost imagine the fade out.
Bonus tip 1: Use a versatile zoom lens—preferably with a large maximum aperture
To capture such sequences, it helps to have a zoom lens that covers a relatively wide range of focal lengths, so that you can go from close-up to wide-angle without having to change lenses. Having a large maximum aperture is also a big plus: Not only is it great for portraits, you can use it to create a shallow depth-of-field (bokeh) effect to draw the viewer's attention to specific parts of the scene, essentially replicating the rack focusing effect in cinematography.
Roberto shot the entire sequence above on the EOS R with the RF28-70mm f/2L USM lens, which provides one of the widest maximum apertures on a standard zoom lens. Turn on the 1.6x crop factor feature on the camera, and you essentially can cover up to 112mm. The customisable control ring can be programmed for quick control of settings such as ISO speed or exposure compensation.
With such versatility, it is no wonder that Roberto calls it the perfect wedding lens.
2. If there is one thing you must nail, it's the posing
"You may not be a photographer or artist, and you may not be able to tell the difference between amazing light, mediocre lighting or bad lighting, but if you look bad in a photograph, you know instantly," Roberto observes. For this reason, he believes that posing is the most important technical skill in wedding photography. "You can photograph your subjects in the most beautiful light, but if they are slouching, they're not going to like [the photo]."
The art of "invisible posing"
The idea of "posing", Roberto feels, tends to negative connotations because people associate it with awkward, unnatural body positions that look stiff and arranged by the photographer. However, if a photographer takes the time and effort to truly master posing, he/she would gain the skill of "invisible posing", where the pose flows so naturally and effortlessly that it appears to be normal human behaviour.
Roberto has a posing system that consists of five techniques. Covering them is beyond the scope of this article—Roberto wrote an entire book on them! However, in the following two examples, you can see how posing and directing his subjects helped him achieve a natural, effortless look to his wedding portraits.
i) Stylised candid posing
EOS R/ EF70-200mm f/2.8L IS II USM/ FL: 90mm/ Manual exposure (f/2.8, 1/60 sec, EV±0)/ ISO 200/ WB: Auto
Mount adapter: Drop-In Filter Mount Adapter EF-EOS R with Variable ND Filter
When photographing a couple, one technique that creates a flattering face position is to draw an imaginary line from the tip of the subjects' noses and angle their faces so that these lines form an 'X'. For shots like this, Roberto usually tells the couple to look at a specific spot and keep their eyes locked in place regardless of what he says or how they react. This also helps to achieve the correct face angle. He then injects some sort of verbal stimuli. When delivered with the right amount of energy, the verbal stimuli will generate a reaction from the couple, which, when combined with the locked eyes, results in an image that looks candid and not posed.
ii) Stylized aware posing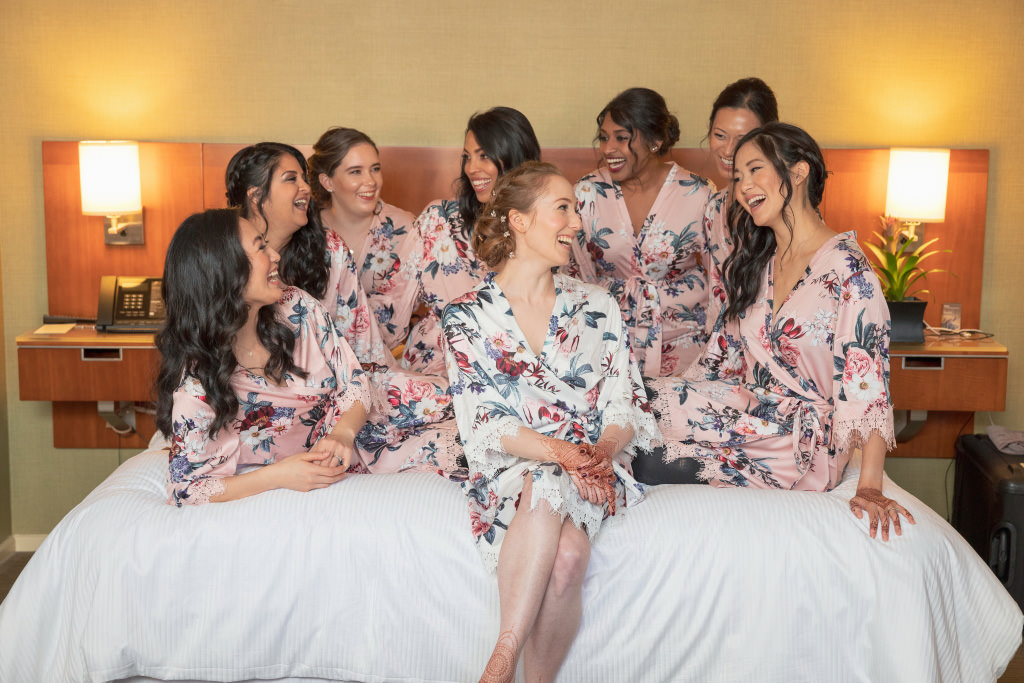 EOS R/ RF28-70mm f/2L USM/ FL: 58mm/ Manual exposure (f/4.5, 1/160 sec, EV±0)/ ISO 800/ WB: Auto
To create a fun but candid feel to shots like this one, Roberto positions the subjects loosely, ensuring that there is just enough visual variation so that they are not in the same pose or mirroring each other: "Too perfect and it looks far too posed. The right amount of imperfections is key." Here, he asked the bride and her bridesmaids—without giving them much warning at all—to look at each others' nostrils: The more nostrils they saw, the better. The odd request and the close proximity of the subjects to each other resulted in an explosive reaction of laughter and the very genuine expressions you see. It also naturally directs their eyes so that everyone is in the direction of at least one other person's gaze (see arrows), suggesting camaraderie.

Pro tip: It can be satisfying when your subjects react favourably to the lines you use to make them laugh, but that doesn't mean you should repeat it for every client. Roberto observes, "Clients feel when photographers are reusing material and it makes them feel like part of your wedding assembly line. Not good!" He works hard not to repeat the same lines in any way. "People need to feel like they are being treated as the individuals that they are."
Bonus tip 2: Face-to-face interaction with subjects
When you are posing and directing subjects, building a connection with them helps to ensure better shots. It's hard to get that if you keep having to look at your camera while you focus and recompose. Roberto loved how the EOS R's AF performance was so good, he didn't need to keep his eye on the camera all the time. Even at f/2.0, he could trust the face tracking and eye detection features on the camera to establish and keep critical focus on his subjects, even when he was interacting with them.
Here are some posing tips that might help:
Techniques for Posing and Directing Portrait Subjects
3 Flattering Techniques to Learn from Professional Models
3. A neutral density filter can do wonders for your shot
To be a successful photographer, you need to stand out from the crowd. Roberto tells us that one thing that has helped him differentiate his shots is his use of neutral density (ND) filters.
What he usually does is to use an ND filter that allows him to use a shutter speed that is around 3 stops' slower than usual. This "kills" the light and creates a moody ambience. He would compensate for the loss of light on his subjects by using a flash, such as a Speedlite 600EX RT-II, to illuminate them. The result: Lighting that creates a natural-looking but cinematic effect, with richer colours thanks to the slower shutter speed.
EOS R/ EF70-200mm f/2.8L IS II USM/ FL: 120mm/ Manual exposure (f/2.8, 1/1250 sec, EV±0)/ ISO 400/ WB: Auto
Mount adapter: Drop-In Filter Mount Adapter EF-EOS R with Variable ND Filter
Using a variable ND filter with a fill flash helped Roberto capture the brilliant golden tones of the leaves in this portrait shot in a vineyard, creating a magical feel. He usually has 20-30 ND filters in his bag to fit all his lenses, but the Drop-In Filter Mount Adapter EF-EOS R with Variable ND Filter lets him simply turn a wheel to cut light by anywhere between 1.5 to 9 shutter speed stops. It's great for when you need to complete shots quickly, such as for this wedding where both the bride and the groom were very camera-shy.
Did you know that ND filters are essential for controlling exposure in professional videography? Find out about this and more in:
4 Things You Didn't Know About 4K Video on the EOS R
Bonus tip 3: Lighting up the eyes
It is difficult to get light to the eye area, especially when shooting in natural light: As the eyes are set in the eye socket, light coming from a vertical direction such as sunlight would be blocked by the brow bone, creating shadows. To illuminate the eye socket, Roberto advises using a flash, softened by a diffuser, to put light in a horizontal direction.
For an easy-to-handle setup, use a medium-size octabox or beauty dish attached to a boom pole, with one or two flashes inside. Another method that offers more creative flexibility is to use a single flash and a large collapsible diffuser with handles: Bringing the flash closer or further away from the diffuser helps you create different looks. However, it is difficult to handle alone as you will need to hold the flash with one hand and the diffuser with the other.
---
Receive the latest update on photography news, tips and tricks.
Be part of the SNAPSHOT Community.
Sign Up Now!
---
About the Author
Sponsored by Canon USA and a member of the Canon Explorer of Light Program, Roberto has won over 100 international awards for his wedding and portrait photography and is recognized by his peers as one of the ten most influential photographers and educators in the world. He is also a top-selling author, and his books on photography and wedding photography, such as Picture Perfect Practice and Wedding Storyteller Volume 1, are sold all over the world and have been translated into multiple languages.