Tips & Tutorials >>
All Tips & Tutorials
In Focus: EOS R- Part11
How the EOS R Helped Me Capture Stunning Wedding Shots
Weddings are challenging to shoot as each is a one-time event that requires the photographer to capture special moments with little room for error. Add dim lighting and you've got a recipe for uncertainty. I was given the opportunity to test out the EOS R for a recent wedding shoot and here's why Canon's first full-frame mirrorless camera is a dream to work with.
Ability to lock focus easily

EOS R, RF50mm f/1.2 USM, f/1.8, 1/100s, ISO 4000
For this assignment, I used the EOS R together with my existing gear, which includes the EOS 5D Mark IV. I was impressed that the the EOS R was able to lock focus and track my subject easily, even when shooting in dim lighting.

EOS R, RF50mm f/1.2 USM, f/1.2, 1/400s, ISO 4000
With up to 5,655 selectable AF frame positions, the EOS R enabled me to enjoy greater composition freedom while shooting. This meant I could focus on any part of the frame easily, regardless of where my subjects were. Plus, an ISO range of 100-40,000 (expandable to 50-102,400) let me capture crisp images with rich details even under dim lighting.
Capture candid moments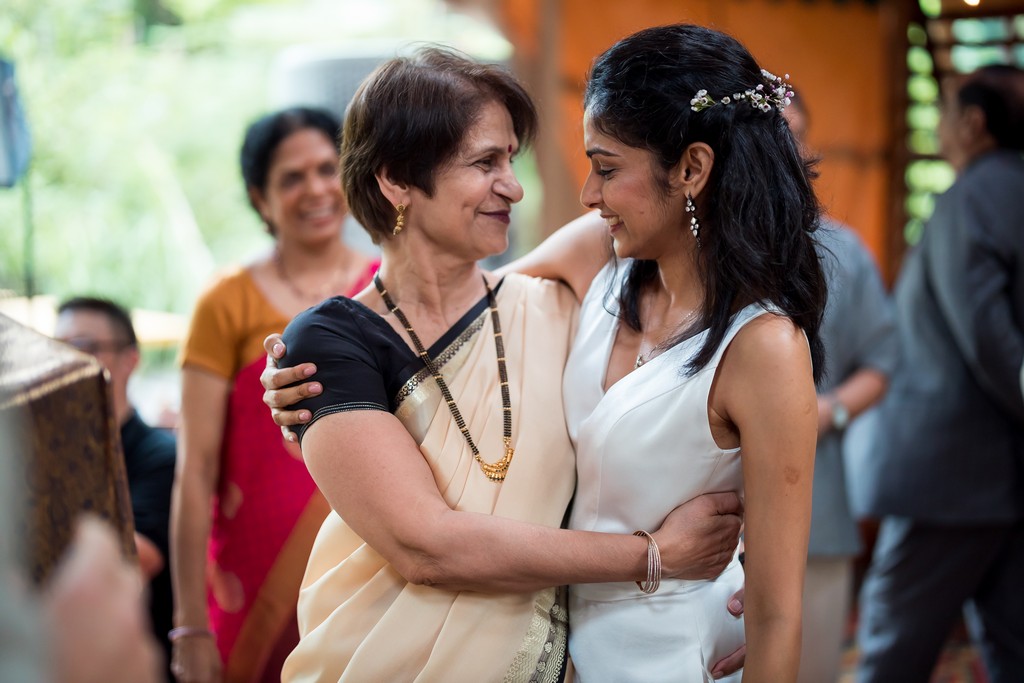 EOS R, RF50mm f/1.2 USM, f/1.2, 1/500s, ISO 800
Hugs, peals of laughter, tears of joy – weddings are filled with emotions. With the EOS R's fast AF performance, capturing these fleeting moments was easy as it locks fast and accurately even under low-light conditions. Its Silent Shutter also helped me to remain inconspicuous so that I could capture such shots quickly and quietly.

EOS R, RF50mm f/1.2 USM, f/1.2, 1/640s, ISO 800
What you see is what you get

EOS R, RF50mm f/1.2 USM, f/2, 1/1600s, ISO 800
While the couple entertained their guests, I had noticed that the light outdoors was amazing. I couldn't miss this golden opportunity and requested for a few quick shots even though the solemnization was barely minutes away.
Looking through the electronic viewfinder (EVF) helped me get an accurate view of my shots compared to looking at the screen., so I didn't over or underexpose the intricate details on the bride's wedding gown. This proved useful especially when the sun shone brightly. Focusing with a strong backlight was also easy with the EOS R.

EOS R, RF50mm f/1.2 USM, f/2, 1/8000s, ISO 800
Explore different angles

EOS R, EF15mm F2.8 FISHEYE, f/2.8, 1/50s, ISO 4000
I'm always looking out for different angles when framing my shots. With the Vari-angle LCD screen, I positioned the camera at ground level to shoot low-angle shots and checked my composition and exposure from the screen. I then used the touch shutter function to capture the shot. Thanks to the rotating screen, I didn't have to hold up the camera to my face, which puts my subjects at ease.
Compact size and compatibility

EOS R, RF50mm f/1.2 USM, f/1.2, 1/160s, ISO 4000
The EOS R's 30.3MP full-frame CMOS sensor in a compact yet hardy mirrorless body means I don't need to bring out bulky cameras out on longer shoots. Besides a family of RF lenses, the RF mount adapters ensures compatibility with my other EF lenses.

EOS R, RF50mm f/1.2 USM, f/1.2, 1/500s, ISO 3200
3 Tips When Shooting Wedding Photos in Low-Light Conditions
•
Practise and learn your craft well so you will be able to anticipate how the subject will react.
•
See and understand how light falls and play with both natural and artificial lighting to help you during low-light conditions.
•
Repeat the above steps until you are so good that it becomes second nature.
Discover more about the EOS R:
---
Receive the latest update on photography news, tips and tricks.
Be part of the SNAPSHOT Community.
Sign Up Now!
---
About the Author
Bold and quietly confident, photography has provided a rich environment of opportunity for Raymond to express himself artistically and creatively. Particularly proficient at shoots when it comes to photographing people in their most candid moments, Raymond clearly has a natural flair for the finest detail and exudes photography talent that extends beyond his camera mastery.