Happenings >>
All Happenings
C3AFA Jakarta 2017: A Pop Culture Festival Where Cosplayers & Photographers Unite
The 2017 edition of popular Japanese pop culture festival "C3 Anime Festival Asia (C3AFA)" was held in Jakarta, Indonesia, for 3 days from the 18th to 20th of August. In this report, we cover the passionate enthusiasm of the photographers who enjoyed photographing the cosplayers, as well as the Canon booth that was constantly bustling with visitors. (Reported by Yuichi Yokoyama)
Experiencing the joy of photo-taking and the fun of printing at the Canon booth
There were more than 70 booths lined up at the venue, where Japanese anime and game merchandise were on display and for sale. A number of famous cosplayers from Indonesia and other countries and regions in Asia such as Malaysia, Hong Kong and China attended the event, and even singers of anime songs from Japan were invited as well. This attracted a large number of Indonesian anime and cosplay fans to the event.
The Canon booth offered an experience zone for photographers and cosplayers. The booth comprised 5 types of studio sets, including one that was presented as a space with pure white walls and sofas interspersed with bright red roses. On the sets, the photographers surrounded the cosplayers, shooting enthusiastically to ensure they captured every move while the cosplayers posed.
Additionally, Canon offered a service in which participants could get a photo taken with a cosplayer on the set. The photo was printed on the spot with Canon's SELPHY CP1200 or PIXMA MG7770, and when presented to the participants, they appeared delighted, all smiling as they received their framed photo taken with a cosplayer.
There is always a lot of excitement at cosplayer photography events
Through the photo shoots, the Canon booth became a place where the photographers and cosplayers could interact, and throughout the event, the booth was lit up by the smiling faces of the many participants, who could not resist taking photos, whether with a DSLR, mirrorless or smartphone camers.
Selfie-friendly EOS M10 is a hit in Indonesia
The Canon product display and sale corner. The most popular product was the mirrorless EOS M10. The staff gave detailed descriptions and demonstrations especially about the product's tilting LCD monitor, which allows the effortless taking of self-portraits.
Free SELPHY photo-printing service was also popular with attendees
Canon also offered a free service to print out photos using its compact SELPHY printer.
6 cosplay photographers who were at the event
EOS 6D/ EF24-70mm f/2.8L II USM/ FL: 42mm/ Manual exposure (f/4, 1/125sec)/ ISO 100/ WB: Manual
Creating a world of animation with photos!
Johanes Baptista Permadi uses a full-frame EOS 6D and the EF24-70mm f/2.8L II USM standard zoom lens for professionals. He likes to process his photos of cosplayers by merging CG into the background, and told me that he found it "fun to create a world of animation using photos of cosplayers".
Johanes Baptista Permadi
Johanes Baptista Permadi is an anime and photography enthusiast who quit his job as a university lecturer just two months ago to become a freelance photographer. At the event, he was seen enthusiastically photographing a cosplayer whom he had become acquainted with.
Current dream camera
- EOS 6D Mark II
EOS 550D/ EF28-135mm f/3.5-5.6 IS USM/ FL: 41mm (66mm equivalent)/ Manual exposure (f/5, 1/30 sec)/ ISO 1600/ WB: White fluorescent light
Drawing attention to the colourful costumes!
Aditya Kusnadi, who does web-related work, came from Bandung in West Jawa to participate in the event. He loves Japanese anime, and purchased an EOS 550D and EF28-135mm f/3.5-5.6 IS USM lens two years ago in order to take high quality shots. Aditya commented, "I like taking waist-up shots to make the colourful costumes properly visible".
Aditya Kusnadi
He moved energetically around the venue taking photos, and smiled as he told us that he was thinking of upgrading to an EOS 700D or its successor, the EOS 800D in order to take even better shots.
Current dream camera
- EOS 700D
- EOS 800D
EOS 400D/ EF17-40mm f/4L USM/ FL: 40mm (64mm equivalent)/ Program AE (f/5.6, 1/80 sec)/ ISO 800/ WB: Auto
A big fan of cosplay
Aron Gan is a big fan of cosplay who was visiting from Singapore. He, together with his friend, had participated in the same event when it was held in Bangkok, Thailand. He carries with him the EOS 400D paired with the EF17-40mm f/4L USM to each country he visits. He said with a smile, "I like how Indonesian cosplayers are sociable and easy to communicate with".
Aron Gan (right)
The camera that Aron Gan currently wishes to own is the EOS 5D Mark IV. However, he cheerfully responded, "Because I am always travelling overseas to attend such events, I need to save up for it first".
Current dream camera
- EOS 5D Mark IV
EOS 5D Mark II/ EF50mm f/1.8 STM/ FL: 50mm/ Manual exposure (f/1.8, 1/100 sec)/ ISO 800/ WB: Auto
The background is important for cosplay photography!
Irfan Dhafirwan, who seemed to be having fun taking photos while conversing with a cosplayer, uses an EOS 5D Mark II and EF50mm f/1.8 STM. He has been photographing with the EOS 450D and EOS 650D cameras since 5 years ago. For cosplay photography, he shared his opinion that "the context, such as the background, is very important". He also told me that he was thankful that the booth had been prepared accordingly for this event.
Irfan Dhafirwan
Irfan Dhafirwan, who has been a long-time fan of Canon products, said that his attraction to Canon was due to the "wide selection of types and prices for Canon lenses, and the soft colours produced by the cameras".
Current dream camera & lens
- EOS 6D Mark II
- EF24-70mm f/2.8L II USM
EOS 60D/ EF-S18-55mm f/3.5-5.6 IS II/ FL:21mm (34mm equivalent)/ Manual exposure (f/9, 1/50 sec)/ ISO 640/ WB: Daylight
Bring out the best in facial expressions with makeup on!
Evi Agustina came from Palembang in Sumatra Island to participate in the event. She uses an EOS 60D and EF-S18-55mm f/3.5-5.6 IS II that she purchased two years ago, and shared the following tip for photographing cosplayers: "Facial expressions change completely with makeup, so I need to pay attention to how the light shines on my subject during a shoot".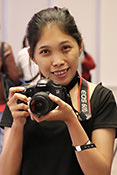 Evi Agustina
Evi Agustina is also a cosplayer. Laughing, she shared, "I love transforming into a character". She also told me that her favorite Japanese anime character was Cardcaptor Sakura.
Current dream lens
- EF-S10-18mm f/4.5-5.6 IS STM
EOS 600D/ EF-S18-55mm f/3.5-5.6 IS II/ FL: 25mm (40mm equivalent)/ Creative Auto (f/4, 1/60 sec)/ ISO 400/ WB: Auto
Colourful costumes are attractive!
Both in their third year of high school, Lucetta Joselyn and Rachel Winardi have been close friends since their first year of junior high school. shooting using Rachel's camera. They love cosplay, and both of them were participating in the event wearing "sailor suit" school uniforms that Rachel had bought while on a trip to Japan. With smiles on their faces, they shared that they found cosplay photography "appealing because of the costumes and use of colour".
Lucetta Joselyn (left), Rachel Winardi (right)
Lucetta and Rachel are planning to travel to Japan during their year-end break. They cheerfully commented, "Japanese school uniforms are cute and they are cheaper in Japan, so we are looking forward to our trip".
Current dream lens
- EF-S10-18mm f/4.5-5.6 IS STM
In closing
Many anime fans gathered for the festival, with a long queue forming two hours before the event started on the first day, and every booth and corner enveloped in an atmosphere of enthusiasm throughout all 3 days. Indonesia is a country where cosplay has a popular following, having won the world cosplay championships. At the same time, it also has an immense love of photography, including self-portraits. Therefore, the Canon booth, with its photography studio, acted as a valuable location for bringing cosplayers and photographers together, contributing yet again to the increase in active participation at the event. I saw the photographers speak to the cosplayers with a smile, and the cosplayers responding in turn with a smile. I spent a very enjoyable time observing the Indonesian fans sharing with their friends their love of anime, cosplay, photography and all their favourite interests.
---
Receive the latest update on photography news, tips and tricks.
Be part of the SNAPSHOT Community.
Sign Up Now!
---