Products >>
All Products
What Photographers Say About RF Lenses- Part
Lens Impressions: RF50mm f/1.2L USM in Portraits & Street Photography
HARUKI's job requires him to make use of different focal lengths all the way from ultra-wide-angle to super telephoto, but one of his must-have lenses is a large aperture standard lens. He has always been particularly fond of the EF50mm f/1.2L USM, which is capable of balancing soft and creamy bokeh throughout the entire frame with a sharp area in focus. How does the new RF version fare in comparison? Here are his impressions. (Reported by: HARUKI, Digital Camera Magazine)
Significantly enhanced specs over its EF counterpart
Comparing the RF50mm f/1.2L USM with its EF counterpart, the EF50mm f/1.2L USM, there are a few key differences in optical design:
- Special lenses: The EF version uses 1 aspherical lens element. The RF version uses 3, and 1 Ultra-low Dispersion (UD) lens element.
Aspherical lens elements compensate for spherical aberrations in lenses with a large maximum aperture, and UD lens elements correct chromatic aberrations.
- Aperture blades: Both lenses have a circular aperture. The EF version has 8 aperture blades, while the RF version has 10.
The result: Improvements in image quality
The RF50mm f/1.2L USM delivered excellently-resolved images with unique bokeh from the centre all the way to the corners of the image, even at the f/1.2 maximum aperture. Details were sharp, and contrasts were well-rendered. Flaring and ghosting were also significantly reduced, making it a more effective lens when you have to incorporate a light source in the frame. All these are attributable to the lens' optical design.
A lens capable of more versatility than you might think
The focal length of 50mm falls within the standard range. While some users might find the angle-of-view limiting, there is actually a lot you can do with it.
For example, you can harness the f/1.2 maximum aperture or alter the shooting angle or composition. This can achieve images that express expanse similar to a wide-angle lens, or draw a subject closer the way a medium telephoto lens would.
The 40cm closest focusing distance is shorter than that of other lenses in the same class, which is another feature that can be leveraged on for more creative range.
With the customisable control ring and other new features not available on existing EF lenses, the RF50mm f/1.2L USM allows more expressive possibilities than you might expect. It's really up to your creativity.
Sample images
Shot at f/1.2
EOS R/ RF50mm f/1.2L USM / FL: 50mm/ Aperture-priority AE (f/1.2, 1/4,000 sec, EV±0)/ ISO 400/ WB: Auto
I quickly set focus on and captured this waterbird that appeared in the darkening sky after sundown. The sharpness of the area in focus forms a stunning contrast with the smooth bokeh in the out-of-focus areas. Also notice how the beautiful gradation of the dusk was reproduced with very little vignetting at the edges of the image.

Shot at f/1.2
EOS R/ RF50mm f/1.2L USM / FL: 50mm/ Aperture-priority AE (f/1.2, 1/100 sec, EV+0.3)/ ISO 100/ WB: Auto
Not only does the bright maximum aperture of f/1.2 help to gain a faster shutter speed in dimly-lit conditions, the creamy bokeh in the out-of-focus areas makes the image look more three-dimensional.

Shot at f/1.2
EOS R/ RF50mm f/1.2L USM / FL: 50mm/ Aperture-priority AE (f/1.2, 1/250 sec, EV+0.3)/ ISO 100/ WB: Auto
The RF50mm f/1.2L USM may be a standard lens, but it is also capable of shots that resemble those from wide-angle and telephoto lenses. In this shot, the bokeh effect delivered at f/1.2 resembles that of a medium telephoto lens, making the portrait subject stand out amid the vast landscape.

Shot at f/4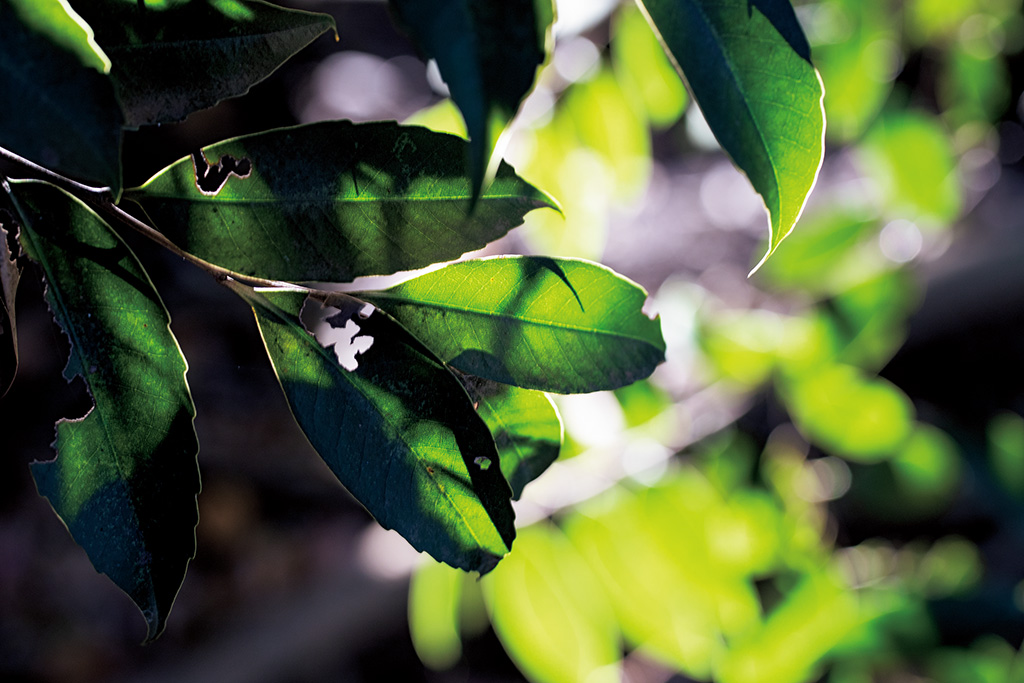 EOS R/ RF50mm f/1.2L USM / FL: 50mm/ Aperture-priority AE (f/4, 1/13 sec, EV-0.7)/ ISO 100/ WB: Auto
Adopting a design that significantly reduces flare, the lens handles backlight well. The 10-blade circular aperture produces beautiful bokeh circles even when I narrowed the aperture to f/4. The closest focusing distance of 40cm allowed me to capture these leaves up close.

Shot at f/8
EOS R/ RF50mm f/1.2L USM / FL: 50mm/ Aperture-priority AE (f/8, 1/800 sec, EV+0.3)/ ISO 200/ WB: Auto
I usually leave my aperture at around f/8 as this setting can handle most unexpected shooting opportunities. As this shot shows, the RF50mm f/1.2L USM captures the details in shadows and highlights, even in high contrast shooting conditions.

Usage tip: Change the point of focus to change the main interest of your shot
One of the unique features of this lens is its shallow depth-of-field. You can use this quality to direct viewers' attention to specific elements in the image.
Take a look at the examples below.
Photo A
Aperture-priority AE (f/1.2, 1/750 sec, EV+1.0)
Photo B
Aperture-priority AE (f/1.2, 1/750 sec, EV+1.0)
Both images: EOS R/ RF50mm f/1.2L USM / FL: 50mm/ ISO 100/ WB: Auto
Most people will set their focus on the flowers (Photo A) as this is usually the first thing that attracts their attention. The flowers are therefore the main interest.
However, when I set focus on the window pane behind the vase instead (Photo B), both the flowers in the foreground as well as the yard in the background become blurred. The out-of-focus area increases, which makes the in-focus window pane "pop" in contrast.
Because the window takes up a large area of the whole image, the viewer's eyes will be drawn to the whole image. The main interest of the image is now the whole image.
This is possible because the large, f/1.2 aperture creates a depth-of-field that's very shallow, resulting in a distinct difference between the in-focus and out-of-focus areas.
EOS R with RF50mm f/1.2L USM attached
Lens Hood EW-83
Specifications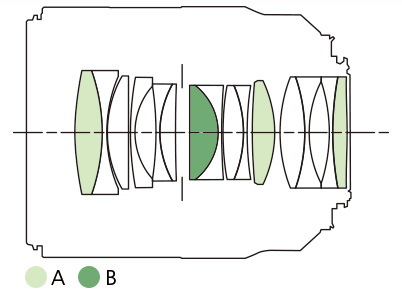 A: Aspherical lens elements
B: UD lens elements
Lens construction: 15 elements in 9 groups
Closest focusing distance: 0.4m
Maximum magnification: 0.19x
No. of aperture blades: 10 (circular blade)
Filter diameter: 77mm
Size: φ89.8 x 108mm
Weight: approx. 950g
Find out more about RF lenses in:
Expand Your Range of Shooting Possibilities with the All-New RF Lenses
6 Significant Features of RF Lenses
RF Lenses: Which One Suits Me?
---
Receive the latest update on photography news, tips and tricks.
Be part of the SNAPSHOT Community.
Sign Up Now!
---
About the Author
A monthly magazine that believes that enjoyment of photography will increase the more one learns about camera functions. It delivers news on the latest cameras and features and regularly introduces various photography techniques.
Published by Impress Corporation
Born in 1959 in Hiroshima, Haruki is a photographer and visual director. He graduated from the Faculty of Fine Arts, Kyushu Sangyo University, and is mainly engaged in activities related to portrait works for media including advertisements, magazines and music.