Products >>
All Products
What Photographers Say About RF Lenses- Part10
Lens Review: RF70-200mm f/2.8L IS USM in Landscape Photography
The first-ever telephoto zoom lens designed for the RF mount, the RF70-200mm f/2.8L IS USM is also one of the highly anticipated RF lens f/2.8 fixed aperture zoom trinity, Landscape photographer Takashi Karaki took it out to capture the peak of the autumn leaf season in the San'in region of Western Honshu, Japan. Here's his review. (Reported by: Takashi Karaki, Digital Camera Magazine)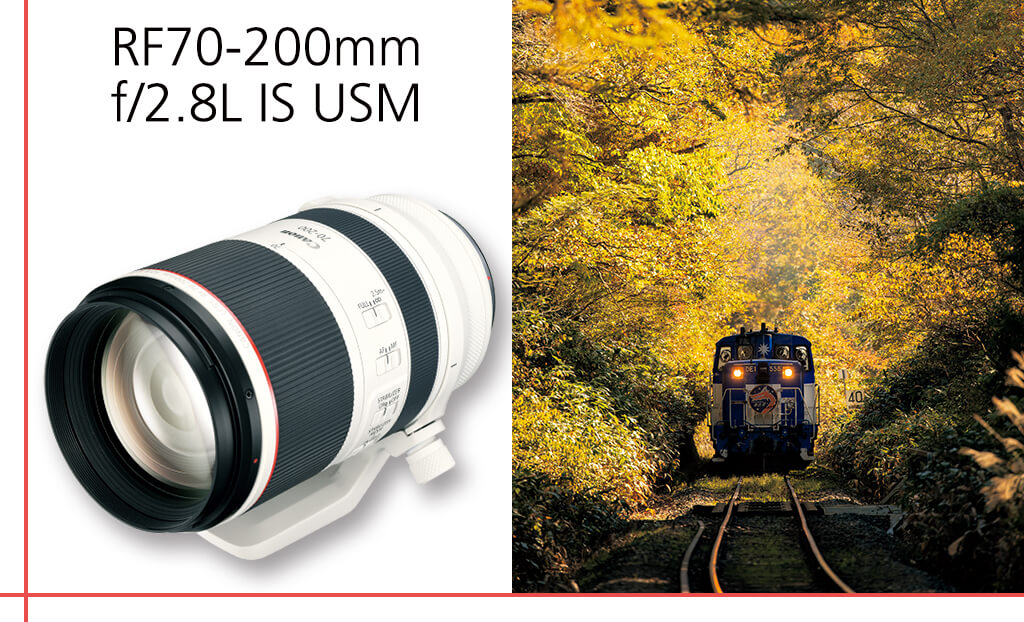 A small, lightweight telephoto zoom with an extending design
When I held the RF70-200mm f/2.8L IS USM in my hands, one of the first things that surprised me was how compact and lightweight it was. Zoom trinity lenses usually make me think of big and heavy lenses, but this one was completely different. The smaller, lighter size is a huge advantage to me, as I frequently shoot in mountains and forests where travelling light and compact makes it easier to move around.

Focal length range and constant aperture
The 70-200mm focal length range is perfect for landscape images that decisively capture elements from nearby to far away. The availability of the f/2.8 maximum aperture bokeh across the entire focal length range makes the lens extremely useful. This is why 70-200mm f/2.8 lenses in the EF mount lineup have sold so well for so long, going through several updates. This RF mount version promises the same functionality, if not more.
Find out how to use telephoto lenses for landscape photography in:
Professional Composition Techniques (3): Making Good Use of Lenses
Composition Tips for Making Mist Pop
EOS R/ RF70-200mm f/2.8L IS USM/ FL: 200mm/ Manual exposure (f/2.8, 1/600 sec)/ ISO 200/ WB: Cloudy
A sightseeing train on the JR Kisuki Line, framed by golden autumn leaves glowing in the sun as it runs between Shimane and Hiroshima Prefectures. The soft bokeh on the autumn leaves in front helps to make the train in the centre of the frame stand out even better.
Learn how to harness your EOS R for train landscape photography in:
Nailing the Shot: A Train Amid a Grand Autumn Landscape

The 70cm closest focusing distance
The electronic floating focus control system on the RF70-200mm f/2.8L IS USM has enabled the closest focusing system to be reduced to 70cm from 120cm on the EF70- 200mm f/2.8L IS III USM. This, combined with the 0.23x maximum magnification, makes it possible to take macro-like images, like in the following shot where each droplet of morning dew is depicted in fine detail.
EOS R/ RF70-200mm f/2.8L IS USM/ FL: 200mm/ Manual exposure (f/2.8, 1/1000 sec)/ ISO 200/ WB: Auto
A telephoto macro shot at 200mm from the closest focusing distance of 70cm away, which results in the 0.23x maximum magnification. The intricate details of the spider web and each drop of dew on it have been rendered clearly in detail. The rainbow colours on the web are a phenomenon caused by sunlight reflecting off the dewdrops.

Image stabilisation and performance in backlit scenes
I took several handheld shots in low light conditions, such as of the highlands at dawn, Japanese susuki grass fields, and trains travelling through forests of autumn foliage. It was hard to find signs of camera shake. In backlit shots, the Subwavelength Structure Coating (SWC) ensured that I experienced a significant reduction in ghosting and flaring.
EOS R/ RF70-200mm f/2.8L IS USM/ FL: 200mm/ Manual exposure (f/6.3, 1/800 sec)/ ISO 400/ WB: Daylight
Translucent ears of Japanese susuki grass tinted in the colours of the sunset. Despite the intense light from the evening sun, there was no visible ghosting or flaring. It means a lot to be able to capture every moment of the setting sun without having to worry about such things.

Thoughtfully-designed controls
I was also really glad that the lens designers took into account how a telephoto zoom lens is usually used when they designed the controls. One example is in the location of the customisable control ring, a staple feature on RF lenses that allows you to change exposure settings without taking your eyes off the viewfinder. On the other RF lenses, it is located towards the front of the lens. However, on the RF70-200mm f/2.8L IS USM, in consideration of how users will probably be zooming in and out very frequently, the control ring is placed nearer to the mount, reducing the chances of turning the wrong ring by accident.

Image quality
The output images are truly sharp. In the image below, you can see that the outlines of trees, leaves, and birds flying in the sky at dawn are depicted clearly with clean lines, down to the finest detail. Such impressive quality makes it even more fun creating images with the unique-looking depth-of-field that you get from a fast telephoto zoom lens. It felt as though my photos had suddenly improved by leaps and bounds just by using this lens.
EOS R/ RF70-200mm f/2.8L IS USM/ FL: 200mm/ Manual exposure (f/3.5, 1/1,250 sec)/ ISO 1600/ WB: Daylight
Trees standing under the bright orange dawn sky at a highland. Although this was shot without a tripod, the intricate details of the birds flitting around are still sharply captured.
3 notable features of the RF70-200mm f/2.8L IS USM
#1: The unexpectedly compact and lightweight design
The lens is surprisingly small and light for a large aperture zoom lens. The illustration below shows the total length when fully retracted and extended.

Total lengths at 70mm, 200mm
When fully retracted at 70mm, its total length is 146mm.
At 200mm, it reaches its maximum length of 204.5mm, which is not a big difference from that of the EF70-200mm f/2.8L IS Ⅲ USM (199mm).
For the record, the RF70-200mm f/2.8L IS USM is also about 400g lighter than the EF70-200mm f/2.8L IS Ⅲ USM.
#2: User-friendly ring layout
On this lens, the focusing, control and zoom rings are all independent, with the control ring placed near the mount, allowing for easy operation.
#3: Three image stabilisation modes, including one for sports
The lens supports the Dual Sensing IS (image stabilisation) system, which uses information from the gyro sensors in the lens and the image sensor in the camera body to achieve as much as up to five stops' image stabilisation. The resulting increase in reliability for handheld shooting is very welcome indeed. There are also three IS modes, up from two modes on its EF-mount counterpart.
EOS R with RF70-200mm f/2.8L IS USM attached
Lens hood: ET-83F (W III)
Lens construction
A: Aspherical lens elements
B: UD lens elements
C: UD aspherical lens elements
D: SWC
Smudge-resistant fluorine coating on the front and rear lens surfaces
Key specifications
Lens construction: 17 elements in 13 groups
Closest focusing distance: 0.7m
Maximum magnification: 0.23x
No. of aperture blades: 9 (circular blade)
Filter diameter: 77mm
Size: φ89.9×146.0mm
Weight: approx. 1,070g (without tripod mount)
Sample images
EOS R/ RF70-200mm f/2.8L IS USM/ FL: 70mm/ Manual exposure (f/7.1, 1/40 sec)/ ISO 400/ WB: Daylight
Trees tinged with autumn colours, reflected in a pond deep in a mountain forest. Capturing the branches with coloured leaves and the trunk of the tree in the frame meant that I had to shoot in an unstable, stooping posture. I still managed to produce a sharp image with no visible camera shake thanks to the IS system.
EOS R/ RF70-200mm f/2.8L IS USM/ FL: 70mm/ Manual exposure (f/2.8, 1/1,600 sec)/ ISO 200/ WB: Auto
A small thatched-roof hut in the middle of a quiet field. The cosmos flowers in front create a lovely accent in this timeless scene. The creamy foreground bokeh at the f/2.8 maximum aperture gives the entire shot a soft feel.
*As this review was conducted on a pre-production model of the lens, there may be some differences in product external appearance and image quality.
~~~
Find out about the history of Canon's EF f/2.8L zoom lenses in:
The Little-Known History of Canon's f/2.8L and f/4L Zoom Lenses
Find out more about RF lens technology and the other RF lenses in:
In Focus: RF Lenses
Trying to decide whether to buy the EOS R or EOS RP? Check out:
EOS R vs EOS RP: Which to Choose?
---
Receive the latest update on photography news, tips and tricks.
Be part of the SNAPSHOT Community.
Sign Up Now!
---
About the Author
A monthly magazine that believes that enjoyment of photography will increase the more one learns about camera functions. It delivers news on the latest cameras and features and regularly introduces various photography techniques.
Published by Impress Corporation
After some experience as a sports instructor followed by 10 years in magazine production and editing, Karaki moved to Yonago City in Tottori Prefecture, where he became known for his landscapes of the San'in region of Japan. His works have been published in Amazing Village, a booklet of beautiful Japanese villages produced through a CANON × Discover Japan collaboration in 2017, and his shot of the sea of clouds at Akechi Pass in Tottori Prefecture was among 12 images selected by the Japan National Tourism Organization (JNTO) to represent Japan.
Instagram: @karakky0918