Products >>
All Products
What Photographers Say About RF Lenses- Part
Lens Review: Taking a Walk with the RF15-30mm f/4.5-6.3 IS STM
Need a small, light ultra-wide-angle zoom lens for travel and walkarounds? As Kazuo Nakahara found, the RF15-30mm f/4.5-6.3 IS STM provides excellent value, especially with its powerful image stabilisation and macro capabilities. It is also a practical option for those using APS-C EOS R cameras with the intention to eventually upgrade to full-frame. Read on to find out more. (Reported by Kazuo Nakahara, Digital Camera Magazine)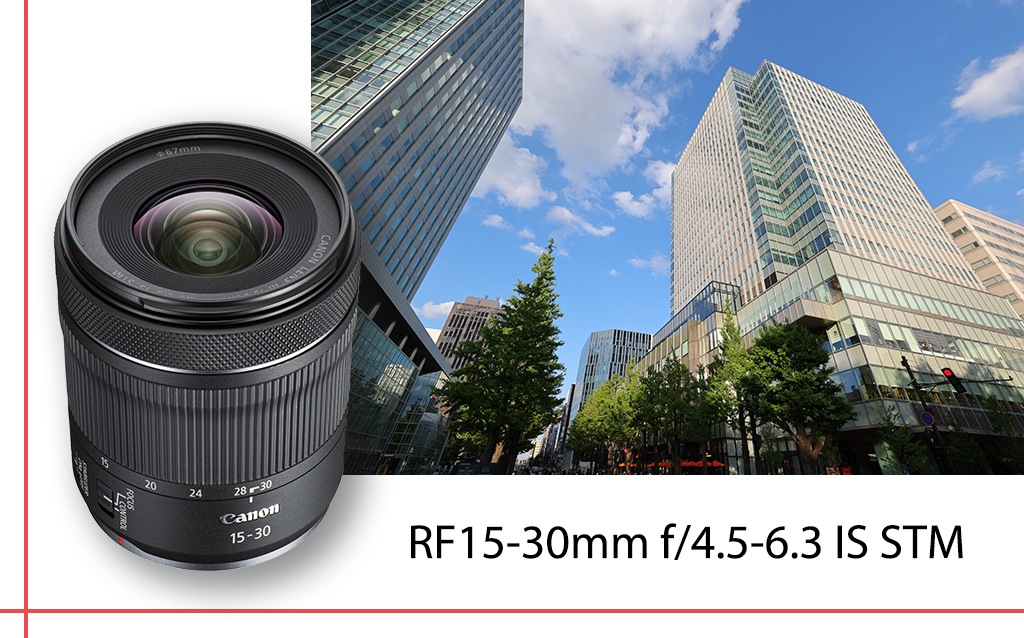 A light, compact ultra-wide-angle zoom that is excellent value for money
Weighing only around 390g, the RF15-30mm f/4.5-6.3 IS STM is amazingly small and lightweight for a lens designed for full-frame cameras. As a standard-grade lens, it doesn't have features like weather-sealing found on professional-grade L series lenses. However, the image quality and ease of use that it does offer makes it very cost effective.
For this article, I took the lens out on a walk with the EOS R6. It was the early summer and the heat was starting to set in, but snapping around with the lens was a breeze. I barely felt its presence at all—which is a good thing.

Highlight #1: Compact and lightweight
Wide-angle zoom lenses designed for full-frame cameras have a reputation for being larger and heavier, and the wider they go, the bigger they tend to be. But the RF15-30mm f/4.5-6.3 IS STM is astonishingly light, and at 88.4mm long, around the size of my palm. Because it's so compact, you won't have second thoughts about bringing a second lens if you're the kind who likes to carry around multiple lenses. I have no doubt that it will also balance well with an APS-C camera.
EOS R6/ RF15-30mm f/4.5-6.3 IS STM/ FL: 15mm/ Aperture-priority AE (f/4.5, 1/1250 sec, EV +0.7)/ ISO 100/WB: Auto
This was shot looking up from the base of the flowers. The small size of the lens made it easy to manoeuvre into tight shooting spots like this one. In the strong backlight, there is some visible ghosting and flaring but very little reduction in contrast.
Excellent sharpness and image quality for its class
Despite being a standard-class lens, the RF15-30mm f/4.5-6.3 IS STM incorporates not just one, but two UD (Ultra-low Dispersion) lenses that effectively correct chromatic aberration. Distortion aberration correction is done digitally on the camera end, reducing the need for corrective optics and contributing to the lens' small, light size. Some may worry about the effectiveness of such a method, but I found it sufficient: I hardly noticed any aberrations in my shots.
Images shot at the 15mm wide end are sharp from maximum aperture onwards throughout the entire zoom range. The lens has rather well-balanced resolving performance for its class.
EOS R6/ RF15-30mm f/4.5-6.3 IS STM/ FL: 15mm/ Aperture-priority AE (f/9, 1/100 sec, EV +0.7)/ ISO 100/ WB: Auto
At the 15mm wide end, simply tilting the camera slightly upwards captures these buildings with a dynamic perspective effect. The outlines of the buildings are usually prone to colour bleeding in scenes like this, but here, they are extremely sharp and clear.
Find out more about the unique ultra-wide-angle perspective in:
Exploring Wide Angle Lenses Part 1: Photo Effects of Wide-Angle Lenses
Exploring Wide Angle Lenses Part 2: Composition Techniques for Wide-Angle Lenses
Up to 7 stops' image stabilisation with Coordinated Control IS
Despite its tiny size, the lens packs in an Optical Image Stabilizer (Optical IS) that corrects camera shake by up to 5.5 shutter speed stops' equivalent. When combined with a camera with In-Body IS, up to 7 stops' image stabilisation can be achieved via Coordinated Control IS. This is very assuring to have when shooting low light scenes.
I took a few 1-second-long exposures handheld, and a very high percentage of them were sharp. Experienced handheld shooters should be able to achieve sharp shots at 2 or even 3 seconds. With this lens, you'll probably find that you no longer require a tripod for many scenes.
EOS R6/ RF15-30mm f/4.5-6.3 IS STM/ FL: 16mm/ Aperture-priority AE (f/8, 0.8 sec)/ ISO 320/ WB: Auto
My attempt at a handheld slow shutter shot during the evening blue hour. I usually need a tripod when shooting at 0.8 seconds, but with this lens and camera combination, I achieved a sharp shot with no issue at all. At f/8, the lens creates 14-point starbursts.
Also see:
3 Types of Scenes That Take Full Advantage of In-Body IS
Ergonomics and filters
Material and feel
The lens barrel is made of an engineering polymer, so don't expect it to feel too luxurious. However, it still feels solid and well-made, with no wobbling or loose parts. The resinous material contributes to the lens' light weight.
Control/focus ring
There is no dedicated control ring; instead, the lens has a combined control/focus ring and a switch to toggle between the two functions.
Filter
The lens has a 67mm filter diameter, which is the same as these lenses in its class:
- RF24-105mm f/4-7.1 IS STM (standard zoom lens)
- RF100-400mmm f/5.6-8 IS USM (super telephoto zoom lens)
These three lenses make up an affordable, lightweight lens trinity set, and the fact that they can share the same screw-on filters is a plus.
AF
The autofocus (AF) on the RF15-30mm f/4.5-6.3 IS STM is driven by a stepping motor (STM). When I used the lens, I didn't experience any situations where the AF speed caused issues. Video shooters will find the smooth, silent focusing mechanics of the STM an advantage.
Macro shooting at up to 0.5x magnification
One other distinctive feature of the RF15-30mm f/4.5-6.3 IS STM is its ultra-wide-angle macro capabilities, which immensely increases creative possibilities. While the closest focusing distance is 28cm in AF mode, using the manual focus (MF) mode reduces this to 12.8cm when you are shooting at the 15mm to 20mm focal range. The 0.5x maximum magnification is achieved when manual focusing at the 15mm wide end.
Switching to MF mode is easy: the lens supports manual focus override in AF mode. Simply turn the focus ring (make sure that the switch is at 'Focus').
During AF (Closest focusing distance: 28cm)
During MF (Closest focusing distance: 12.8cm)
EOS R6/ RF15-30mm f/4.5-6.3 IS STM/ FL: 15mm/ Aperture-priority AE (f/5.6, 1/500 sec, EV +1.3)/ ISO 800/ WB: Auto
This was shot at the closest focusing distance from the wide-angle end (12.8cm). The effect is very unique—notice how the background is also captured. The f/4.5- to f/6.3 maximum aperture range may be relatively slow, but when shooting close-up, it creates creamy background bokeh that is quite unexpected from an ultra-wide-angle lens.
Tip: When shooting at the 12.8cm closest focusing distance, be prepared to lift shadows cast on the subject. Here, I shone an LED light from above the lens onto the flower.
Using the lens with an APS-C camera: A competent standard zoom lens that starts at 24mm
When the RF15-30mm f/4.5-6.3 IS STM is attached to an APS-C camera, it works like a standard zoom lens that covers a full-frame equivalent focal range of 24 to 48mm. The wide end is wider than the RF-S18-45mm f/4.5-6.3 IS STM (29 to 72mm full-frame equivalent focal range).
24mm gives more flexibility than 29mm when shooting in tight spaces, and also creates images with a stronger wide-angle perspective. If you generally like shooting at wider angles and are using an APS-C EOS R camera, the RF15-30mm f/4.5-6.3 IS STM should be a very appealing standard zoom lens. Best of all, you will have a readily available ultra-wide-angle zoom lens when you eventually upgrade to a full-frame camera!
Learn more about the difference between full-frame and APS-C cameras in:
Full-Frame vs APS-C Camera: Which Should I Choose?
Did you know that shooting at 24mm can help you master composition with ultra-wide-angle lenses? See:
24mm Closeups: 3 Simple Exercises for Mastering Wide-Angle Perspective
In conclusion: Not just for beginners
The RF15-30mm f/4.5-6.3 IS STM is a very well-designed lens. Providing excellent performance at a relatively low cost, it is a good choice for beginners getting their first ultra-wide-angle zoom lens. In fact, with all it packs in one tiny, lightweight body, it's a lens that's worth owning if you love photographing at ultra-wide angles—even if you already own one of its higher-end counterparts.

EOS R6 + RF15-30mm f/4.5-6.3 IS STM

Lens hood EW-73E (sold separately)
Key specifications
Lens construction: 13 elements in 11 groups
No. of aperture blades: 7
Minimum aperture: f/22-32
Closest focusing distance: 0.28m (AF), 0.238m (MF)
Maximum magnification (approx.): 0.16x (AF), 0.52x (MF)
Filter diameter: 67mm
Size: φ76.6 x 84.4mm
Weight: approx. 390g
Maximum aperture variations
As the RF15-30mm f/4.5-6.3 IS STM is a variable aperture zoom lens, the maximum aperture changes with the focal length. Here is what I observed.
There's a lot you can tell from a lens name. Find out more in:
Lens FAQ: What Does a Lens Name Mean and Why are Some Lenses White?
Lens configuration
A: UD lens elements
B: PMo aspherical lens elements

Learn more about RF lenses in:
In Focus: RF Lenses Review
Having difficulty deciding between this and a similar EF lens? This may help:
RF Lenses vs EF Lenses: What's the Difference and How to Decide?
About the Author
A monthly magazine that believes that enjoyment of photography will increase the more one learns about camera functions. It delivers news on the latest cameras and features and regularly introduces various photography techniques.
Published by Impress Corporation
Born in Hokkaido in 1982, Nakahara turned to photography after working at a chemical manufacturing company. He majored in photography at the Vantan Design Institute and is a lecturer for photography workshops and seminars, in addition to working in commercial photography. He is also a representative of the photography information website studio9.