Products >>
All Products
Lens Review: A Liberating Walk with the RF16mm f/2.8 STM
"Light and compact" didn't use to be words you could use to describe the typical ultra-wide-angle prime lens—until the RF16mm f/2.8 STM was released. As one photographer found out, the unique combination of a dynamic ultra-wide-angle point of view and newfound mobility could just inspire you to rediscover creative possibilities. (Reported by: Ryo Owada, Digital Camera Magazine)
1. Compact and light: A unique ultra-wide-angle prime
2. 13cm closest focusing distance: Goes hand in hand with the ultra-wide-angle perspective
3. Good image quality, especially with lens aberration correction
4. Image stabilisation with In-Body IS
5. Final thoughts: The freedom to compose dynamic images creatively
Ultra-wide-angle, fast, and as compact as a nifty fifty
The RF16mm f/2.8 STM currently bears the honour of being the widest-angle prime lens in the RF lens lineup, but what stands out isn't just its focal length, but also its compact size. Canon has taken full advantage of the EOS R system's defining features—its large mount diameter and short back focus—to create an ultra-wide-angle prime lens that is both small and light. In doing so, it realised a lens concept that is an excellent match for a mirrorless camera system.
For many photographers, a 50mm f/1.8 "nifty fifty" prime lens is probably what comes to mind when asked to name a compact, lightweight lens. A wide-angle prime lens would usually be larger than a nifty fifty because of the lens elements involved, but in an engineering feat, the RF16mm f/2.8 STM is practically the same size as the RF50mm f/1.8 STM.

Perfect for taking out on walks and experimenting with different angles
For this review, I used the RF16mm f/2.8 STM with the EOS R5. In addition to the portability, the lens offered excellent balance with the camera body, even when operating the camera one-handed. There is a lot of freedom to manoeuvre the camera and shoot from different angles and positions.
EOS R5/ Shutter-priority AE (f/7.1, 1/500 sec)/ ISO 100
The low position of this shot, together with the perspective exaggeration effect achieved with the 16mm ultra-wide angle, helps to emphasise the black and white stripes on the road. This composition was inspired by the work of Russian constructivist photographer Alexander Rodchenko, who often shot from bold, unusual angles to free photography from existing conventions.
EOS R5/ Aperture-priority AE (f/8, 1/80 sec, EV -1.0)/ ISO 1250
This was shot in backlit conditions, but an appropriate level of contrast was retained, and the sunlight appears as a subtle, soft, gradual haziness in the highlight areas. The result is an impactful image of the forest scene. I used a diagonal composition to enhance the expansive feel of the 16mm perspective.
13cm closest focusing distance: Goes hand in hand with the ultra-wide-angle perspective
When you have an ultra-wide-angle lens that allows close-up shooting, you can enhance perspectives even more. The 13cm closest focusing distance of the RF16mm f/2.8 STM, combined with its 0.26x magnification, creates very dynamic macro-like images that show more of the background—different from the closer crop you get when shooting with longer macro lenses. It's possible use the lens to add a different spin to pictures of almost everything, from small plants to grand landscapes! This is part of what makes the lens so fun to use.
Good image quality, especially with lens aberration correction

Rich details and gradations
EOS R5/ Aperture-priority AE (f/11, 1/100 sec)/ ISO 100
The cornfields in the bottom half of this image are depicted in clear, rich detail, down to every single leaf. The softness of the rainclouds in the sky and their subtle gradations of grey are also beautifully rendered.

Bokeh quality
EOS R5/ Aperture-priority AE (f/2.8, 1/2000 sec, EV -0.7)/ ISO 100
The foreground and background bokeh here are enough to give the subject dimensionality. At the maximum aperture, you get the gentle bokeh that you would typically get from an ultra-wide-angle focal length. Although this image was shot on a cloudy day under light cloud cover and could have easily looked flat, the lens and camera pairing beautifully replicates the contrast between the flowers and leaves.

Lens aberrations
Throughout the entire aperture range, images captured by the lens were sharp and clear where they needed to be. Some aberrations were visible at the image edges, but these disappeared once I enabled in-camera lens aberration correction.
One thing to note is the vignetting that occurs in the image corners when in-camera distortion correction is turned off, especially during close-up shooting. Distortion correction is automatically turned on when the lens is attached, so you shouldn't experience any issues if you shoot in JPEG or post-process your RAW files with Canon's native Digital Photo Professional software. However, if you use a third-party image editing programme, you will want to be careful.
Also see: Digital Lens Optimizer: Taking Image Quality to Greater Heights
Image stabilisation with In-Body IS
When attached to a camera equipped with the In-Body Image Stabilizer (In-Body IS), objects that are a moderate distance away or beyond appear sharp even at around shutter speed 1/15 second, whereas those that are close to the lens appear sharp at up to around 1/60 second if you shoot from a stable shooting position.
EOS R5/ Aperture-priority AE (f/2.8, 1/20 sec, EV -0.7)/ ISO 6400
The camera's In-Body IS helped to keep the image clear and sharp despite the slower shutter speed. Some lenses are soft at maximum aperture, but the RF16mm f/2.8 STM offers sharpness throughout the entire aperture range. Don't hesitate to use it in low light conditions!
Final thoughts: The freedom to compose dynamic images creatively
The RF16mm f/2.8 STM provides outstanding balance between size and cost-performance.
What fascinates me the most is the dynamic visual effects that you can achieve with its 16mm focal length. It's the perfect match for a very mobile, fast-paced, snapshot-like handheld shooting style—you'd love it if you are always moving around as you shoot, experimenting with different positions and angles. In fact, I'd say that the strongest appeal of this lens is its specifications and concept, which reflect a lot of consideration over usability and the things that are most important to the people shooting with it.
With its dynamic perspective and mobility, the RF16mm f/2.8 STM might be the lens that lifts you out of a creative rut! If you need more ideas on what to do to inspire creativity, check out:
3 Deceptively Simple Challenges to Level Up Your Photography Skills

EOS R5 + RF16mm f/2.8 STM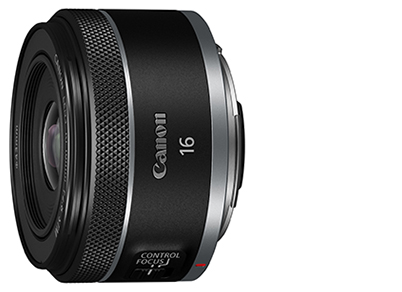 Key specifications
Lens construction: 9 elements in 7 groups
Closest focusing distance: 0.13m
Maximum magnification: 0.26x
No. of aperture blades: 7 (circular blades)
Filter diameter: 43mm
Size: φ69.2 x 40.2mm (retracted)
Weight: approx. 165g

Lens Hood EW-65C (sold separately)
Need more ideas on how to use an ultra-wide-angle lens to its fullest advantage? See:
How I Nailed this Shot: Adding Impact to a Grand Forest Landscape
Composition Techniques for Wide-Angle Lenses
Ultra Wide-angle Lens Technique: Light Trails from a New Perspective
Find out more about RF lenses in:
In Focus: RF Lenses
---
Receive the latest update on photography news, tips and tricks.
Be part of the SNAPSHOT Community.
Sign Up Now!
---
About the Author
A monthly magazine that believes that enjoyment of photography will increase the more one learns about camera functions. It delivers news on the latest cameras and features and regularly introduces various photography techniques.
Published by Impress Corporation
Born in Miyagi Prefecture in 1978, Ryo Ohwada graduated from the Tokyo Polytechnic University's Graduate School of Arts. In 2005, his works were selected to be featured in the "reGeneration.50 Photographers of Tomorrow" exhibition at the Musée de l'Élysée in Switzerland. Other works have also been displayed both within and outside Japan, such as in the LUMAS gallery in Germany. Ohwada continues to showcase his unique works with the general public, actively contributing to magazines and advertising media well as holding frequent group and individual exhibitions. He is also a part-time lecturer at Tokyo Polytechnic University.