Products >>
All Products
What Photographers Say About RF Lenses- Part9
RF24-240mm f/4-6.3 IS USM: Capturing the Different Faces of Nature
Handy and versatile, a superzoom lens like the RF24-240mm f/4-6.3 IS USM is a wonderful companion for avid photographers exploring the wild outdoors. A nature photographer shares his experiences with the lens, paired with the EOS R6, shooting out in the mountains. (Reported by: Yuki Ueda, Digital Camera Magazine)
A handy companion for exploring the wild outdoors
Being out in the wild often means encountering a constant stream of different potential subjects to photograph, and these subjects come in all shapes, sizes, and distances from you. With its 10x optical zoom and up to 6.5 stops' image stabilisation when paired with the EOS R5 or EOS R6, the RF24-240mm f/4-6.3 IS USM superzoom lens lets you capture any scene quickly without having to switch lenses.
Its size and weight are well-balanced with the EOS R6—after long hours of shooting with this combination, I didn't feel any strain. An all-purpose lens like this is certainly a huge advantage for hiking and travel, allowing you to handle a variety of scenes without adding to your gear load.
Wide-angle: Vast, dreamy landscapes
EOS R6/ RF24-240mm f/4-6.3 IS USM/ FL: 24mm/ Aperture-priority AE (f/16, 1/320 sec)/ ISO 1600/ WB: Daylight
An unplanned encounter: mist over this peaceful lake early in the morning. I caught the moment where the mist and surrounding forest were reflected in the lake's mirror-like surface. The wide angle of the lens' 24mm end allowed me to frame the scene in vertical symmetry, showing the two different worlds in the top and bottom halves of the image.
Just a few minutes after this, the morning mist disappeared. I was glad for the 10x zoom range of the lens, which let me frame the shot quickly: if I had stopped to change lenses, I could have missed the shot! The image quality at the wide-angle end is impeccable for a superzoom lens.
Learn more about photographing reflections in:
Reflections: A Steam Train Rides Off into the Dramatic Sunset
Reflections: Dazzling Red Mount Fuji (with Retouching Tips)
Also see:
Camera Settings for Capturing Early Morning Mist
Telephoto: Close-ups of flowers blooming with life
EOS R6/ RF24-240mm f/4-6.3 IS USM/ FL: 203mm/ Aperture-priority AE (f/6.3, 1/40 sec)/ ISO 100/ WB: Daylight
While shooting the mountains at the wide angle end, I glanced down and discovered these lovely orange-yellow day lilies blooming just slightly off the track, right at my feet. The 10x optical zoom capability of the lens was perfect for shooting them close up without having to switch lenses.
The telephoto shooting range of the RF24-240mm f/4-6.3 IS USM achieves a 0.26x magnification from the 78cm closest focusing distance, and this, together with the telephoto perspective compression effect, helped to frame this image with greater impact. I achieved my ideal framing for this shot at 203mm, but the potential to go up to 240mm is very handy indeed! The beautiful, creamy bokeh effects in the foreground and the background further emphasise the excellent expressive capabilities of this lens.

Tip: Using the 1.6x crop mode on your EOS R system camera lets you achieve even greater reach of up to 384mm equivalent. While this doesn't use the full camera resolution, even the 7.7-megapixel images generated by the 20.1-megapixel EOS R6 will be sufficient for a 300 dpi A4 print.
Learn about what else you can do with long focal lengths in:
5 Things to Try with a Telephoto Lens
About the RF24-240mm f/4-6.3 IS USM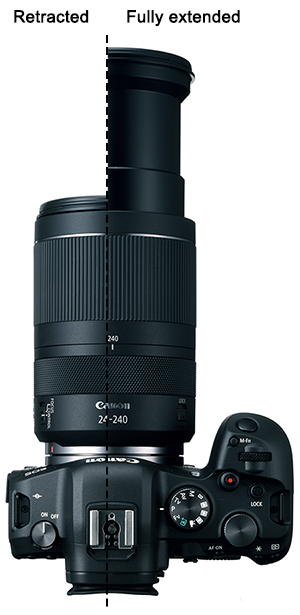 Mounted on the EOS R6

RF24-240mm f/4-6.3 IS USM
Specifications
Lens construction: 21 elements in 15 groups
Minimum aperture: f/36
Image stabilisation: up to 5 stops (Optical IS); up to 6.5 stops (when combined with In-Body IS on compatible cameras)
Closest focusing distance: 0.5m (at 24mm)
Maximum magnification: 0.26x (at 240mm)
No. of aperture blades: 7 (circular blades)
Filter diameter: 72mm
Size (approx.): φ80.4 x 122.5mm
Weight (approx.): 750g
Find out more about this lens in:
RF24-240mm f/4-6.3 IS USM: Expand Your Photographic Horizons
Lens Impressions: RF24-240mm f/4-6.3 IS USM in Street Photography
Also see:
Why the EOS R5 is My Ideal Camera for Landscape Photography
---
Receive the latest update on photography news, tips and tricks.
Be part of the SNAPSHOT Community.
Sign Up Now!
---
About the Author
A monthly magazine that believes that enjoyment of photography will increase the more one learns about camera functions. It delivers news on the latest cameras and features and regularly introduces various photography techniques.
Published by Impress Corporation
Born in Wakayama Prefecture, Japan in 1988, Yuki Ueda made a life-changing trip around the world at age 24, travelling to 45 different countries in 1.5 years. Since he became a freelance photographer in 2016, he has been exploring and shooting the world's most extreme and isolated locations. His latest fascination lies with the 8000m peaks of the Himalayan Mountains.
Website: https://yukiueda.jp/about/
Instagram: @photographer_yukiueda