Products >>
All Products
What Photographers Say About RF Lenses- Part7
Lens Review: RF70-200mm f/4L IS USM in Natural Landscapes
Capable of shooting distant scenes and telephoto macro close-ups, a telephoto zoom lens is more versatile than you think, and also one of the must-haves for nature photography. Around the same size as a 350ml drink can (and the RF24-105mm f/4L IS USM standard zoom lens), the RF70-200mm f/4L IS USM fits easily into your camera bag and is easy to handle, perfect for taking on your next adventure outdoors. Landscape photographer Chikako Yagi shares her experience. (Reported by: Chikako Yagi, Digital Camera Magazine)
A telephoto zoom lens that makes handheld shooting a pleasure
Where Canon's EF mount 70-200mm lenses were concerned, the EF70-200mm f/2.8 lenses tended to get more attention. However, the EF70-200mm f/4L lenses had their own appeal, producing clear and sharp images in a light, mobile body. The same is true for the RF70-200mm f/4L IS USM, its RF mount counterpart developed for the EOS R mirrorless camera system.

Stows away in your bag easily, even when attached to the camera
In fact, the RF70-200mm f/4L IS USM not only boasts better optical performance than its EF mount cousin, it also boasts significantly improved portability, being approximately 57mm shorter and 85g lighter. The lens barrel extends as you zoom in; at its shortest (the 70mm focal length point), it is around the same length as a 350ml soft drink can. This doesn't just provide excellent balance when attached to the EOS R5, you can even stow the camera in your bag with the lens still attached. It's that easy to carry around.

Up to 7.5 stops' image stabilisation with the EOS R5; fast and responsive AF
A longer lens means increased chances of camera shake, which usually limits handheld shooting opportunities. However, when attached to the EOS R5, the in-lens and in-camera image stabilisation systems work together to provide up to 7.5 stops' image stabilisation, increasing mobility by leaps and bounds. When you factor in the excellent AF response, which is driven by two Nano USMs, handheld shooting on this lens can be very addictive.

Well-placed control ring
The control ring is conveniently located at the front of the lens, where you are unlikely to touch it and change settings by accident and yet can still easily access it when you need to make adjustments.
Key feature #1: Beautiful, buttery-smooth bokeh quality
EOS R5/ FL:200mm/ Aperture-priority AE (f/5.6, 1/125 sec, EV +0.3)/ ISO 500/ WB: Daylight
Telephoto lenses can provide beautiful bokeh, too, thanks to the shallow depth of field afforded by the long focal length. Moving close to the subject and shooting at the 200mm end melts the background into a lovely, creamy blur. At the f/4 maximum aperture, some optical vignetting causes the bokeh to look slightly lemon-shaped, but you get perfectly round bokeh circles when you narrow the aperture by one or two stops.
Key feature #2: Excellent image quality over the entire zoom range
On both the telephoto and wide ends, the image quality is sharp and clear from maximum aperture f/4 onwards. The images below show how corner to corner image quality is maintained throughout the zoom range—the peripheries are as well-resolved as the image centre.

At 70mm
EOS R5/ FL:70mm/ Aperture-priority AE (f/5.6, 1/2 sec, EV -0.7)/ ISO 100/ WB: Daylight
Image corner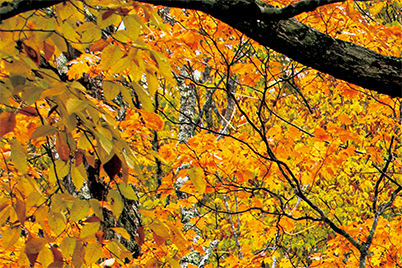 Image centre

At 200mm
EOS R5/ FL:200mm/ Aperture-priority AE (f/5.6, 1/125 sec, EV -0.3)/ ISO 100/ WB: Daylight
Image corner
Image centre
There is some peripheral light fall-off at the maximum aperture, which is slightly more obvious at the telephoto end, but not to an extent that it should be of concern. This can be improved by stopping the aperture down by one stop to f/5.6, but otherwise, the image quality at f/4 is already so good, there isn't too much of a difference.
Overall, the image quality remains rather consistent across the entire zoom and aperture range. This is a very versatile telephoto zoom lens that is useful not just for photographic works that require time to compose, but also quick snapshots taken on the fly.
Key feature #3: Telephoto macro from as near as closest focusing distance 60cm
The closest focusing distance of the lens is 60cm over the entire zoom range, providing a maximum magnification of 0.28x at the 200mm telephoto end. This is enough to shoot telephoto macro images.
EOS R5/ FL:200mm/ Aperture-priority AE (f/4, 1/80 sec)/ ISO 100/ WB: Daylight
This is how close I was shooting.
At longer focal lengths, the perspective compression effect is stronger, and the narrower angle of view makes it easier to keep unwanted subjects out of the background. The beautiful bokeh quality is also ideal for close ups of subjects with intense background blurring. The compact size and light weight of the lens makes taking handheld macro shots easy.
EOS R5/ FL:183mm/ Aperture-priority AE (f/4, 1/320 sec, EV -1.0)/ ISO 100/ WB: Daylight
Put some distance between the subject and the background to enhance the background bokeh. It's also a pleasure to create foreground bokeh on this lens.
RF70-200mm f/4L IS USM
Key specifications
Lens construction: 16 elements in 11 groups
Closest focusing distance: 0.6m
Maximum magnification: 0.28x
No. of aperture blades: 9 (circular blade)
Filter diameter: 77mm
Size: φ83.5 x 119mm
Weight: approx. 695g
Lens construction
A: UD lens elements
B: ASC
Smudge-resistant fluorine coating on the front lens surfaces

Lens hood: ET-83G (WIII) (bundled)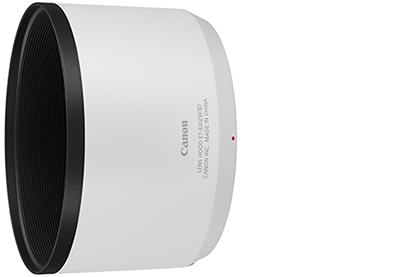 Sample images
EOS R5/ FL:200mm/ Aperture-priority AE (f/8, 1/100 sec)/ ISO 3200/ WB: Daylight
This was shot in a slight drizzle, but the dust and drip resistant construction of the lens allowed me to shoot without worry. The maple leaves, reflected in the water, are just beginning to turn colour, evoking the idea of autumn approaching.
EOS R5/ FL: 70mm/ Aperture-priority AE (f/32, 1/2 sec, EV -0.3)/ ISO 100/ WB: Daylight
I narrowed the aperture to f/32 to capture the flow of the waterfall. Such a narrow aperture results in diffraction, which was easily corrected by using the in-camera Digital Lens Optimizer.
EOS R5/ FL: 200mm/ Aperture-priority AE (f/4, 1/6 sec, EV -0.3)/ ISO 100/ WB: Daylight
The last remaining sign of autumn foliage in this sole surviving tree, standing alone in a forest in late autumn. The perspective compression effect created by the telephoto end enhances the sense of being left behind.
*As this review was conducted on a pre-production model of the lens, there may be some differences in product external appearance and image quality.

Find out more about RF lens technology and the other RF lenses in:
In Focus: RF Lenses
Can't decide between this lens and its f/2.8 counterpart? These might help:
Lens Review: RF70-200mm f/2.8L IS USM in Landscape Photography
What is the difference between an f/2.8 and an f/4 telephoto zoom lens?
---
Receive the latest update on photography news, tips and tricks.
Be part of the SNAPSHOT Community.
Sign Up Now!
---
About the Author
A monthly magazine that believes that enjoyment of photography will increase the more one learns about camera functions. It delivers news on the latest cameras and features and regularly introduces various photography techniques.
Published by Impress Corporation
Chikako Yagi was twenty when she started teaching herself photography using a film SLR camera. She left regular employment to become a full-time landscape photographer in 2016. An apprentice of renowned photographers such as Kiyoshi Tatsuno and Tomotaro Ema, she is a member of the Shizensou Club, which was founded by the former and is one of Japan's most famous landscape photographers' clubs. In 2013, she was selected as one of the Top 10 Photographers of the Tokyo Camera Club.
www.chikakoyagi.com
Instagram: @chikako_yagi